Shayne Jansen is signing off amid the drama.
The Love Is Blind alum announced a social media break on Thursday after fans raised concern over his erratic behavior over the weekend. Sharing a cryptic message to his Instagram Story, he wrote over a pink screen:
"Everyone loves a scandal — Shayne Jansen. I'll see y'all next week or month ."
Sure seems like he's referencing the controversy.
Related: Love Is Blind's Micah CALLS OUT Zack For His Reunion Behavior!
Check it out (below):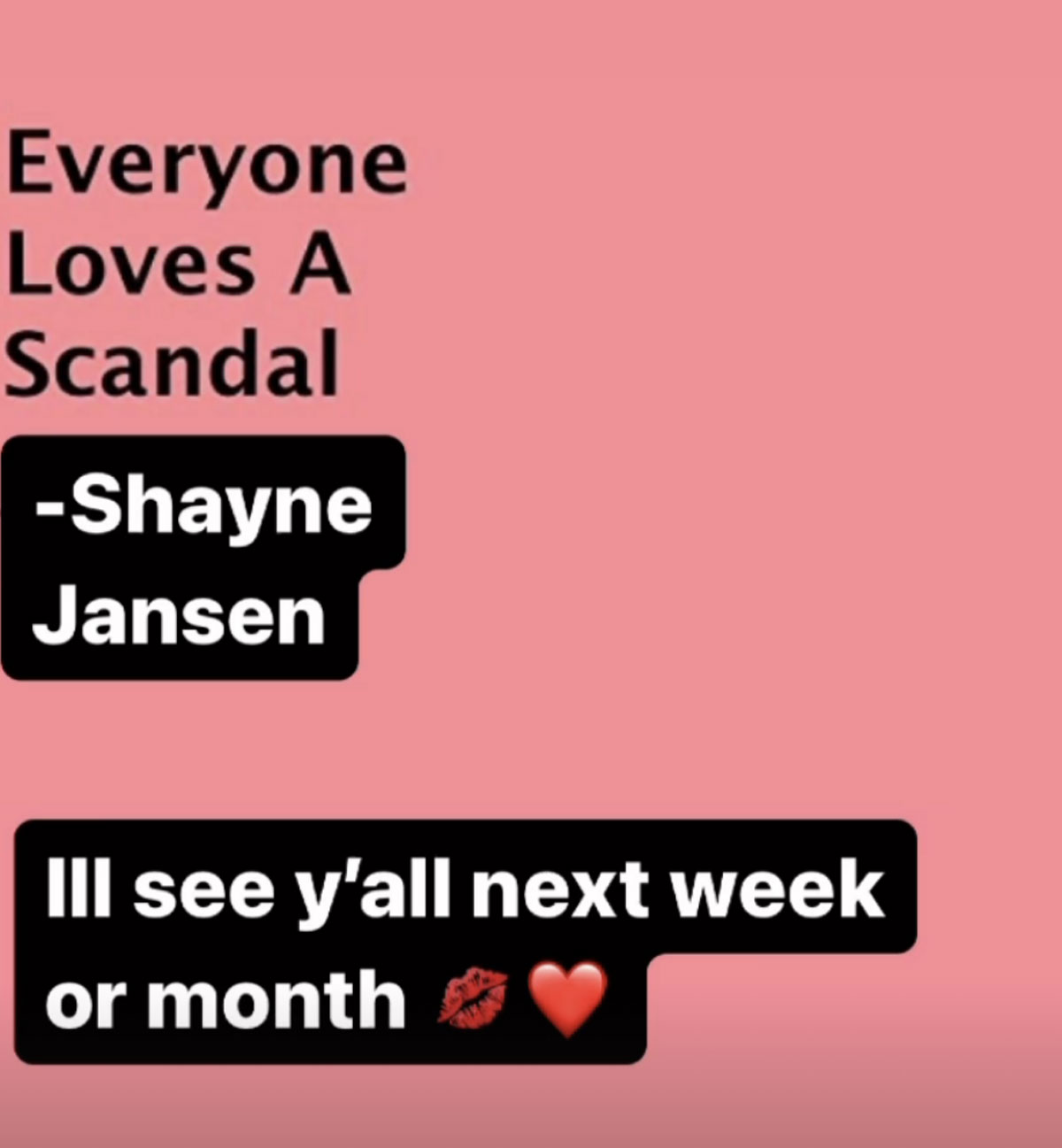 On Sunday, the Netflix personality caused fans to worry when he was fidgety and struggling to form coherent sentences while appearing on IG Live. Many reality show fans begged the star to "get help," writing on socials:
"Poor guy. Is clearly struggling. I hope he gets the help he needs. It's never too late to try"

"Intervention ASAP. So sad"

"So sad to see someone in this state posting on social media. Hopefully he looks back on this and makes some positive changes."
You can see some of what had so many people worried (below).
Many fans suggested the 33-year-old could be having a hard time since he lost his mother in October 2022. When Shayne mourned her passing, he noted how "inseparable" they were, saying on IG at the time:
"I lost my best friend today. For the last year, we have been inseparable. Coffee every morning to Schitt's Creek every night. I'm broken inside but I know I can live with zero regrets knowing we did everything together. I'll never be able to replace my FaceTime partner on the daily."
So sad. Everyone handles grief in their own way, we just hope Shayne hasn't been self-medicating during this tragic time as some fans now fear.
Related: LIB Producers Clap Back At Claim Of 'Emotional Warfare' & Mistreatment!
After his rocky season of Love Is Blind, the real estate agent moved on to Perfect Match, where he was known for his high energy — but this behavior led to accusations he was using drugs while filming. He denied the claims on The Viall Files podcast in March:
"Have I [used drugs]? Yes. On the show I did not. I have experience with a few of them. Nothing that's been injected into my body, but I think we've all had our times in our lives where we've done certain things."
He continued:
"People thought I was doing cocaine. I'm mic'd up the whole time. Everyone would have heard me do it. It's wild to think that I was carrying cocaine on me, and I was snorting lines and doing all this kind of stuff in the bathroom when I'm mic'd up."
When Page Six asked him about his recent Insta Live earlier this week, he replied via email:
"Lmao 'fan accounts.'"
Whatever the truth behind these concerns is, we hope his social media hiatus means he will be taking time to prioritize himself and his mental health. Thoughts? Let us know in the comments (below).
Related Posts
CLICK HERE TO COMMENT
Apr 21, 2023 09:09am PDT