Miranda Lambert would never intentionally work with a convicted animal abuser!
At least, that's what she's trying to make clear after posting a set of throwback pics with Joe Exotic, star of Netflix's Tiger King. Fans were surprised and pretty pissed when the photos went up on Monday, but the country music singer insists there's a valid backstory behind her previous encounter with the big cat lover!
Related: Joe Exotic's Music Is Quickly Climbing The Charts In THIS Country!
In the Twitter post, you can see the Pistol Annies band member posing with Joe (real name Joseph Maldonado-Passage), and a few crew members who worked at the G.W. Exotic Animal Memorial Park in Wynnewood, Oklahoma. John Finlay and Kelci "Saff" Saffery, who both appear in the viral docuseries, were also seen in the shots. Ch-ch-check them out (below):
Here's a little Monday memory for y'all. #TigerKing #WayTooPrettyForPrison ????????????‍♀️ pic.twitter.com/MB07JvmsDT

— Miranda Lambert (@mirandalambert) April 13, 2020
Wow! Jarring to see this group of people together, isn't it??
For the caption alongside her tweet, Miranda wrote:
"Here's a little Monday memory for y'all. #TigerKing #WayTooPrettyForPrison."
It wasn't long before followers expressed their shock and disappointment at her apparent support for the zookeeper, considering Exotic was convicted on 17 federal charges of animal abuse. He's currently serving a 22-year sentence in federal prison for those crimes, along with two counts of murder for hire. Miranda is a well-known animal lover and the co-founder of a nonprofit organization called MuttNation, which aims to help shine a spotlight on rescue animals and facilitate their adoption. Country music fans love a good crossover, but this probably wasn't what anyone had in mind…
Hours after the post went up, the 35-year-old crooner followed up with a much-needed explanation, which began:
"Backstory: During Hurricane Harvey, the MuttNation Team went to Houston to help relocate existing shelter dogs to free up shelter space for animals separated by their owners. MuttNation asked for volunteers who could transport some dogs from Houston to shelters in Oklahoma, where there was more room and they could be treated and adopted. Some guy named Joe volunteered his trailer and staff. Now I know it's 'Joe Exotic.'"
What a small world!! The starlet continued:
"I've never been to his zoo and I didn't even know he had tigers. OBVIOUSLY I'd never condone animals being treated badly."
— Miranda Lambert (@mirandalambert) April 13, 2020
We have to wonder if she also had no idea he was a fake country music singer, too. LOLz. But more to the point, we're glad that's all cleared up!!
Related: Rick Kirkham Reveals HORRIBLE Joe Exotic Secrets That Never Aired 
Ever since the docuseries went viral, more and more people are coming out with crazy stories about their time spent with Joe and the animal abuse they witnessed at his facility. Saff, a handler at the zoo, insisted her boss did not commit abuse of any kind when she spoke to People on Friday:
"When Joe was there, or when Joe was not there, the handlers were the ones directly in contact with every animal. So I know there wasn't any abuse going on, you know, not on our part. But it's a relevant term, you know? Anyone can say it's abuse if it's not what they agree with. If they believe the cage was too small, then it's animal abuse."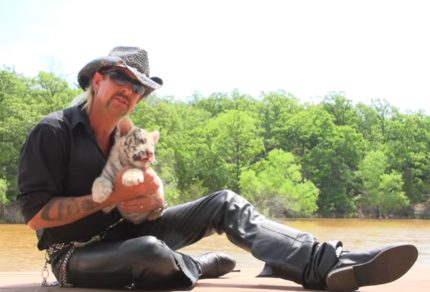 But even Mr. Exotic himself admitted he didn't treat his animals properly in a jailhouse interview with Netflix late last month:
"Go sit in a cage with your animals for a week. I mean, when I left the zoo and I sent my chimpanzees to the sanctuary in Florida and imagined what my chimpanzees went through for 18 years, I'm ashamed of myself."
We have a feeling this will be the last time anyone even remotely associates themselves with him, throwback photo or not!
[Image via Miranda Lambert/Twitter/Judy Eddy/WENN].
Related Posts
CLICK HERE TO COMMENT
Apr 14, 2020 08:05am PDT