The city is about to get a little more crowded with the return of Samantha Jones!
Sex and the City fans are counting down the days until Kim Cattrall will make her big and shocking return to the franchise in the second season of And Just Like That!
The news came as a complete surprise at the end of May. Kim had been very outspoken about wanting to leave her SATC days behind her — not to mention she was never even invited onto the first season of the Max spin-off! Considering her ongoing feud with co-star Sarah Jessica Parker, we kinda just assumed neither woman would ever want to work with each other again. And, well, that's still kind of true considering they had no interaction with each other on set!
Related: Katherine Heigl & Ellen Pompeo Reflect On Grey's Anatomy Drama!
Kim reportedly signed on to do the show after she was promised a "great payday" and a day on set that did not include having to see or speak to the other ladies, including Cynthia Nixon and Kristin Davis, or the showrunner, Michael Patrick King. Damn!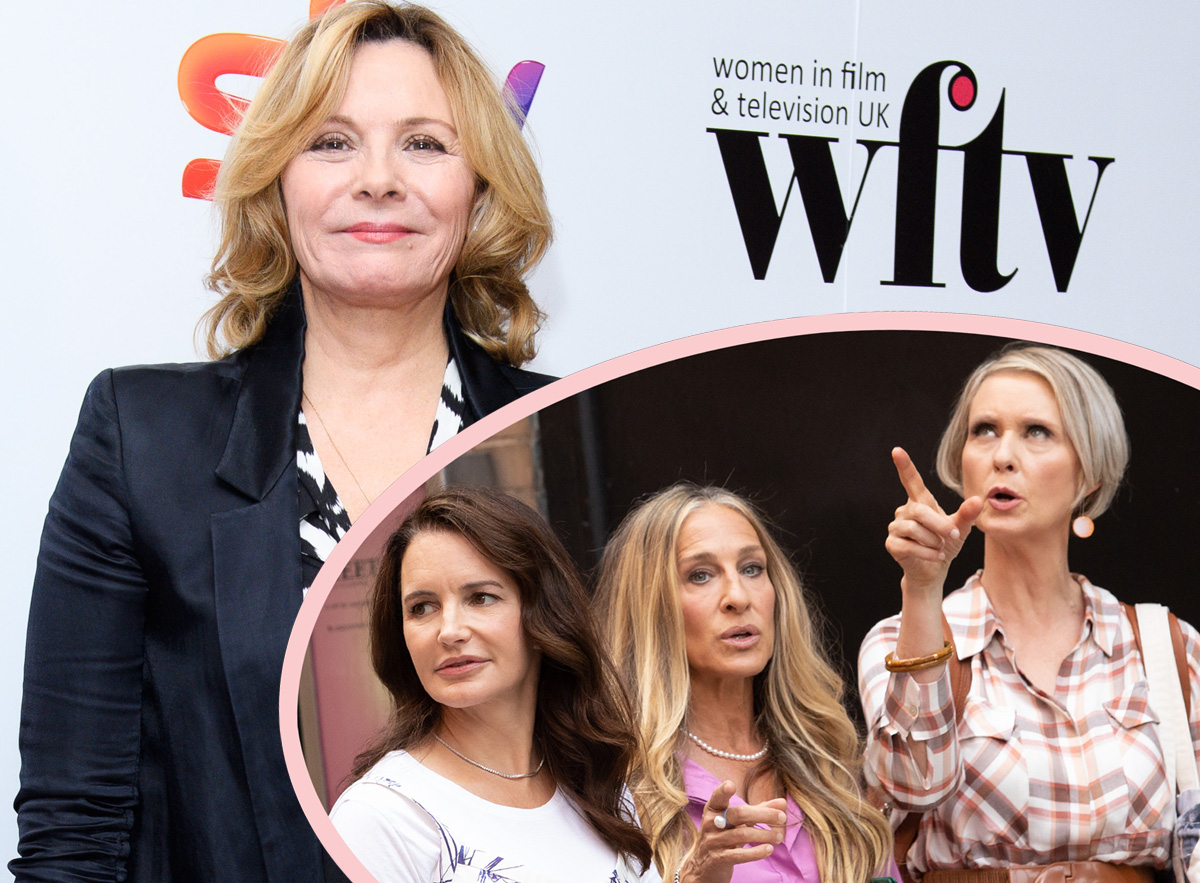 So far, all we know is that the scene will take place in a car and will involve a phone call with SJP's Carrie Bradshaw, per Page Six. Though they won't actually be speaking to each other considering the aforementioned demands! But how exactly do the writers plan to wrap up such an iconic character's story in just one scene!? Well, the author of Sex and the City, Candace Bushnell, is giving us an exciting tease!
Related: Shade?! HBO's SATC 25th Anniversary Post Has A Glaring Omission…
Speaking to Variety on Tuesday, Candace reflected on the importance of Samantha's character in the franchise. When asked about the criticism that the "sex" part of the reboot has disappeared without Samantha's involvement in AJLT (the shade! LOLz!), the outlet wondered if the writer liked the way the character and her "wild sex life" were "developed" throughout the series. She mused:
"I loved it. They did it in such a fun way. I remember one time they had Samantha on a bed with a chair or something. Her character represented a lot of freedom and permission for women."
Naturally, all those who feel like the spin-off has been missing something are in for a treat when the fan-favorite rolls into town next season (even if ever so briefly). The Carrie Diaries author continued:
"And I think the fans are super excited about her coming back, even if it's just one cameo in the car. It's a business decision, as these things always are. There's a lot of goodwill towards And Just Like That. People want it to work."
While she didn't lay out exactly what will happen in the scene, Candace insisted it is sure to be a hit:
"And I think it's gonna be really good from the clips that I've seen. I'm excited."
Oooh!
We cannot wait to see what this cameo will be! Season 2 will premiere on June 22. Take a look at the trailer (below)!
What are YOUR predictions for Samantha's appearance? Send us your guesses (below)!
Related Posts
CLICK HERE TO COMMENT
Jun 07, 2023 07:19am PDT