Sophie Turner is getting her party on.
As Perezcious readers know, the Game of Thrones actress and Joe Jonas are getting divorced after four years of marriage. TMZ reported earlier this week that one of the key factors in the schism between the once happy couple was a difference in "lifestyle." Sophie "likes to party," a source claimed, while the Jonas Brothers singer prefers to "stay at home," which has contributed to a major rift in their relationship…
Well, she's certainly partying now.
Related: Ring Camera Footage Key To Joe & Sophie's Divorce??
On Sunday, the X-Men: Dark Phoenix actress was spotted drinking it up at a Birmingham bar called Dropshot Digbeth. The mother of two was apparently celebrating the wrap of her new ITV series, Joan, which filmed in the UK.
The bar's general manager Hezron Stephenson took the liberty of posting a few wild Instagram pics with the 27-year-old, who looks like she wasn't feeling any pain. The GM wrote in his photo upload:
"Just me and my new mate @sophiet out for a few bevvies — Soph stopped by my spot to test out my punch machine. Said I made her the best #mojito ever so I'll take that"
Sophie, who sported a low-cut blue floral dress, can be seen holding onto said mojito in this grab from one of the videos (below):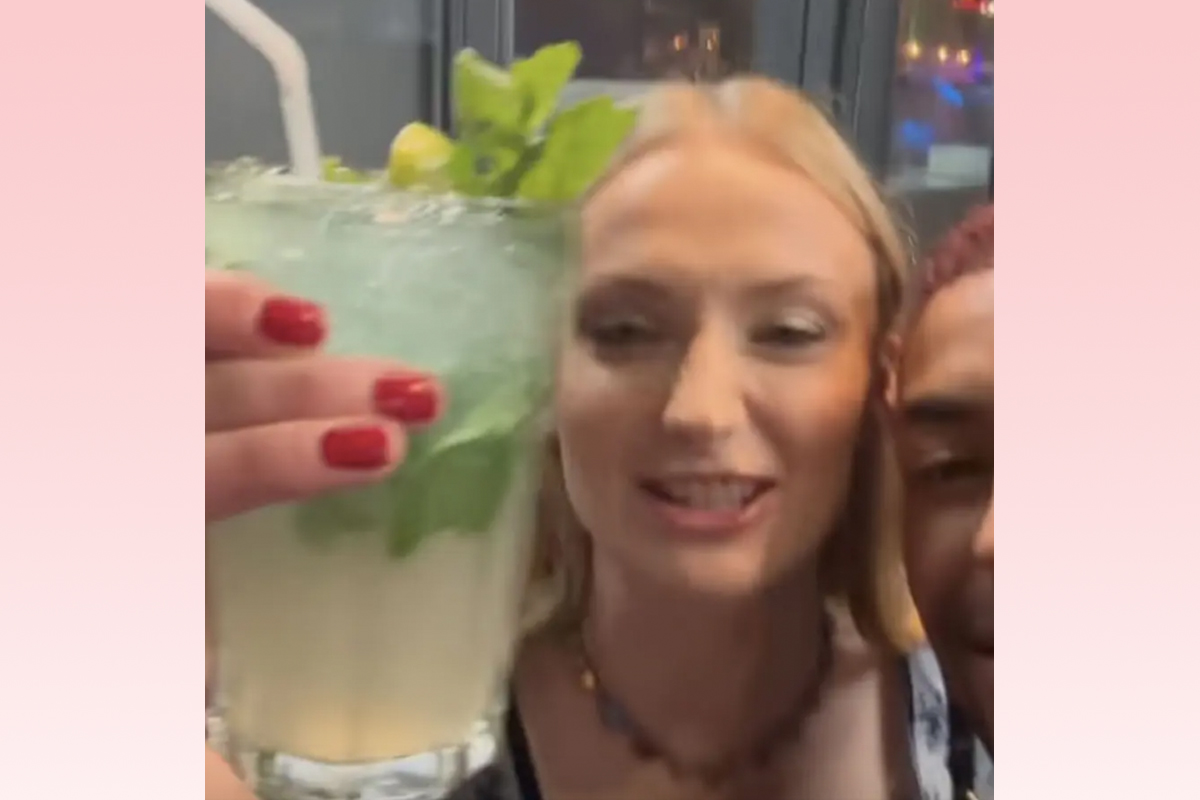 It def looks like she was having a fun time… Lolz! While the original post has since been taken down, you can scroll through a fan account's re-upload (below):
This all comes as an unnamed friend told DailyMail.com on Wednesday that Sophie is trying to reclaim some of the partying years that she felt like she missed out on at a younger age:
"Sophie feels like she's only just waking up to what her life and reality really is. She became famous at a very young age, then married and had kids at a young age and never really had the teenage years of sleeping around and just having carefree fun with friends."
Inneresting… But definitely aligns with everything we've been hearing so far. Seems like she's been having a grand old time back in her home country. Was some of that partying captured on a ring camera? Is that what Joe saw that made him pull the trigger and file on Tuesday??
What do YOU think, Perezcious readers? Let us know in the comments down below!
[Images via Hezron Stephenson/Instagram & Jay Shetty Podcast/YouTube]
Related Posts
CLICK HERE TO COMMENT
Sep 06, 2023 11:23am PDT