The hits just keep on coming for Teresa Giudice.
Fresh off a jaw-droppingly dramatic appearance on the first part of this season's Real Housewives of New Jersey reunion special last week, the 51-year-old star is now facing tax trouble. Of course, this isn't the first unpaid tax bill that has come due for the longtime reality TV star. But the addition of this latest one has her firmly over the million-dollar mark. YIKES!!
Related: Teresa's New Husband Luis Ruelas' Company SUED For Nasty Harassment!
According to the US Sun on Thursday, Teresa was sent a federal tax lien of $17,061.32 back in late April. That amount covers unpaid taxes for both 2020 and 2021. The money owed reflects a lack of paid taxes on reported income for those years. It is not yet clear whether Teresa has taken steps to address the government's request.
While it doesn't sound like a lot of money on its own to a woman in Teresa's position, it only adds to a growing number of major past-due tax obligations filed against Teresa, her ex-husband Joe Giudice, and her various business endeavors.
As Perezcious readers may recall via our past reporting, Teresa has an ever-growing list of unmet tax obligations. Per the US Sun, which tracked the list of issues via the Morris County Clerk's Office, the Bravo star's IRS issues are mounting.
Way back in April of 2015, Teresa — along with Joe, to whom she was married at the time — was sent a $551,563.30 tax lien on unpaid income taxes across eight years in the 2000s and 2013. In April of 2016, Teresa and Joe were hit with another lien for $243,425.50 in taxes covering the 2014 fiscal year alone. A month after that lien, in May of 2016, the ex-couple was billed with another $219,804.38 for the 2015 financial year. Most recently, in January of 2021, Teresa and Joe were named in another federal tax lien requesting $64,157.64 in unpaid receipts for the 2016 and 2017 tax years.
Total all that up — plus this year's relatively small $17K in funds — and you've got SEVEN FIGURES of tax debt. Per the Morris County Clerk's Office, the exact amount now is $1,096,012.14.
Jeez!!!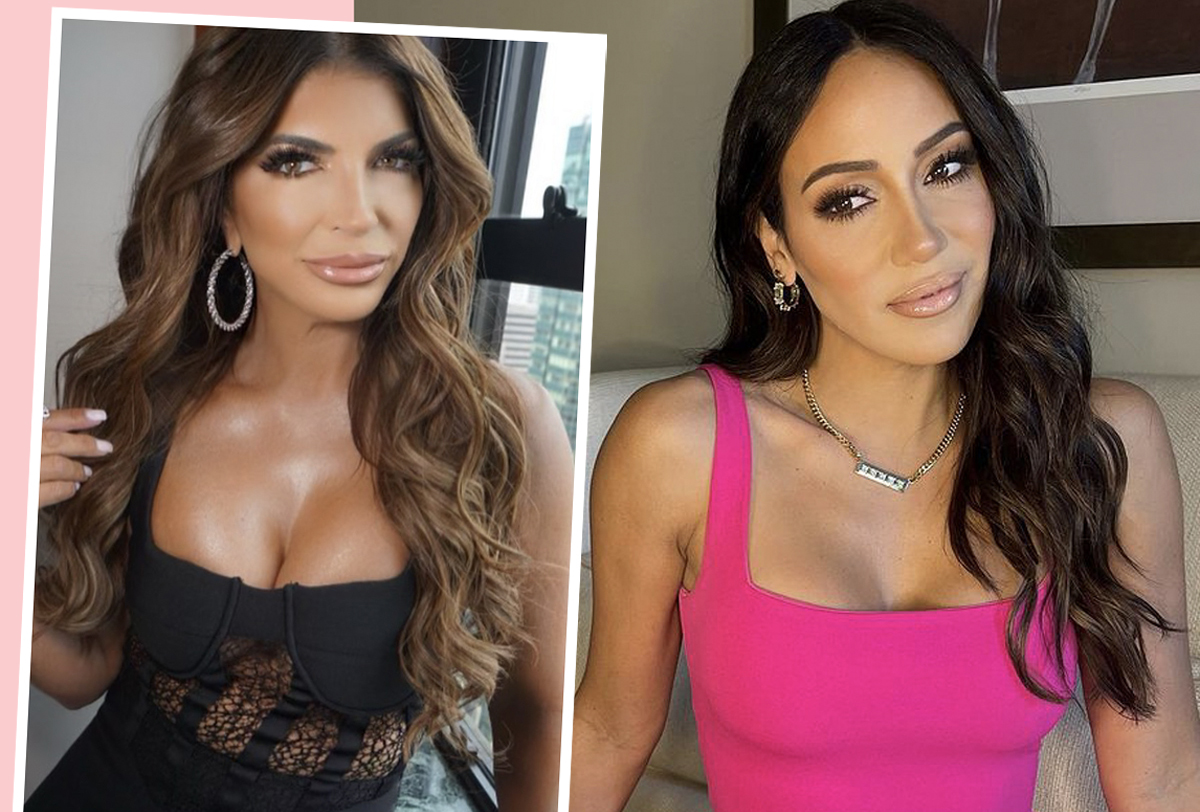 Now, to Teresa's credit, she has ponied up considerable dough to pay off other tax debts in the past. For one, in May of last year, she sent the feds $363,120 to cover a tax lien that was filed against her alone, without Joe, for the 2011 and 2012 fiscal years. It appears that amount is not part of the aforementioned million-dollar total, though. So she still has a long way to go!
The embattled reality TV star has also paid off plenty of other obligations in recent years, too. Take the bankruptcy fraud case that landed her in prison, for example. In early February of last year, media reports surfaced noting the New Jersey native had successfully paid off $414,588 in restitution to close that case. As Perezcious readers no doubt know, Teresa also served 15 months in federal prison amid the fallout from that dark chapter.
Related: Are The Cracks Really Starting To Show In Teresa's On-Air Demeanor??
Now, she's facing this new tax problem along with the years-old issues. Meanwhile, she's still living a life of enviable luxury. In February 2021, she and now-husband Luis Ruelas plunked down $3.3 million on a mansion in the city of Montville, New Jersey. And of course, her Instagram feed is filled with designer duds and luxury vacations. Would you expect anything less?!
Basically, the longtime Bravo-lebrity better hope Andy Cohen's team doesn't stick to their plan of pausing production on RHONJ. And she better get back on Andy's good side while she's at it, too. She's apparently really gonna need that cold, hard TV cash to keep up with these endless past unpaid bills. Just saying!
Reactions, Perezcious readers??
[Image via MEGA/WENN]
Related Posts
CLICK HERE TO COMMENT
Jun 02, 2023 11:57am PDT