New 'Bachelorette' Hannah Brown Reveals Exactly What She Wants To Ellen DeGeneres — Watch!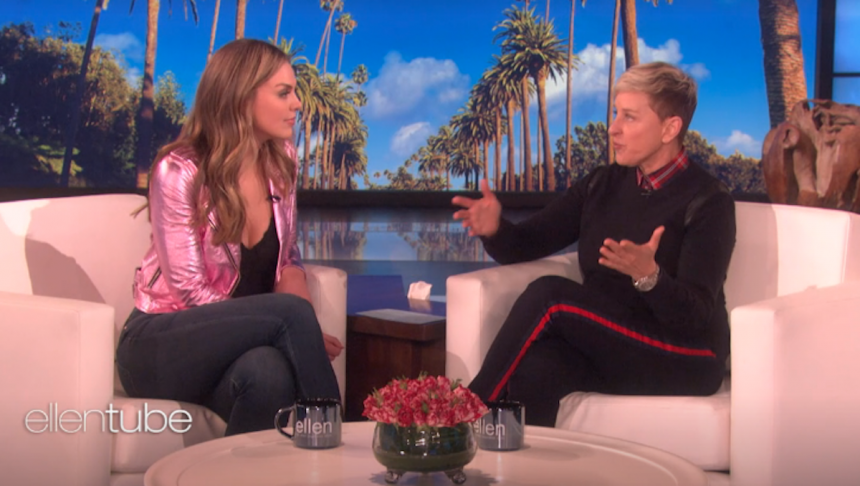 Hannah Brown is ready for love!
The new star of The Bachelorette has captured America's heart with her understated, shy smile and openness to being goofy and funny — and now, 33 men will compete for her hand (and her heart) on the next season of the ever-popular reality show! But before figuring all that out on ABC every Monday night, Alabama's very own Hannah B. — AKA, "The Beast" — first went on Ellen DeGeneres on Monday to talk about love and marriage!
Related: Kendra Wilkinson Denies Dating 'The Bachelorette' Star Evil Chad!
Talking to The Ellen Show's popular host, Brown opened up about being named the new Bachelorette, and how her journey with Colton Underwood on The Bachelor last season initially led her to this opportunity (below):
"My journey on The Bachelor was interesting. I definitely grew but had ups and downs. There are moments that I did not think this would happen. But I think the reason I am here is because I am real, I showed every part of myself. Ultimately, at the end of this, I want [him] to know me and every part of me — not just some version of myself that I like, packaged together and was like, 'Do you like this?' I think I've done that in the past. But [I'll show] the good and the bad. And I want that in return."
Awww!! Amen!
Of course, Ellen had to grill the 24-year-old a little bit, too! Because the Alabama girl is so young, and the show can be such a hyper loop to the winning couple's wedding day, DeGeneres straight up asked The Beast if she's really ready for marriage.
Brown opened up about getting a ring — and a real commitment — too (below):
"[The engagement] is something I really believe in, and at the end of the day, I want somebody who loves me and chooses me … I'm so ready. I know I'm young but I would not have gone on this show if I hadn't really thought about what is at the end of this."
Inneresting! Let's hope she means it — because as popular as Hannah seems to be with the boys, there's no doubt she's probably going to find at least a couple suitors who are down to tie the knot with her!
Related: Kaitlyn Bristowe Relives Award Show Wardrobe Malfunction!
Ch-ch-check out Hannah and Ellen having a little "Would You Rather?" fun on the Monday show in this clip (below):
Ha!!!
And for more, watch The Beast talk about how she's ready to find love — and a "good human" to be by her side — on this upcoming season of the hit reality TV show (below):
Awww! Say what you will about her, she's cute as hell, isn't she?!
Related: Colton & Cassie Answer ALL Your Questions On 'Jimmy Kimmel Live'
What do y'all think about Hannah B. as the next Bachelorette, Perezcious readers?? Do U like the choice?? Will she make a good lead for this coming season?! Most importantly — will she find love??
Sound OFF with all your opinions in the comments (below)!!
[Image via Ellentube]
Mar 18, 2019 11:23am PDT