Nikki Boyd has finally had enough; she's walking away from her relationship with Bam Margera after nine years of marriage. While this seems like it's been coming down the pipeline for a while now amid the Jackass star's addiction struggles, it wasn't gradual — apparently a very specific incident triggered the legal separation filing.
According to Nikki's attorney David Glass who spoke with TMZ on Friday, Bam's wife officially pulled the plug on the marriage after the 43-year-old came to visit their 5-year-old son Phoenix — and was allegedly under the influence. The attorney explained that his client, who was present, believes the skateboarder wasn't sober and was acting inappropriately during the visit. Oh no…
Related: Bruce Willis' Family Reveals He Now Has Dementia
It's unclear exactly what kind of inappropriate behavior Bam was exhibiting. However, according to the lawyer, the Viva La Bam star is claiming he was completely sober during the interaction.
Either way, the incident was so concerning, Nikki realized she finally had to put herself and her son first. After years of trying to help the MTV alum battle his drug and alcohol addiction, she made the hard choice to file for divorce. As we reported, Nikki filed for a legal separation on Wednesday, citing "irreconcilable differences" as the reason for the split. This comes several months after she filed for full custody of the couple's son back in September 2021. She is asking for spousal support and full legal and physical custody of the little boy. That said, she has agreed to allow the father visits, so long as they are local and he pays all expenses.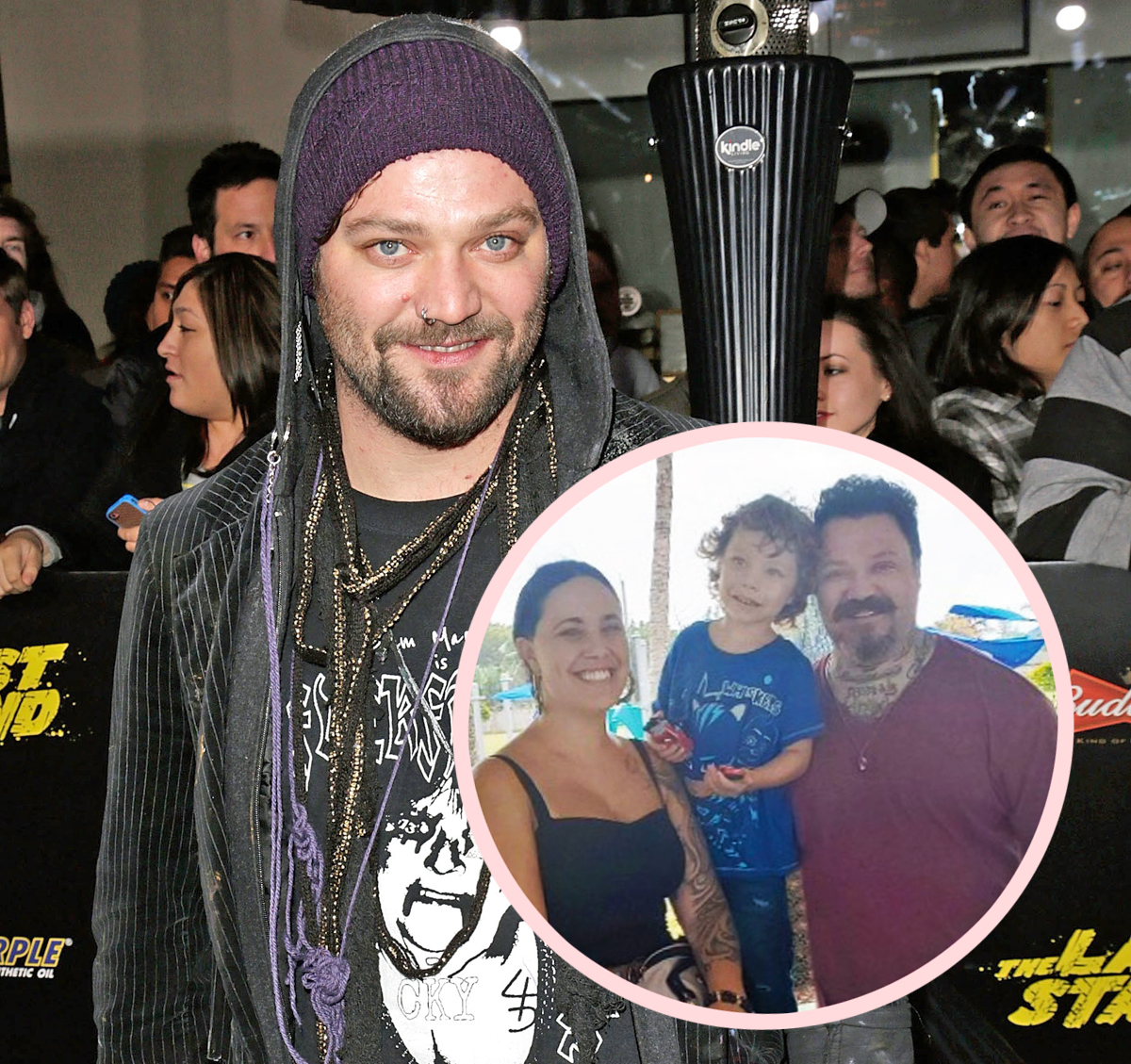 Confirming the separation in a statement to People, her attorney added:
"Nikki Margera felt compelled to file for legal separation from her husband, Bam Margera, due to his continuing drug and alcohol abuse, erratic behavior, and due to his failure to provide support for her and their son. Nikki has put everything she has into trying to get Bam to stay sober, and to trying to preserve her family."
It must have been such an emotional decision…
Related: Britney Spears Posts VIDEO PROOF She's Happy & Healthy!
This sad turn of events for the family comes just weeks after Steve-O was incredibly candid about fearing for his friend's life. On Instagram earlier this month, the TV personality slammed Bam for getting wasted and making rude comments online about their former colleague. He also claimed this was happening around the time Bam was with Phoenix. He said:
"Bam, last night you had your five year old son with you on stage at my show, and you were blessed with the chance to spend another day or two with him — then as soon as you left my show, you stayed up all night getting loaded enough to think it was a good idea to post more vile nonsense like this. I hope you understand how awful that is. You say you want to have a relationship with your son, but your actions guarantee the exact opposite will happen."
Seems like Nikki wasn't the only one calling out Bam on his inappropriate behavior. Was this the final straw that broke the camel's back? It's hard to know, but it's clear Bam's inner circle is very scared for him as they watch him continue to fall off the wagon, including ditching rehab several times and pissing off Priscilla Presley. As hard as it is to walk away from someone who is struggling, sometimes it's the only option — especially when you have to keep a child safe. It seems Nikki is learning that the hard way… Thoughts? Let us know (below).
If you or someone you know is experiencing substance abuse, help is available. Consider checking out the resources SAMHSA provides at https://www.samhsa.gov/find-help/national-helpline or check out StartYourRecovery.org
[Image via Bam Margera/Instagram]
Related Posts
CLICK HERE TO COMMENT
Feb 17, 2023 13:15pm PDT