Barbra Streisand SLAMMED For Comments About Michael Jackson's Alleged Abuse Victims!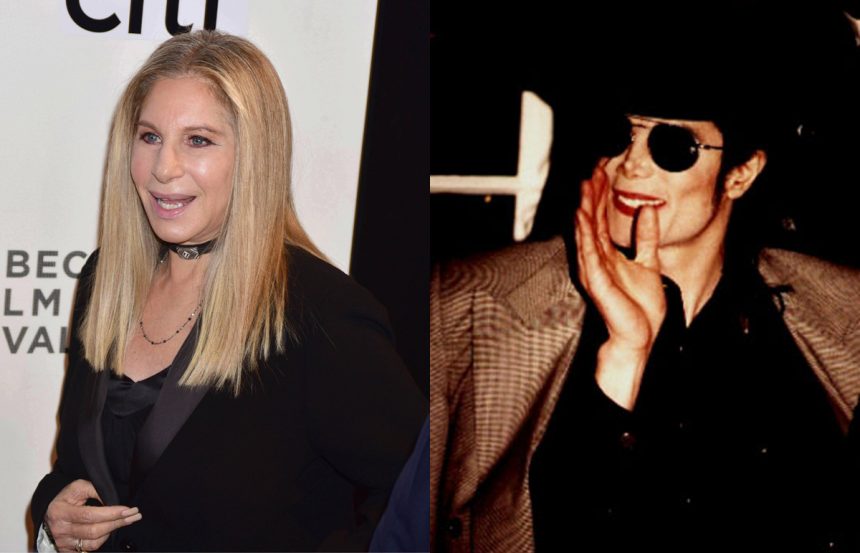 Barbra Streisand is in hot water over her comments about Michael Jackson's alleged sexual abuse victims.
In an interview with the Times' Evening Standard published on Friday, the Funny Girl actress addressed Leaving Neverland, the controversial documentary where Wade Robson and James Safechuck describe the alleged assault they suffered at the hands of the singer.
Related: Michael Jackson's Nephew To Disprove Child Sex Claims!
Though the My Name Is Barbra musician "absolutely" believes the movie's subjects, she suggested that the young men wanted to be in Jackson's presence.
The 76-year-old said:
"You can say 'molested,' but those children, as you heard [the grown-up Robson and Safechuck] say, they were thrilled to be there… They both married and they both have children, so it didn't kill them.'"
In regards to the "King of Pop," the Oscar winner commented:
"His sexual needs were his sexual needs, coming from whatever childhood he has or whatever DNA he has."
Streisand added that she has a "combination of feelings" on the matter, explaining:
"I feel bad for the children. I feel bad for him… I blame, I guess, the parents, who would allow their children to sleep with him? Why would Michael need these little children dressed like him and in the shoes and the dancing and the hats?"
Needless to say, after her comments went viral, social media users were LIVID!
Leaving Neverland director Dan Reed wrote:
"'It didn't kill them' @BarbraStreisand did you really say that?!#LeavingNerverland'"
As seen on Twitter: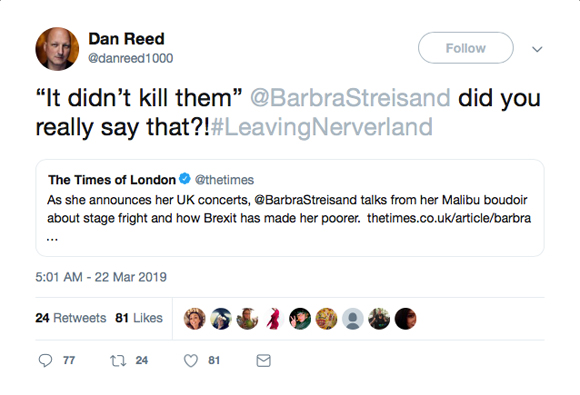 Other comments included:
"As a lifelong fan, I am deeply disappointed about your remarks regarding Michael Jackson. I don't understand how you could be so dismissive of the abuse that he inflicted and the damage that's been done. It's so unsympathetic to ALL victims of sexual abuse. @BarbraStreisand"

"@BarbraStreisand what you said about Michael Jackson's victims is seriously disgusting."

"Oh god no. This is horrible. I feel sick. @BarbraStreisand is my idol and I look up to her so much. This breaks my heart that she would say this. Because this is such a wrong and hurtful thing to say. Ugh."

"Barbra Streisand is vile… She believes MJ abused Wade and James, but basically says – it is no big deal because they were 'thrilled to be there' and ended up getting married and having children, so it 'didn't kill them'… WTF???'"
After the film premiered at the Sundance Film Festival in January, Jackson's estate issued the following statement:
"The film takes uncorroborated allegations that supposedly happened 20 years ago and treats them as fact. These claims were the basis of lawsuits filed by these two admitted liars which were ultimately dismissed by a judge. The two accusers testified under oath that these events never occurred. They have provided no independent evidence and absolutely no proof in support of their accusations, which means the entire film hinges solely on the word of two perjurers."
[Image via LK/WENN.]
Mar 22, 2019 7:32pm PDT