Chrissy Teigen is shutting down rumors she didn't actually give birth to her newborn baby girl, Esti!
On Tuesday, the Cravings cookbook author posted an adorable photo of her 4-month-old smiling at the camera. Alongside the photo, Chrissy noted she "still has the angel on her forehead," and many in the comments believed the marking was a message from her and John Legend's baby boy, Jack, whom they lost due to pregnancy complications and a "life-saving abortion." Take a look:
Aw! Unfortunately, not everyone was paying close attention to the birthmark. Others used the comment section to discuss whether or not Chrissy used a surrogate to welcome the baby girl — despite being vocal about her pregnancy online. When one fan asked about the possibility she may not have been pregnant herself, another one claimed the mother of three used a prosthetic "called a moonbump" to make it look like she had a baby bump.
Related: John Legend Reveals His Secret To 'Hot' Sex With Chrissy Teigen
The 37-year-old clearly caught wind of the speculation since she slid into her Instagram Story with a photo of her undergoing a C-section. She quipped:
"Extremely realistic 'moon bump.'"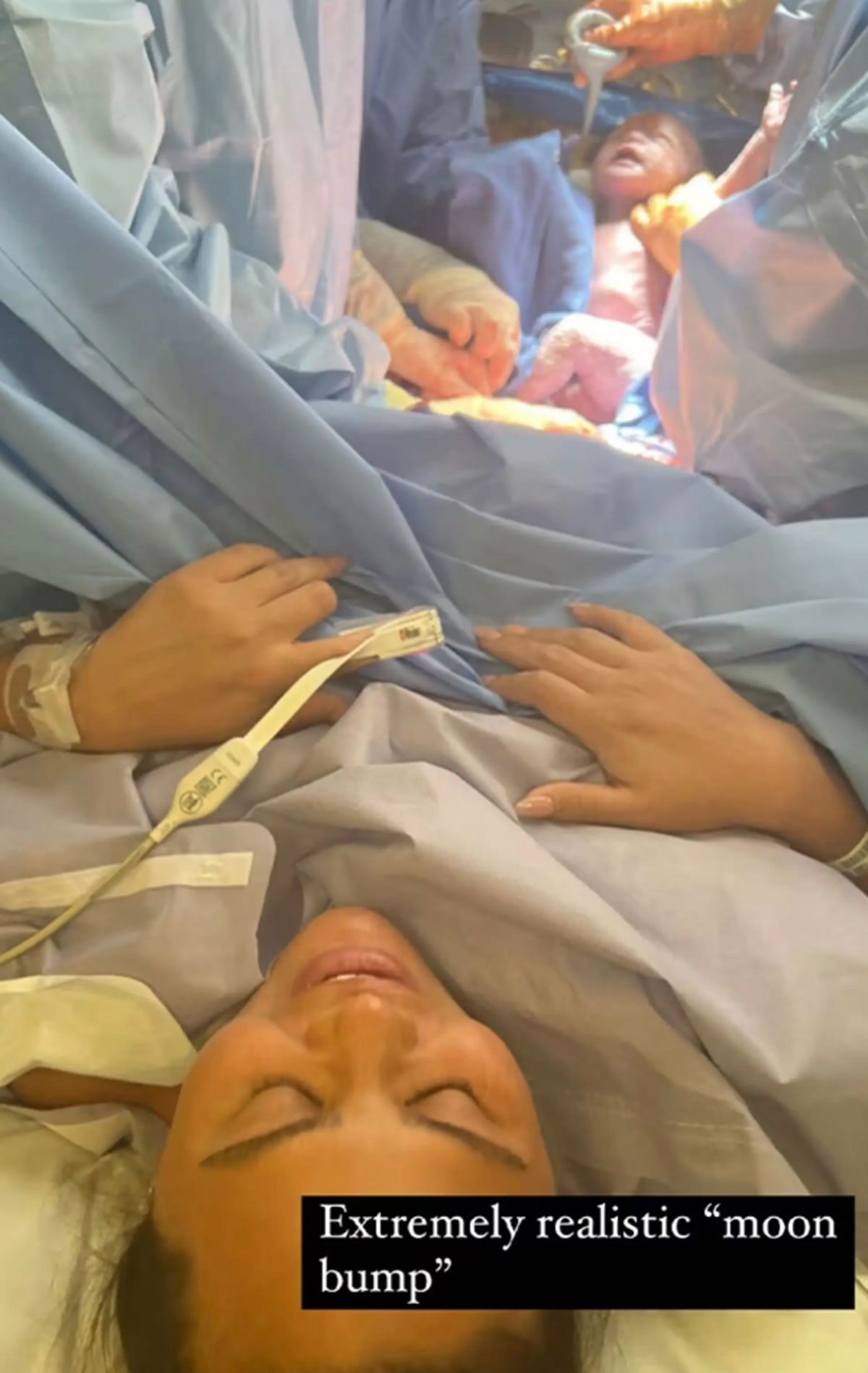 LOLz!
Nothing fake about that delivery!
Related: Kim Basinger 'Mortified' By Daughter Ireland's Strip Club Baby Shower!
The All of Me crooner's wife has been very open about her pregnancy from the get-go. The former Lip Sync Battle host, who shares Luna, 7, and Miles, 4, with the musician, told People in March she was "so excited" to be having a cesarean section to welcome this baby, she explained:
"I was kind of excited because I'm like, 'Yeah, I've done the vaginal thing twice. Let's try this.' I really love surgery."
She was also glad to have "seen both experiences" and thought the procedure was "so cool," adding:
"It really is so crazy, but I still think it's so cool. I'm like, 'Oh, my God. I was laying there wide awake with my body cut open and a baby comes out.'"
She also noted her eldest kids call her scar "the baby hole." Hah!
Chrissy and John welcomed their third child via in vitro fertilization on January 13. While the parents were a little hesitant to speak openly about the baby news at first after everything they went through during their 2020 pregnancy, they've been very candid to share their experiences now that the little one is here. So, it has to be frustrating to see baseless rumors spreading about "a moonbump." Thoughts? Let us know (below).
[Image via Chrissy Teigen/Instagram]
Related Posts
CLICK HERE TO COMMENT
May 10, 2023 08:31am PDT