For folks who still don't understand what a big deal the Donald Trump document scandal is? The latest bombshell reporting is all the explanation you need!
First off, Trump allegedly openly showed classified government documents to visitors who showed up to his Mar-a-Lago resort down in Florida while he was President. That's according to witnesses who have been speaking to federal prosecutors in recent days, per to a damning new report in the Washington Post on Thursday.
Related: Trump Mistress Karen McDougal Reveals Surprising New Details Of Extramarital Affair
The Post journalists cite sources who claim the former President kept classified documents "in an area of his office where they were visible" while he was still serving the American people prior to his 2020 re-election loss. Then when Mar-a-Lago visitors and invited guests would come through the area, Trump would allegedly spend time "showing them to people who visited him." Seriously?? Just, like, showing off classified info?! Who the heck knows WHO was in there??
Of course, the 76-year-old former President has been under the gun for a while now regarding the Department of Justice's ongoing investigation into his removal of sensitive documents from the White House after losing the 2020 election. Mar-a-Lago was searched by the feds back in August of last year. And in January of this year, the National Archives and Records Administration asked for hundreds of documents from Trump's team that had reportedly been kept at Mar-a-Lago after his re-election loss. In that August 2022 raid and other investigations, hundreds of classified documents have already been found at Mar-a-Lago and recovered by the federal government.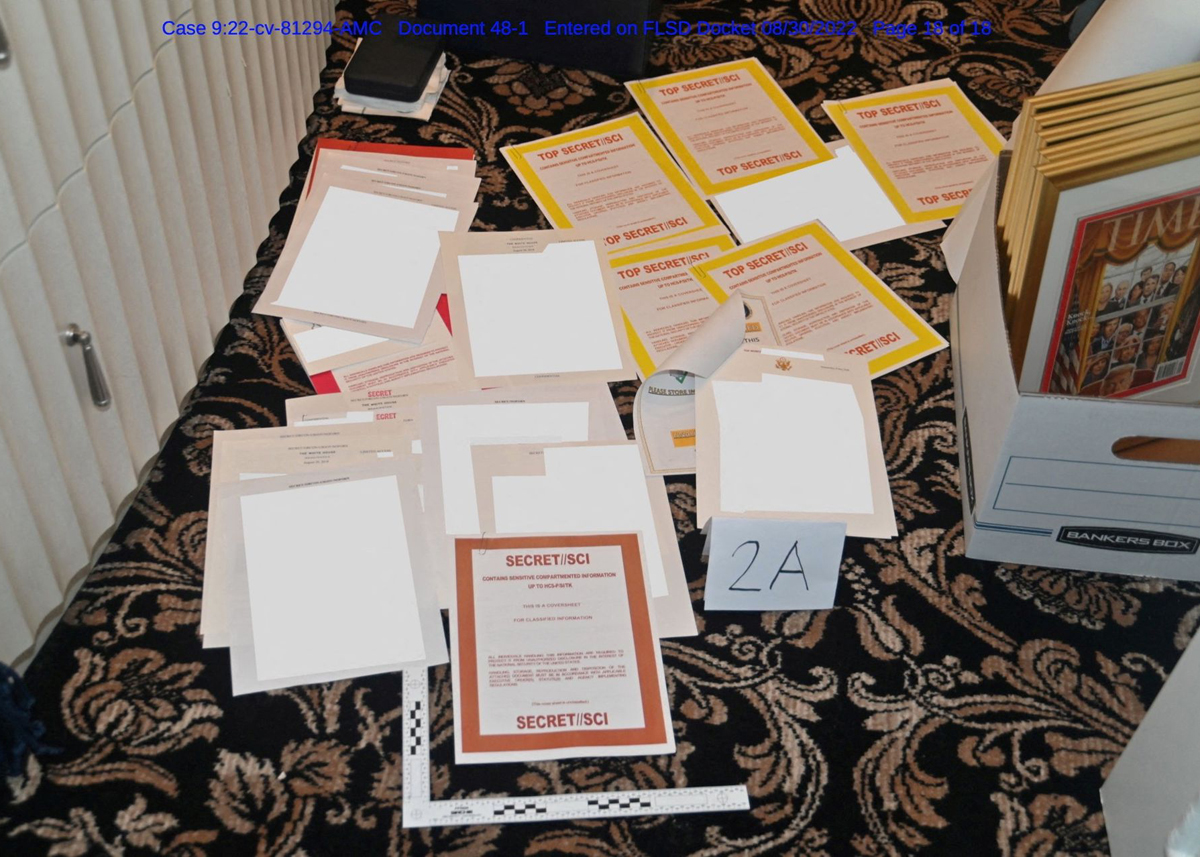 Trump showing these off to guests may not seem like that big a deal, but if it's true it's actually solid evidence he did in fact violate the Espionage Act. Showing others the documents is all it takes! Oof.
Not only did he allegedly display the Top Secret docs at Mar-a-Lago, he fought with the National Archives about it, claiming at every turn that he didn't have them — or didn't have any more. This is, of course, in stark contrast to Joe Biden and Mike Pence's mini-scandals where they were found to have documents they shouldn't have — and immediately cooperated to make sure they were put back in the right place. Trump's behavior has led many experts to believe the Special Counsel was preparing obstruction of justice charges!
Trump has since maintained in interviews that he didn't do anything wrong, that he believes he had the power to declassify everything. But this week's new report in the Post DESTROYS that argument.
The newspaper claims two of Trump's employees "moved boxes of documents" the day before the FBI visited Mar-a-Lago last summer to inquire about missing classified materials. Shockingly, one of the newspaper's sources even reports that witnesses are claiming Trump and his aides "held a dress rehearsal" for how to efficiently move classified documents around the property prior to doing so. You know, like, in case there was a surprise raid.
WHAT?!
So yeah, this makes it clear he absolutely knew he was doing something wrong. You don't practice hiding documents you think you're allowed to have.
Related: Donald Trump DID Commit Sexual Abuse, Says Jury!
As for Trump, one of his spokespeople vociferously claimed his innocence in the matter and reminded the Post that he is once again running for President in the looming 2024 election:
"[The classified documents investigation] is a targeted, politically motivated witch hunt against President Trump that is concocted to meddle in an election and prevent the American people from returning him to the White House."
Hmmm…
For now, it appears Trump will face off with Florida's current governor Ron DeSantis — and others with no chance — in the Republican Party's presidential primaries over the next year. We already know Trump is pissed about how some of his other ongoing legal problems may affect the timing of some of those campaign activities. We have to wonder if the potential new charges will screw up his campaign even more!
It should go without saying, but it's scary to think that any pal of Trump who happens to be at Mar-a-Lago — with no security clearance, to boot — can see classified government information on a whim like they're old friends sharing vacation pictures or something. WTF?!
And this guy thinks he deserves to be President again???
[Image via CBN News/YouTube/Department of Justice.]
Related Posts
CLICK HERE TO COMMENT
May 26, 2023 14:20pm PDT