Dwayne "The Rock" Johnson is demanding better from President Donald Trump.
On Wednesday, the 48-year-old actor uploaded a passionate video message to Instagram where he openly (and expertly!) criticized the lack of leadership coming from the White House as protests in support of the Black Lives Matter movement continue across the US.
Related: Barack Obama Thanks Peaceful BLM Protestors & Good Cops During Speech 
Although Johnson didn't address POTUS by name, it was crystal clear from the onset that this clip was about Trump. He began his eight-minute-long video by asking:
"Where are you? Where is our leader? Where are you? Where is our leader at this time? At this time when our country is down on its knees, begging, pleading, hurt, angry, frustrated, in pain, begging and pleading with its arms out just wanting to be heard."
Oh, wait! There he is, we found him! He seems, uh, preoccupied trying to figure out how to fake compassion for his citizens…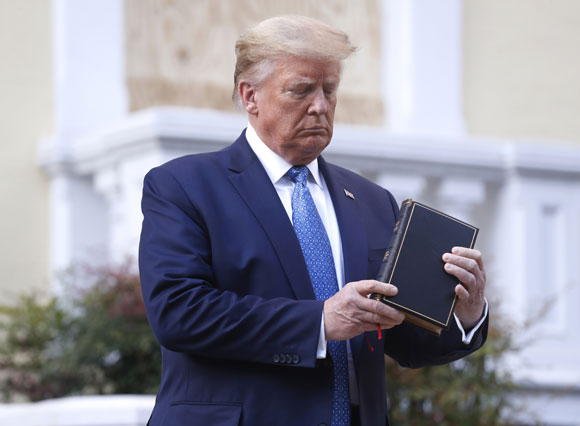 Johnson then touched on the "All Lives Matter" phrase, begging his followers to understand why it's a problematic response to BLM:
"Of course all lives matter, every single one. All lives matter because we as Americans believe in inclusivity, we believe in acceptance, we believe in human rights, we believe in equality for all. That's what we believe in. So of course all lives matter. But in this moment right now, this defining, pivotal, explosive moment where our country is down on its knees, the floorboards of our country are becoming unhinged, in this moment, we must say the words, black lives matter."
As you're likely aware, the conversation about Black lives, racial injustice, and police brutality has gained international attention following the tragic death of 46-year-old George Floyd in Minneapolis, who died after a police officer pressed his knee into Floyd's neck for more than eight minutes. Protestors have been seeking justice for him and countless others who've been failed by the system, as well as demanding all-around reform.
The Ballers star went on to call out the President for his decision to use military force against protesters, arguing a more peaceful approach would produce better results for everyone:
"There is military force that has been deployed on our own people. Looters, yes. Criminals, absolutely. But on protesters, who are begging and pleading, our protesters who are in pain? You would be surprised how people in pain would respond when you say, 'I care about you.' When you say to them, 'I'm listening to you.'"
The beloved TV and film star and father-of-three spoke from the heart about how he plans to respond to the ongoing issue:
"I am not the president of the United States, but I am a man and I'm a father who cares so deeply about my family, about my children, and the world that they will live in. I care so deeply about our country and every single person in it. That's who I am. I am a man who is frustrated, I'm disappointed, I'm angry. But I'm also doing my best to stay focused and as calm as I can possibly be in the pocket to make the best decision for my family and make the best decisions for our country."
And ended the message by urging his followers to be their own leaders during this time:
"As we continue to wait for that leader to emerge, I would recommend to all of you that we must become the leaders we're looking for. We become our own leaders because we're doing it now. The process to change has already begun. You can feel it."
Officials in positions of power need to get behind the movement to bring about policy reform that'll have lasting effects for our generation and the next, but absolutely well said!! Speaking up has already brought about change, and there's so much more work to be done. WATCH Dwayne's full speech (below):
Perezcious readers, what do U think of this bold statement from The Rock?! He has mentioned the idea of running for office someday and based off of that speech alone (with complete sentences and all!), it sounds like he's already lightyears ahead of our current Commander-In-Chief. You feeling it or what?!
Let us know (below) in the comments section!!
[Image via WENN/Instar]
Related Posts
CLICK HERE TO COMMENT
Jun 04, 2020 09:03am PDT