Can't tame the wild!
Brittany Furlan is opening up about what she really thinks about her rock star husband Tommy Lee's wild ways on social media — including his unpredictable d**k pics! Last summer, the Mötley Crüe member posted a completely naked selfie showing off his member… and apparently, his wife is totally chill with that!
In a new interview with People on Monday, the 36-year-old described the drummer as "such a goofball" who is always surprising her on social media. She dished:
"That's what I love about him, is he's so crazy and wild. I know he posts a lot of controversial stuff, which I'm like, 'Oh God, why are you posting that?' My husband will post stuff that he thinks is funny. People get up in arms and I'm like, 'Oh my God, just remember that this is a 60-year-old man posting on the internet.' I don't care, really."
Well, at least she loves him for it!
Related: Twitter TRASHES The Idol & The Weeknd's 'Comically Bad' Performance
Addressing his d**k pic more directly, she added:
"I have no control of him. He is his own person. If he wants to post his weiner, I don't personally care because I think nudity is not a big deal at all. 'Oh, a penis.' Who cares?"
Whoa!
Tommy really found a good one! Not everyone would be so nonchalant about their partner posting nudes for all to see!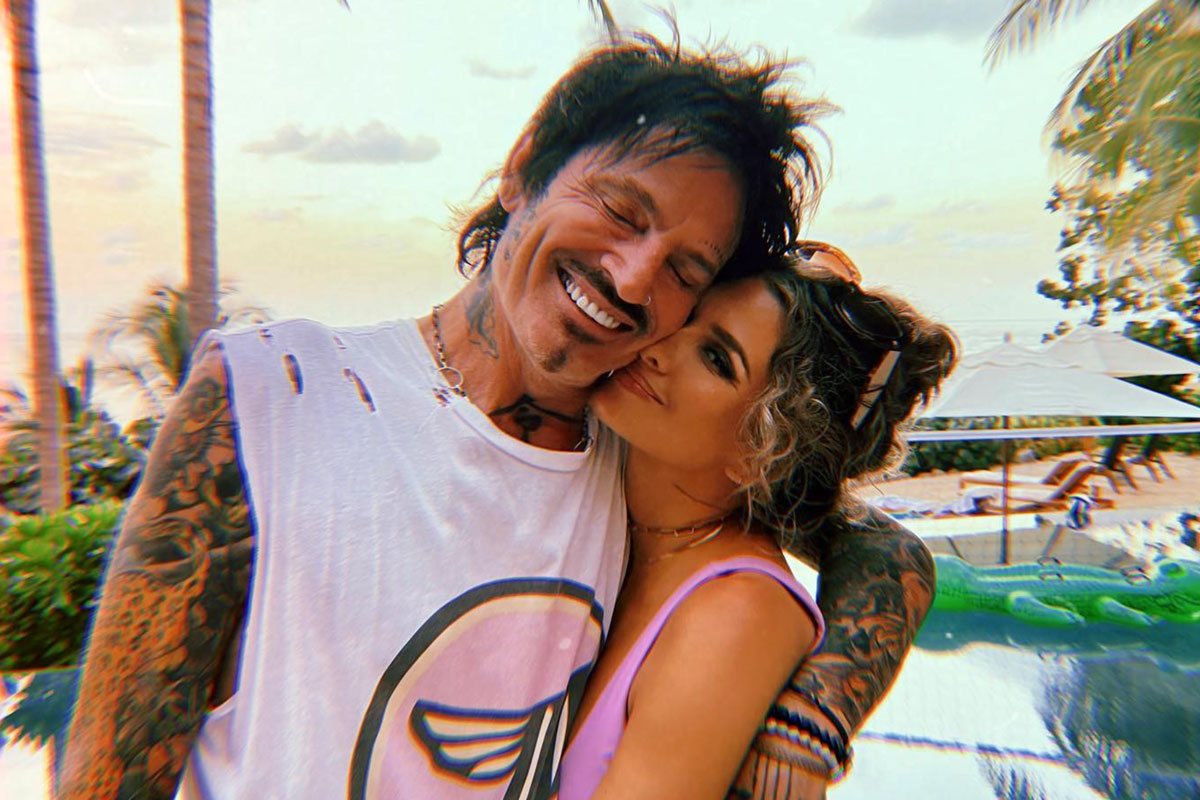 If you didn't know, the couple has been married since 2019 after two years of dating. While Brittany hasn't been exposing herself physically on socials, she does use her relationship as material in her stand-up comedy routines. Most recently, she joked that her vagina "was normal" before she married the musician:
"You ever chew up beef jerky and spit it out? That's what I'm working with right now."
LMFAO! TMI!
Related: Taylor Swift & Matty Healy BROKE UP!
Back with People, the comedian described herself as an "extroverted introvert" who has always turned to jokes to cope with her life, she explained:
"I literally just joke about everything in my life. Some people will attack me for it and make fun of me, but I use comedy to cope with whatever I'm dealing with. That's just what I've done since I was little. I essentially learned it from when my parents would fight. I would try to distract them by being funny."
While things get a lil rowdy in the bedroom, the former Vine star insisted life with the band is far less ruckus than some fans might expect — at least at this stage of their lives. She added:
"Everyone's pretty much sober now, so they're really mellow. Everyone has wives and children, so they're not bringing girls backstage. The craziest thing they do is have a cookout and light fireworks. They're all grown up."
Guess that's why Tommy turns to social media for some fun! He's trying to find ways to spice things up! LOLz!
Whether she's touring with the band or catching up with Tommy from afar, Brittany seems more in love than ever, concluding:
"We're always in contact. I talk to him more than I talk to anyone in my life. It's fun to have a little bit of time apart because then you get to miss the person."
So sweet! It's a good thing she doesn't mind his online antics 'cause we don't see that changing anytime soon! Reactions, Perezcious readers? Would U be so calm about something like this?! Sound OFF (below)!
[Image via MEGA/Apega/WENN]
Related Posts
CLICK HERE TO COMMENT
Jun 05, 2023 13:25pm PDT