Khloé Kardashian is being open and candid about a very difficult experience for her as a new mother.
The 35-year-old reality TV star sat down with sister Kourtney Kardashian for a brand new video published Wednesday for her lifestyle brand Poosh. In the ten-minute clip, the pair opened up about their experiences as new moms, with Khloé getting particularly honest about the difficulties of nursing and breastfeeding beloved baby girl True Thompson.
Related: Tristan Thompson Took The Bait On ANOTHER Khloé Thirst Trap…
The duo reminisced about the days of breastfeeding and close contact with their newborns, but it was interesting to hear how the Good American founder had more trouble with the whole thing than we ever knew at the time. The Keeping Up With The Kardashians star set the context of the time — she was in Cleveland feeling isolated with cheating partner Tristan Thompson, who was there playing basketball — and revealed more about the adversity she faced in connecting with her now-22-month-old little girl.
The reality TV star said:
"Pain wasn't my problem. I think parents go through pain for their kids, they don't care… It was more I wasn't producing milk. I was like, 'Whatever is the best for her.' But I understand, I was under a lot of stress, there was a lot going on in my life at the time that I think played a part in why I wasn't producing as easily. But I don't know. It was just a lot… [I felt isolated] being alone in Cleveland. Not having family there, you're also just trying to figure it out like I was — I'm still just trying to figure it out for myself, is this right?"
Wow! We knew Cleveland had been a tough time for the reality TV star, but to hear all this about her bond with True… so crazy! And for a new mom, it must be so scary and confusing… especially after finding out your baby daddy had been photographed with other women!!
Ugh!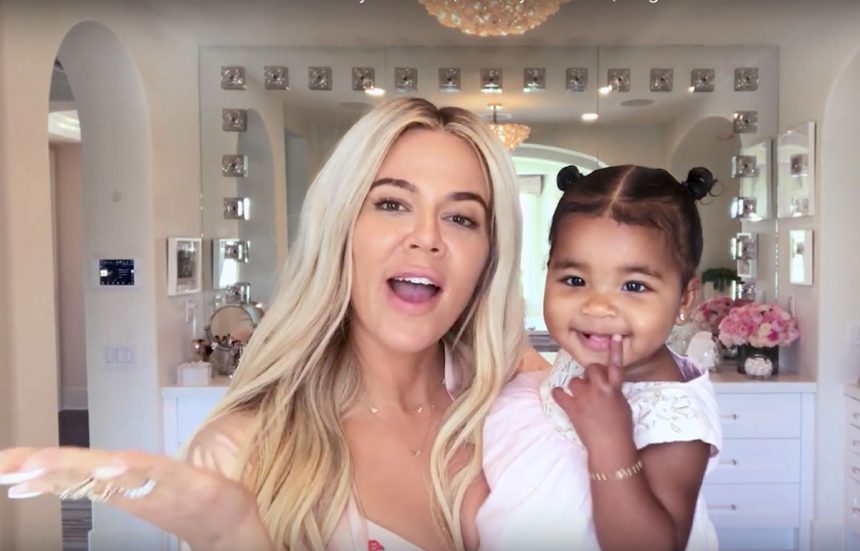 Fortunately, the Revenge Body star spoke to her doctor about what was going on, and they jointly decided to get True off breastmilk and onto formula — which helped quite a bit. But still, she had to face the guilt of not being able to breastfeed, as Khloé explained:
"I felt so bad [about no longer breastfeeding] … like I failed. I felt so bad about myself. Once I stopped, though, the amount of pressure that was lifted off my shoulders and I could enjoy my daughter … Seeing [her] consume 6 oz. at this time, 4 oz. at this time, it made me feel so good to know."
Interesting!
And it's doubly interesting to hear in the video clip how 40-year-old Kourtney had a "seemingly easy" breastfeeding experience with her three children compared to Khloé. And Kylie Jenner didn't breast feed Stormi Webster at all. Moms — and all babies — are different, it doesn't mean one is better than the other!
Related: Khloé Reacts To North Making Fun Of Her Love Life! Dayummm!
You can watch Kourt and Khlo-money discuss the whole thing on camera in the clip (below):
Always very raw and real whenever Khloé decides to open up about anything. The beloved reality TV star wears her heart on her sleeve, that's for sure!
Related: Khloé Gets Love On The Anniversary Of The Jordyn Woods Scandal
What do U think about Khlo's big breastfeeding admission here, Perezcious readers?! Brave to do considering all the likely mommy shamers out there always waiting for the next big thing to criticize… ugh!
We're on your side, Khloé!
[Image via WENN/Avalon]
Related Posts
CLICK HERE TO COMMENT
Mar 05, 2020 08:57am PDT