You know what they say, hindsight is 20/20! And that might just be the case for Kristin Cavallari on the heels of divorce from her estranged husband Jay Cutler.
Ever since the couple announced their split late last month, multiple insiders have come forward with tidbits of information that seem to prove there were serious issues going on long before the rest of us knew about it. And now, adding fuel to the fire, an old video has just resurfaced with a MAJOR sign the Very Cavallari star and former NFL player were headed for splitsville!
Related: Fans Think Jay Cutler Is Already Hanging Out With Kristin Cavallari's Ex-BFF!
The footage (from TMZ HERE) shows Kristin indulging fans in a little Q&A session during an event for her brand Uncommon James back in February. With Cutler sitting right beside her, Kristin was asked if she had any tips on marriage from an engaged couple in the crowd and THIS is where things get interesting! She jokingly answered the question, saying:
"Don't do it."
Oh, you don't say??
Sure, married couples like to throw that kind of silly joke around all of the time, and the laughter that erupted shortly after her reply tells us it was probably all in good fun. However, this was only two short months before their eventual divorce announcement and now that innocent wisecrack feels like so much more.
If "just kidding, but not really" had a face, this would be it: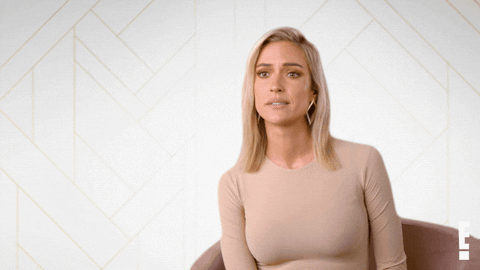 As we mentioned, the writing has been on the wall for some time now. One source recently spoke to E! News about the couple's sudden split and revealed things didn't exactly happen so suddenly, after all:
"[The two had] brought up the idea of divorce several times in the past years before. They've ultimately decided they truly both aren't happy … They have really tried to make it work for years, but are on different pages about lifestyles and were arguing a lot. The kids definitely kept them together at times."
Speaking of their three kids, the ex-partners have officially decided how they'll co-parent Camden Jack, Jaxon Wyatt, and daughter Saylor James, moving forward. According to the pair's "Permanent Parenting Plan," their children will divide their time equally between Kristin and Jay 182.5 days per year. It also notes the kids will "spend time with each parent in their respective residence during said parent's respective parenting time," so it's a good thing these two worked out their messy housing situation, with Cavallari now owning her own home away from her ex. Phew!
But what did you think about that very telling quote, Perezcious readers?? Crazy to hear it now after this surprising sequence of events, right? Do U think we're reading too far into it or was it the cry for help it appeared to be?
Let us know (below) in the comments!
[Image via Kristin Cavallari/Instagram]
Related Posts
CLICK HERE TO COMMENT
May 05, 2020 10:10am PDT