Lori Loughlin's Daughter Olivia Jade Gets SLAMMED By Sephora Shoppers As Her Sponsored Deals Are At Risk Of Being Cut!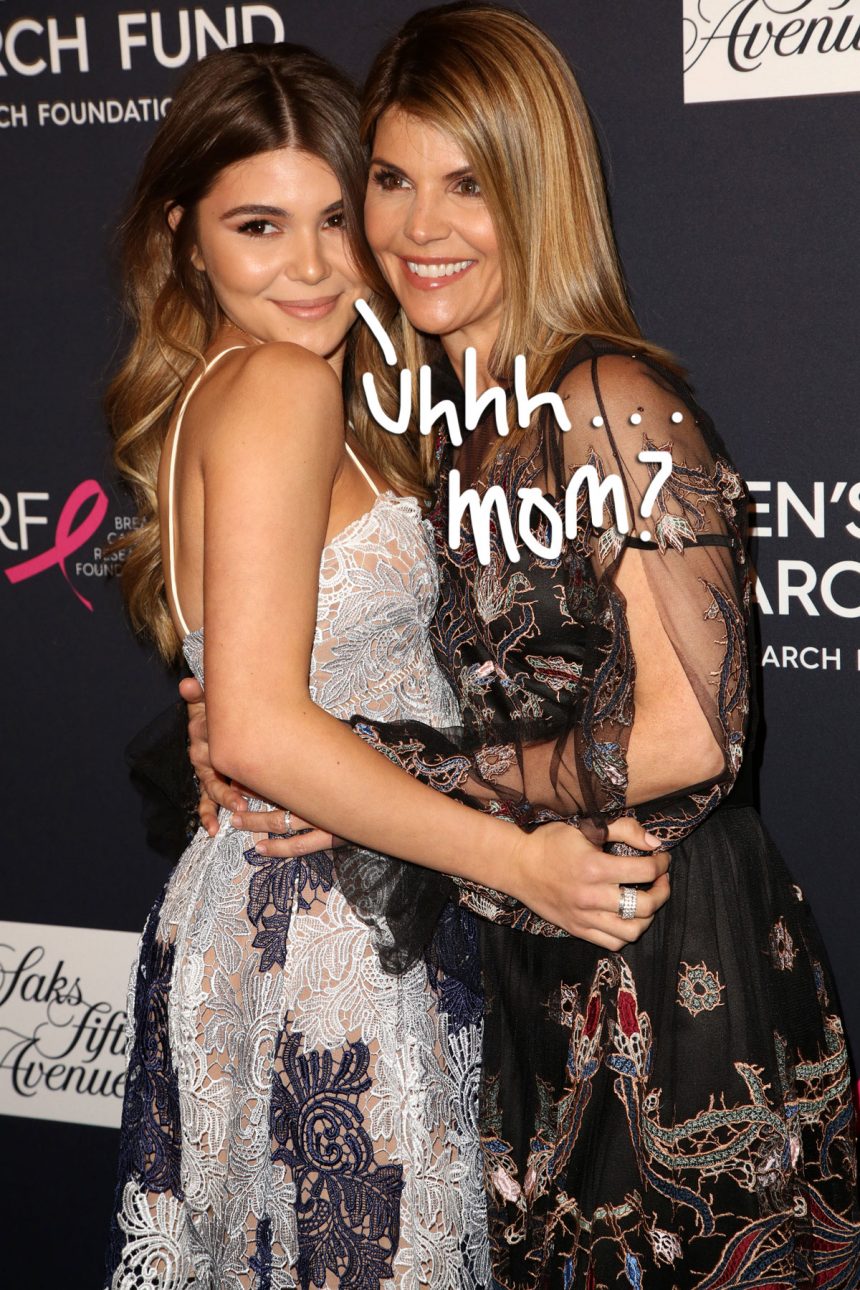 UPDATE 2:31 EST: In a statement to Yahoo Lifestyle, Sephora confirmed on Thursday that they have cut her partnership:
"After careful review of recent developments, we have made the decision to end the Sephora Collection partnership with Olivia Jade, effective immediately."
———-
Lori Loughlin's daughter is already feeling the backlash from her parents' college admissions bribery scandal!
For those who don't already know, the Fuller House star and husband Mossimo Gianulli are accused of paying $500,000 to get their daughters, Olivia Jade and Isabella Rose, fraudulently designated as part of the crew team at USC, going so far as to even stage photos of the two on rowing exercise machines.
The parents were charged with conspiracy to commit mail fraud and honest services fraud. They've also both been arrested and are out on their $1 million bond until their next court date on March 29.
Related: R. Kelly's Ex-Girlfriend Claims He Beat Her With Extension Cord
While it's unclear if their Instagram influencer offspring, Olivia, was aware of their involvement or even knowingly participated herself, she is catching all sorts of heat via her business deals!
With her $28 Olivia Jade x Sephora Collection Bronze & Illuminate Palette having launched in December, but already sold out, that didn't stop upset shoppers from taking over the comments!
One Sephora reviewer wrote:
"I thought this would give me the 'just-came-from-crew-practice,' 'spent-hours-rowing-on-the-lake' glow. Turns out it was all a sham!"
Others also slammed Sephora for still carrying the product, and thus, associating with Gianulli!
"Remove this product immediately. She and her family should be ashamed of themselves, and so should Sephora if you continue to carry this product. I will never shop at Sephora again unless you drop this like a hot potato."
Sounds just a tad dramatic, but everyone's entitled to their own opinions.
See the reviews (below):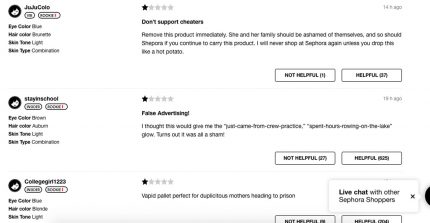 Wild, right??
But it's sadly not over for the YouTube star and freshman at USC as she's facing losing lucrative brand sponsorships and deals.
One company, HP, has already cut its ties with the 19-year-old. A statement read:
"HP worked with Lori Loughlin and Olivia Jade in 2017 for a one-time product campaign. HP has removed the content from its properties."
Meanwhile, it's unclear what the future holds with her other sponsorship partners: Amazon, Dolce & Gabbana, Lulus, Marc Jacobs Beauty, Smashbox Beauty Cosmetics, Smile Direct Club, Too Faced Cosmetics, Boohoo, and Unilever's TRESemme.
Yuval Ben-Itzhak, CEO of social-media marketing firm Socialbakers, told Variety that brands could be rethinking their next steps with the young social media star:
"It wouldn't come as a complete surprise if the brands currently working with Ms. Giannulli took a closer look at the status of their relationship with her and possibly reconsidered next steps for engagement. Brands should always do their proper due diligence on the content and news associated with influencers that they would engage with and are engaging with over time."
Ouch!
Sounds like even if Olivia Jade had no involvement in her parents' alleged scheme, her partners may not want to be associated with the negative attention the scandal is drawing.
Since the news broke, there have been no new posts from the teen. Her last pic on IG was shared in February and her last YouTube video went up just days before the scam was revealed!
It's very possible Lori's daughter is in hiding amid the fallout as it's been said she actually flew home early from a spring break trip!
TMZ reported the college student was on the yacht of billionaire Rick Caruso, who is also Chairman of USC's Board of Trustees, with his daughter Gianna Caruso.
He shared:
"My daughter and a group of students left for spring break prior to the government's announcement yesterday. Once we became aware of the investigation, the young woman decided it would be in her best interests to return home."
The group were traveling through the Bahamas at the time when she decided to fly home to be with her family.
They'll probably want to spend as much time together as possible amid the allegations!
Thoughts?? Do U think Olivia Jade's partners should drop her??
Sound OFF on it all in the comments (below)!
[Image via Brian To/WENN]
Related Posts
CLICK CLICK CLICK Next Article
Mar 14, 2019 7:15am PDT