Actresses Felicity Huffman & Lori Loughlin Among Others Indicted In College Admissions Bribery Case!!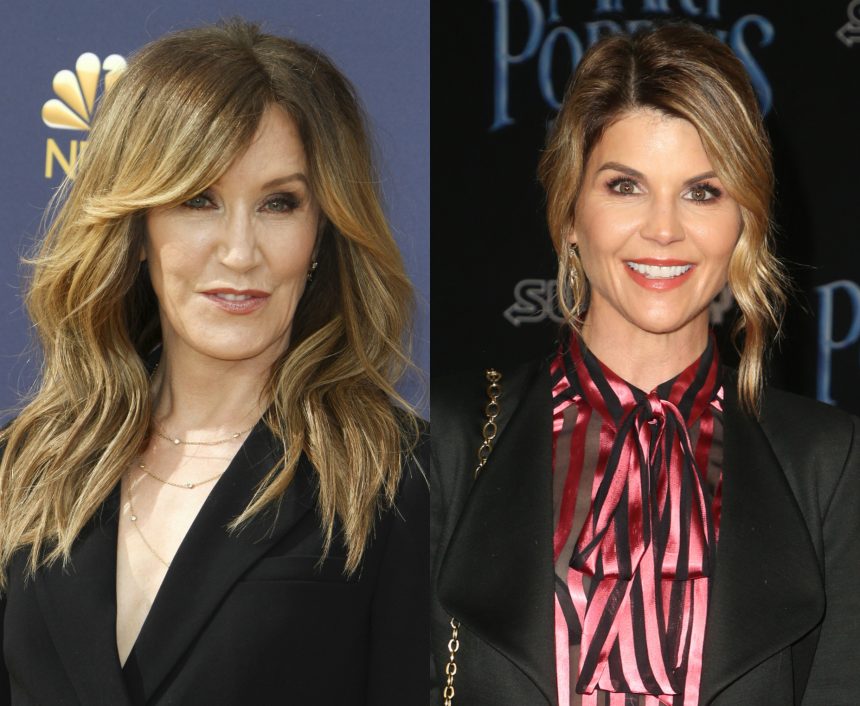 UPDATE 9:35 A.M. PST: A team of federal prosecutors held a live press conference on Tuesday morning to address the outstanding charges and explain how they were able to catch the scheme.
The U.S. Attorney's Office's Andrew E. Lelling explained that the tip on the college admissions scam came from an interview with a suspect about an entirely different investigation, and that authorities have been following the story for a little over a year now.
Lelling also named the admissions consultant at the center of the whole scheme, a California business man named William Rick Singer. Singer acted as the middle man between parents and coaches by funneling the bribes through his non-profit called Key Worldwide Foundation.
This was a way to launder the money, conceal the nature of the payments and essentially keep everyone's hands clean. What's worse is that Singer allegedly encouraged parents to claim the payments they made as charitable donations, so they can still get the tax write off at the end of the year.
Once the money was clean, coaches allegedly pocketed the profits for themselves while some gave a portion to the schools.
FBI Special Agents Joseph Bonavolonta and Christina O'Connell explained that the colleges named in the investigation are not being treated as suspects. 
And neither are the children of the parents who are indicted. The agents say that once the students AKA "athletes" who benefited from the fraud were accepted, students would either not show up to practice, fake an injury or play for a little then quit.
Law enforcement announced that Singer is set to plead guilty to racketeering at 2:30pm today in Boston, and that 2 other unnamed suspects have pledged to come forward in the coming weeks.
———-
---
If this isn't a scandalous scenario straight out of a movie, we don't know what is!!
Desperate Housewives actress Felicity Huffman and Full House star Lori Loughlin, along with at least 40 others, have been charged in a massive bribery scam involving elite colleges in the United States. Reports show those involved allegedly paid (in some cases) MILLIONS to get their kids into prestigious schools including Georgetown University, Stanford University, UCLA, the University of San Diego, USC, University of Texas, Wake Forest, and Yale.
Related: Kim Kardashian Is Still Helping With Reformed Prisoners In Any Way She Can
The news came out of Boston on Tuesday morning, where TMZ sources shared Felicity has been arrested is already in custody. She will be released on a signature bond with a guarantee she'll appear in court.
As far as specifics for both actresses…
Lori and her husband Mossimo Giannulli allegedly paid $500,000 to have both of their daughters recruited for the crew team, a sport which they don't play, at USC. With Felicity and William H. Macy, they reportedly made a charitable donation of $15,000 to involve themselves in a college entrance exam cheating scheme on behalf of their first daughter, though it seems the actor was not indicted. Huffman's daughter reportedly took the SATs in December 2017 and received a 1420, which was a 400 point improvement.  At the test taking center, it's said a proctor corrected her answers afterward.
Both TV stars have been charged with with conspiracy to commit mail fraud and honest services fraud. The FBI allegedly recorded phone calls involving the celebrities and a cooperating witness, leading to the indictment.
Related: R. Kelly Is Out Of Jail Once Again After A Friend Pays Child Support Owed
Prosecutors also said parents paid an admissions consultant upwards of $25 million from 2011 through February 2019 to bribe coaches/administrators to label their kids as recruited athletes to increase their chances of getting into the schools mentioned (above).
We will continue to follow this story as it develops. Please check back here for the latest!
[Image via FayesVision/Apega/WENN]
Mar 12, 2019 8:29am PDT