The Jonas Brothers Did A Year Of Band Therapy Before Reuniting!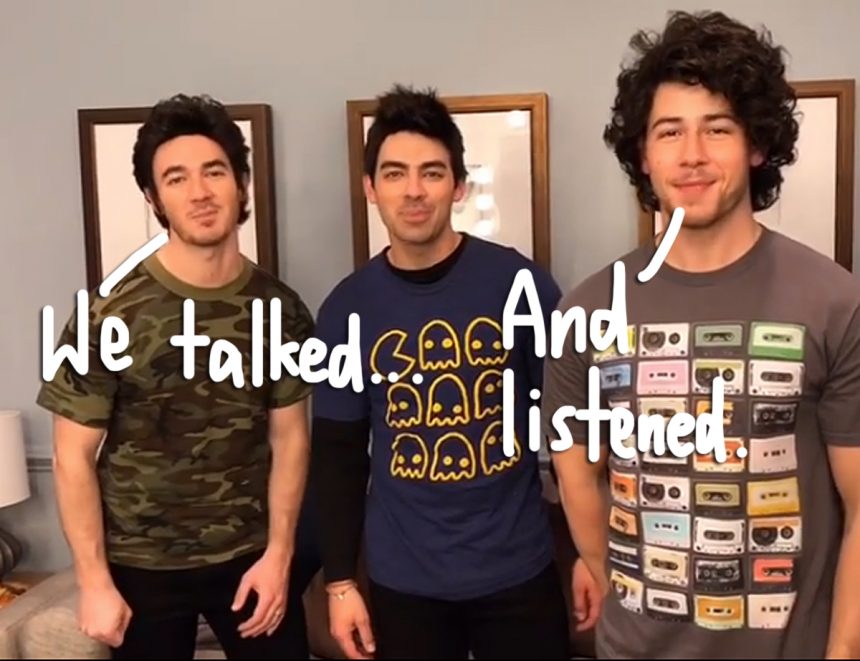 A lot of work went into the Jonas Brothers' long-awaited reunion — and we're not talking about the music!
Days after the pop rock band dropped their comeback single, Nick, Joe, and Kevin Jonas revealed to James Corden that they had a lot to work out between the three of them before reuniting professionally.
As they explained on the Late Late Show, the brothers wanted to iron out the issues that came up during their first run as the JoBros back in the day so that, this time around, they could perform together in perfect harmony.
Related: Dr. Phil Is More Excited About The JoBros Reunion Than You!
Nick revealed on Monday:
"We literally spent a year basically doing therapy, working through some things and figuring out what this chapter would look like. We've had to be really open and honest. There are things in the past that bothered us from time to time, even in our performances that we would do."
The Bacon singer then revealed that the idea to reunite first came up while the trio were feeling nostalgic while filming a documentary about their initial rise to fame.
He continued:
"About a year and a half ago, we started filming a documentary… [that] tracks kind of our childhood into our time in the band, and it was gonna be a story about where we are today. With separate lives, doing separate things — Joe with DNCE, me with my solo stuff… But during [filming and production], we started to realize that there was a magic that we felt like we were missing. So the process was basically just [us saying], 'Why don't we give this another shot?'"
The siblings then "started playing a little music together" and realized that it was time to reunite — after some much needed talk therapy, of course.
The reunion story is much different than Corden's version, which shows the late night host and Reggie Watts forcibly kidnapping the trio, tying them to a chair, and demanding that they reunite in an effort to save the world. Watch the funny sketch (below):
It's not clear when the doc will premiere on Amazon Prime Video, but JoBro fans are already foaming at the mouth over this reunion.
As we reported, JoBro Twitter went crazy re-on Friday when the band dropped the music video for Sucker, which starred each of their significant others: Mrs. Kevin Danielle Jonas, Mrs. Nick Priyanka Chopra Jonas, and Joe's lady Sophie Turner.
It's officially Jonas season!
[Image via Instagram]
Mar 6, 2019 12:40pm PDT