Here's Why The Jonas Brothers Got Back Together — Everything We Know So Far!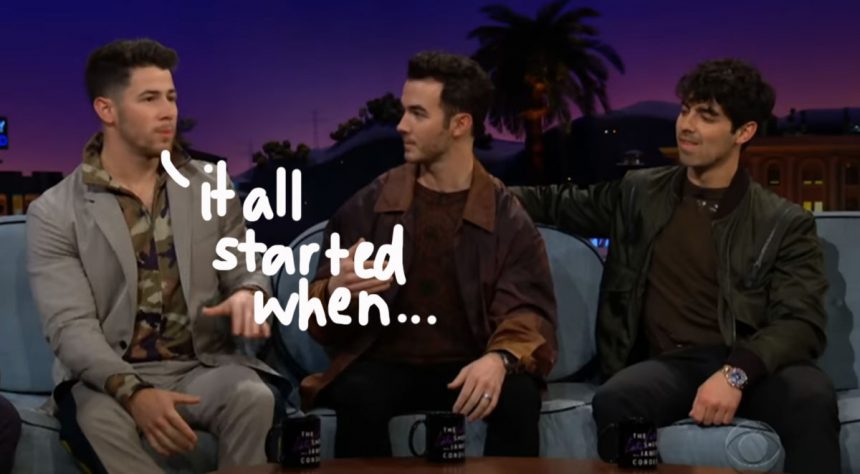 The Jonas Brothers heard our faint SOS for a comeback and delivered!
It's only been a week since the band reunited and the world is still collectively fan-girling over it all. We mean, who could've predicted this huge surprise to start 2019?!
Related: Watch The Jonas Brothers New Music Video 'Sucker' Starring Their Love Interests IRL!
After six years out of the spotlight, many are dying to know — what made these band of brothers decide to give music one more shot together?
Take a look at everything that's happened so far since the Jonas Brothers announced their comeback:
Why The Jonas Brothers Got Back Together
On Monday, the Jonas Brothers gave their first official interview as a group reunited on The Late Late Show with James Corden. Nick takes the lead, and explains how the idea to officially get back together first came about:
"About a year-and-a-half ago, we started filming a documentary… [that] tracks kind of our childhood into our time in the band, and it was gonna be a story about where we are today. With separate lives, doing separate things — Joe with DNCE, me with my solo stuff."
It sounds like that trip down memory lane was the spark they needed to get things going again:
"But during [filming and production] we started to realize that there was a magic that we felt like we were missing. So the process was basically just [us saying], 'Why don't we give this a another shot? So we started playing a little music together and realized right away this is where we're meant to be in our lives at this moment."
Aww, how sweet!
More of the story behind it all was told on Ausrtalian radio show Smallzy Surgery, where Kevin explains another crucial moment behind their decision.
In 2018, Joe was serving as judge on The Voice Australia while the group was filming their upcoming documentary. Kevin and Nick would fly in repeatedly to make their taping schedule work with Joe's hosting gig, and continue to work through their past:
"Australia was actually a big piece of the puzzle because at that point, we had been filming a documentary for about two or three months and really just starting to unpack everything. For us, it goes back a lot further just 'cause the way things ended back in 2012, 2013 was really complicated, both as family and as Brothers. So it took some time to get into it all and like I said, unpack it."
It sounds like everyone's collective effort to show up for each other is what made the decision to reunite at this time feel right:
"Kevin surprised Joe and I by showing up, which was a big thing in our conversations, just the transparency of saying, you know, your willingness, Kevin, to get on a plane and go wherever we might need to go in this new chapter, given that you've got a family. Cut to a month and a half, two months later. At that point, I was engaged, so it was sort of like our realities were colliding and shifting. It's just been insane, and I think the biggest year of growth for us as brothers and as a band."
They've Already Secretly Performed For Fans!
The JoBros aren't wasting anytime giving their fans what they want. On Friday, the band performed their new song Sucker as well as some of their old hits during a secret show at The Box Theater in New York City. The trio's setlist included favorites like Burnin' Up, Year 3000, SOS and That's Just the Way We Roll.
For those of us suffering from serious FOMO here, get a taste of their new live sound from the clip posted on Instagram (below):
Earlier that same day, Nick, Joe and Kevin appeared on The Elvis Duran morning radio show and revealed that Sucker is just one of several new hits to come. The band says they already have about 30-40 songs recorded, and a new album is definitely in the works! Hear them share the exciting news (below):
#JonasOnElvis: Here. For. This. 🙌 @joejonas says @jonasbrothers have 30 to 40 new songs recorded and a full album in done / in the works! 🥰🥳 #JonasBrothers @ElvisDuran #Sucker pic.twitter.com/mSMYqqhNkN

— Elvis Duran Show (@ElvisDuranShow) March 1, 2019
The band could be going on tour
In an interview with PopMeetsBuzz, the band revealed to fans that there is strong possibility for a tour sometime soon. No dates have been announced yet, but die hard fans better start saving up those coins!
The JoBros ever so casually mentioned that longtime friend and Camp Rock alum Demi Lovato could be one of their surprise guests — WHOA!
Hear them tease more special surprise guests (below):
A Documentary About Their Lives Is Coming To Amazon
And if this press run and promise of new music AND a tour on the way isn't enough for die hard fans, hang tight because that documentary Nick mentioned is actually happening.
The feature promises an "intimate look" at the trio's lives, presumably picking up on where things left off when the band called it quits back in 2013.
Read through their official joint statement (below):
"Our fans are the best in the world and have shared in our journey as the Jonas Brothers and us as individuals. In releasing this documentary we wanted to make sure we partnered with an innovative platform, like Amazon, that could reach our fans around the world."
No word on when the premiere date for the Amazon Prime Video documentary will be officially announced, but we sure are ready and waiting!
Perezcious readers, what are YOU most excited for? A new Jonas Brothers album, the documentary or BOTH?!
Sound off in the comments below!
[Image via The Late Late Show/YouTube]
Related Posts
CLICK CLICK CLICK Next Article
Mar 5, 2019 12:19pm PDT