Stormy Daniels Is Doing Standup Comedy Now — And People Have Thoughts!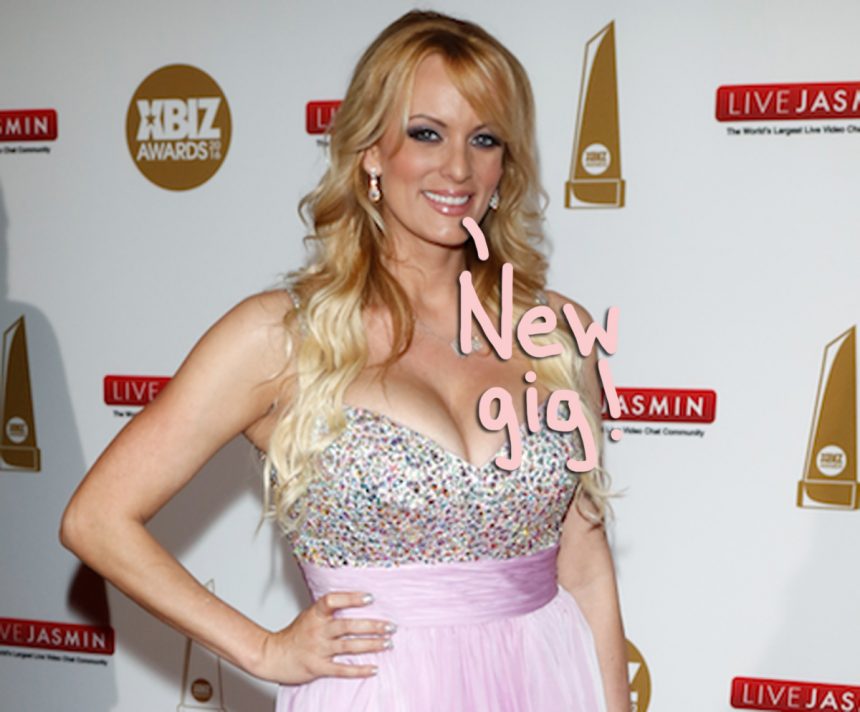 Add standup comedy to Stormy Daniels' resume!
The porn star, who infamously went after Donald Trump and his alleged Mario Kart-like genitals (vomit…), is now set to perform her first standup set a few weeks from now at a comedy showcase in Texas!
Related: Stormy Bares Her Hottest Takes Yet For Playboy!
The one-night-only event goes down in Houston on March 20 (if you're in the area, you can purchase tickets HERE), and as you can see, fans are starting to spread the word with much anticipation on social media (below):
The boss is doing her very first standup comedy shows in her home state of Texas! Make sure you check out the #ClapbackQueen in person! #StormyDaniels #StandupComedy @StormyDaniels pic.twitter.com/Y39Ygu09RF

— Dwayne Crawford (@dwaynejcrawford) March 2, 2019
Wow! Very fun!
And good for her!! Always expanding the brand, no doubt, and whether it be about Trump or not, thanks to her wild and unique career history, we're sure Stormy has a LOT of good and hilarious stories to tell!
Related: Stormy Calls Out Former Lawyer Michael Avenatti
Bizarrely, though, some people appeared to take mortal offense to the fact that Daniels would even dip her toe into the world of standup comedy!
And not just random Twitter trolls, either… but people like Laurie Kilmartin, an established comedian herself and current late-night TV writer for Conan O'Brien's show!!
Kilmartin fired off this tweet about the adult film actress Sunday afternoon (below):
Doing standup is not a reward for being famous. Please leave the weekend gigs for actual female comics. https://t.co/nR6YExAZ5d

— Laurie Kilmartin (@anylaurie16) March 3, 2019
"Doing standup is not a reward for being famous. Please leave the weekend gigs for actual female comics."
WTF?!
First off… March 20 is a Wednesday, and not a "weekend gig," so, LOLz at you, Laurie. Be best!
But also, who made her the gatekeeper to standup comedy?! Nobody's saying Stormy has earned the right to take over every stage in the world being brand new to comedy, but what's wrong with her trying her hand at a new craft??
Related: Late Night Reacts To Stormy's Vivid Description Of Trump's Penis…
She doesn't need us to defend her, though. The 39-year-old defended herself just fine in a response tweet to the late-night writer (below):
Wow!So supportive. I AM an "actual female" but I'll never get women who just tear other women down& I know it's not a "reward". I've been writing comedy material for over 10yrs.Would you like me to critique your bj skills?Your whole foot fits in your mouth so you'll prob do great https://t.co/HQt2FCu3sE

— Stormy Daniels (@StormyDaniels) March 3, 2019
Considering how the President of the United States has attacked her publicly and gone after her in court, something tells us that Daniels won't be scared off by the feeble opinions of one late-night writer.
And seriously… why are comedians so uptight all the time?! Do you, Stormy, and let 'em have their temper tantrums! LOLz!!
Other Twitter peeps had thoughts like, "EXPOSE HIM!!!" and "Wish I could be there….good luck Stormy. You'll be great! 💕" so at least she's got some support!
What do U think about all this, Perezcious readers?! Would you ever go see her comedy set??
Sound OFF with all your hottest takes and biggest reactions in the comments (below)!!!
[Image via WENN.]
Mar 4, 2019 10:10am PDT