Look Away, Pete! Milo Ventimiglia & James Corden Fight Over Kate Beckinsale In 'The Late Late Show' Sketch!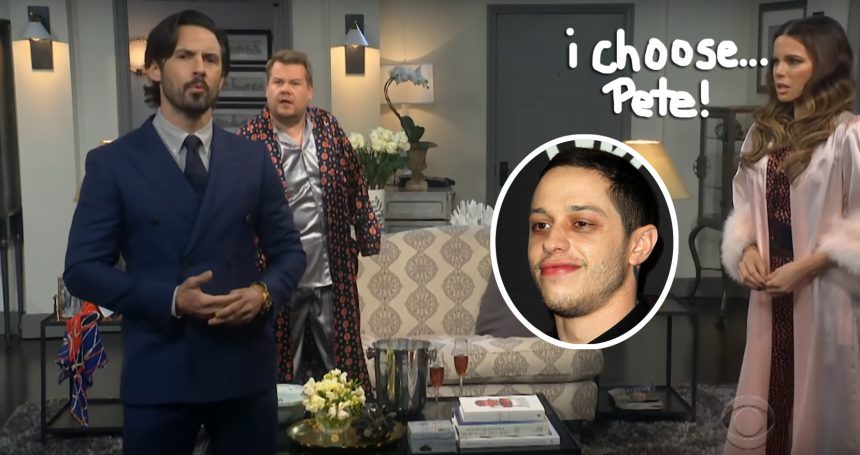 Pete Davidson, look away… if you can! Dun dun DUNNN!!!
Kate Beckinsale has not one but TWO steamy new love interests in a her new soap opera… on The Late Late Show!
The Underworld star teamed up with Milo Ventimiglia and James Corden for a segment on his late night show, "The Bold and the Lyrical," performing a sexy soap scene using lyrics from Bruno Mars — and showing just how dramatic things can get without any music involved!
Related: Hailey Bieber Would Rather Eat Meat Jelly Than Rank Justin's Past Hair Looks!
The actors hilariously reference songs from the Grammy Award-winner including Uptown Funk, Marry You, Grenade, along with newer hits like Please Me while enacting the cheesy story line.
Miz Beckinsale and the show's host appear in lavish silk and sip champagne when the This Is Us hunk returns home to propose to Kate — who has to quickly hide her tryst with James!
But in the end… will she choose her secret lover or her Billionaire BF? Maybe she should just stick to her IRL beau, LOLz!! If he was in the mix, we have no doubt she'd pick her Saturday Night Live star luvvah… she does have a thing for comedians after all!
The This Is Us star does make one blunder, quoting Shallow from A Star Is Born by Lady GaGa:
"I'm off the deep end. Watch as I dive in. I'll never meet the ground."
Oops!
Related: The Jonas Brothers Take A Lie Detector Test On Carpool Karaoke
This isn't the first time celebs have starred in the mock soap opera! Previous segment stars have included Salma Hayek, Gary Oldman, and Ray Romano using Justin Bieber's songs as dialogue, as well as Adam Scott and Meg Ryan using Beyoncé's!
Ch-ch-check out the Finesse singer's lyrics like you've never heard them before (below):
Who else should star in the next skit?? Sound off with your ideas (below)!!
[Image via Adriana M. Barraza/WENN & The Late Late Show/YouTube.]
Mar 15, 2019 5:08pm PDT