The Jonas Brothers Take A Lie Detector Test On 'Carpool Karaoke'! WATCH!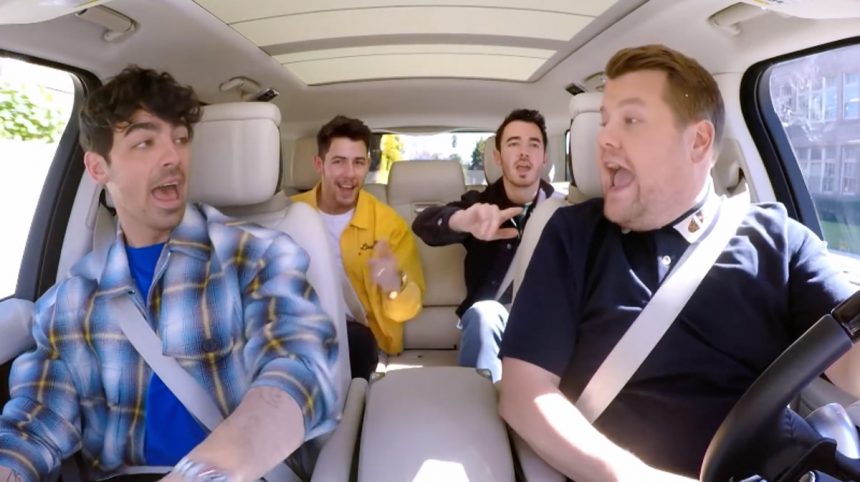 The reunited Jonas Brothers are spilling all sorts of tea… whether they want to or not!
On Thursday's episode of The Late Late Show with James Corden, Nick, Joe, and Kevin Jonas drove around with host James Corden where they sang along to their hit songs — including Burnin' Up and Year 3000 — as part of the insanely popular "Carpool Karaoke" segment.
Related: Dr. Phil Is More Excited About The JoBros Reunion Than You!
While jamming out to their new tune Sucker, Nick mentioned this is "technically [their] first performance back as a group."
However, things got EXTREMELY juicy when each JoBro got hooked up to a lie detector test!
While Joe revealed Kevin is the brother who gets on his nerves the most, Nick admitted that there was a point during his nuptials to Priyanka Chopra that he said he was done with having so many weddings! He joked:
"It was when I looked at the bill."
While Nick said he did NOT think he was a better singer than his brothers, the lie detector said otherwise!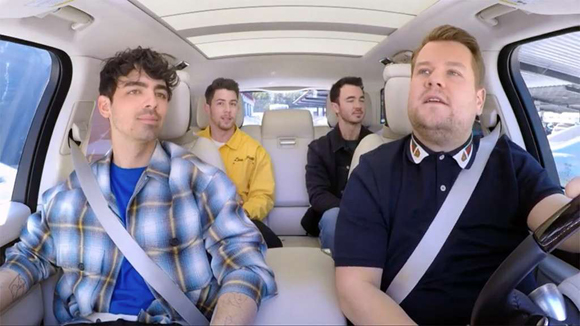 Additionally, Sophie Turner's fiance lied when he said his brothers' wives don't get on his nerves! (Priyanka or Danielle Jonas???)
After the damage was done, Kevin joked to James:
"Thanks for breaking up the band."
WATCH the hilarious clip (below):
As we reported, during their first official interview as a group with Corden, Nick explained how the idea to officially get back together first came about. He dished:
"About a year-and-a-half ago, we started filming a documentary… [that] tracks kind of our childhood into our time in the band, and it was gonna be a story about where we are today. With separate lives, doing separate things — Joe with DNCE, me with my solo stuff."
He added:
"But during [filming and production] we started to realize that there was a magic that we felt like we were missing. So the process was basically just [us saying], 'Why don't we give this a another shot? So we started playing a little music together and realized right away this is where we're meant to be in our lives at this moment.'"
Additionally, while talking to Australian radio show Smallzy Surgery, Kevin explained that while Joe was a judge on The Voice Australia in 2018, he and Nick would fly in repeatedly to shoot the aforementioned documentary. During this time period, the three continued to work through their past issues:
"Australia was actually a big piece of the puzzle because at that point, we had been filming a documentary for about two or three months and really just starting to unpack everything. For us, it goes back a lot further just 'cause the way things ended back in 2012, 2013 was really complicated, both as family and as Brothers. So it took some time to get into it all and like I said, unpack it."
Nick added:
"Kevin surprised Joe and I by showing up, which was a big thing in our conversations, just the transparency of saying, you know, your willingness, Kevin, to get on a plane and go wherever we might need to go in this new chapter, given that you've got a family. Cut to a month and a half, two months later. At that point, I was engaged, so it was sort of like our realities were colliding and shifting. It's just been insane, and I think the biggest year of growth for us as brothers and as a band."
We're Burnin' Up for the JoBros!
[Image via The Late Late Show with James Corden/YouTube.]
Related Posts
CLICK CLICK CLICK Next Article
Mar 7, 2019 7:52pm PDT