Khloé Kardashian is so sick and tired of getting confused with big sister Kourtney that she just spent a night putting together a whole ass presentation about it!
On Monday evening, the Revenge Body alum took to her Instagram account to lay out a series of Stories slides meant to address persistent public confusion. You see, Khloé is in NYC right now — she got there Monday evening — and she immediately headed over to the Ritz Carlton Hotel with sister Kim Kardashian.
As we've been reporting, Kim is in the Big Apple to promote a SKIMS pop-up shop, as well as the fam's forthcoming third season of The Kardashians, which premieres next Thursday on Hulu. So Khloé joined! And the 38-year-old made the most of the trip!
Related: Kris Jenner Suggested Khloé Kardashian's Baby Name On TV MONTHS Ago!
Per TMZ, Kim and Khloé were chauffeured over to the Ritz on Monday night after their plane landed in NYC. When they got to the hotel, they stepped out of the car, and… fans yelled out for the duo by calling them "Kim and Kourtney."
Oops!!
So, after becoming a little mad, a little frustrated, and a little amused by the moniker mix-up, Khlo-money popped up on IG to set the record straight.
In one Monday evening slide, the Good American founder shared:
"Hey so for those who can't tell me and @kourtneykardash apart this is for you. I totally understand how we look like identical twins so this might be challenging for some but hopefully this presentation will help. Especially to the people that were screaming 'Kourtney Kourtney' as I walked by. this one's got you."
Damn!
She wasn't kidding, either. Khloé really put together an entire presentation on how fans can tell the difference between her and her 44-year-old sister!!
Related: Khloé Says Single KarJenner Girls Should Do 'Love Is Blind'! We Say YES!
In the next slide, Khloé explained:
"This is my sister Kourtney. She's pretty fabulous, gorgeous, hysterical… So I get how people mix us up. A few ways to tell us apart is that 99% of the time [she] is a brunette, where as I am 99% of the time a blonde."
And then True Thompson's momma added:
"I get it, she is hot as f**k… Again, maybe this is where people keep blending us together because we are f**king identical in the way we look"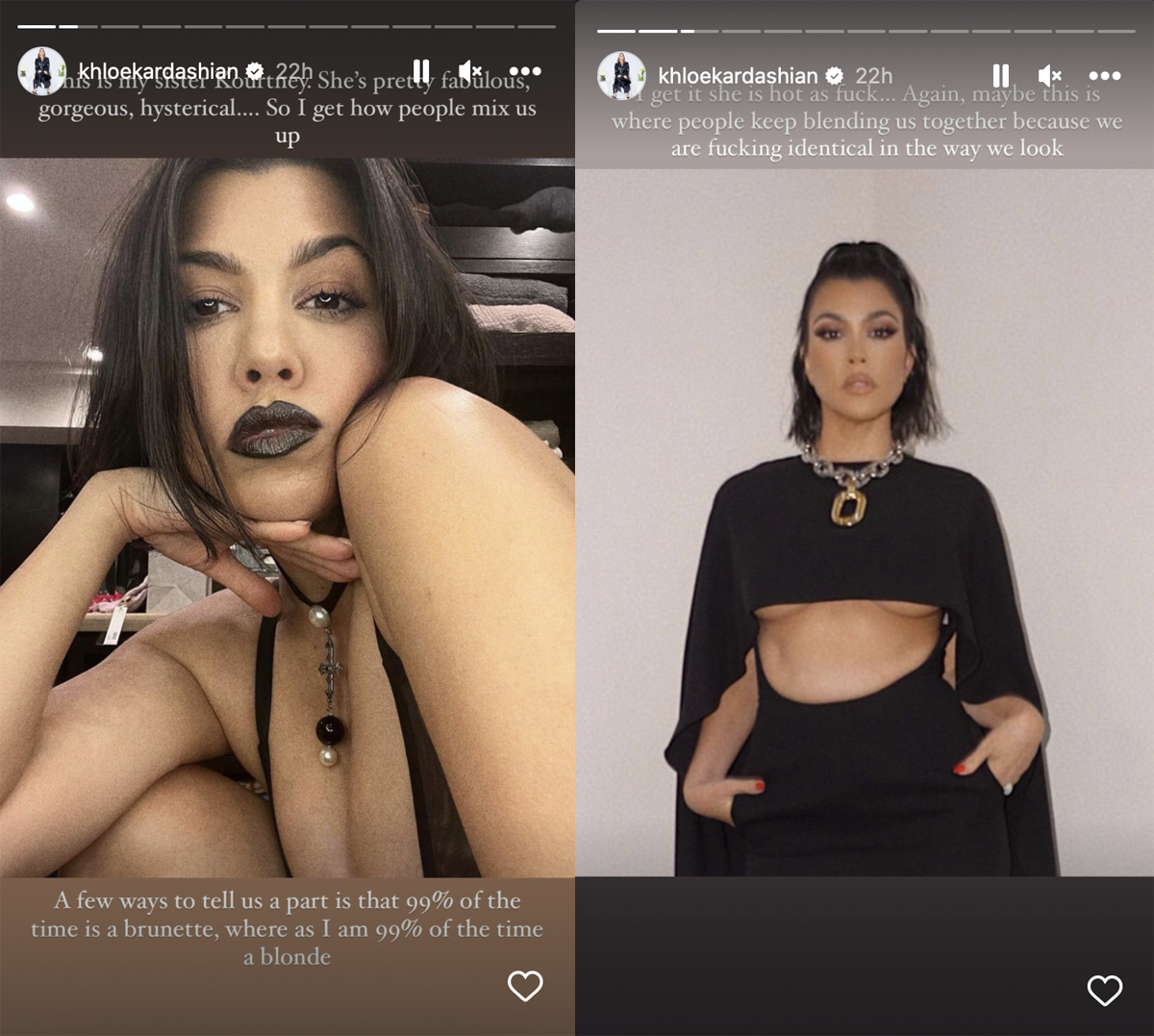 For good measure, Khloé also called on a few other even more helpful educational assists.
In one slide, she confirmed the Poosh founder is just 5'1″, writing:
"Some thing that might help is that Kourtney is quite tiny… I am about 5'10". That is quite a height difference, so even if we're standing next to each other, and even though our beauty seems to be identical to one another, the height is a dead giveaway"
And in another slide, Khloé made light of how differently she and Kourtney tend to style themselves at appearances:
"The resemblance is uncanny. Yes, I get it. … But still my hair is blonde, I'm tall and my eyes are lighter than hers"
Then, to really twist the knife, the KUWTK alum even confirmed that an Elvis Presley impersonator in Las Vegas had confused Kourtney and Khloé — in front of the Lemme founder and her man Travis Barker:
"Even Mr. Elvis Presley while he was marrying my sister @kourtneykardash and Travis called her Khloe… This happens to us on a daily basis multiple times a day. I'm being conservative by saying a daily basis."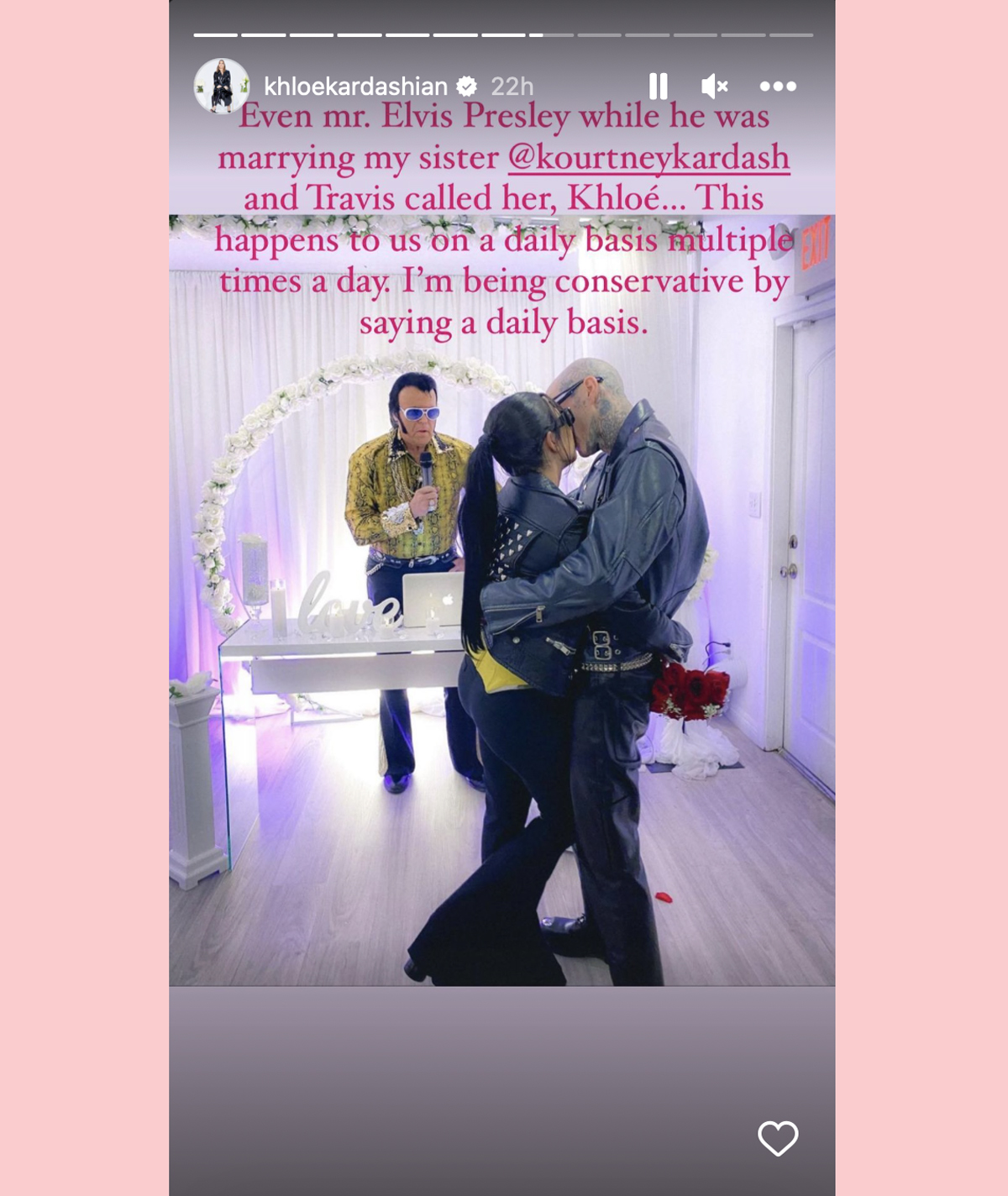 Jeez! Though to be fair, they didn't have E! when Elvis was around…
Related: Tristan Thompson Still Loves Khloé, But She's Not Up For Playing THAT Game Again…
Nevertheless, Khloé tried to end it all on a positive note, concluding her presentation like this:
"I hope my presentation helped those that have been confused for over 20 years"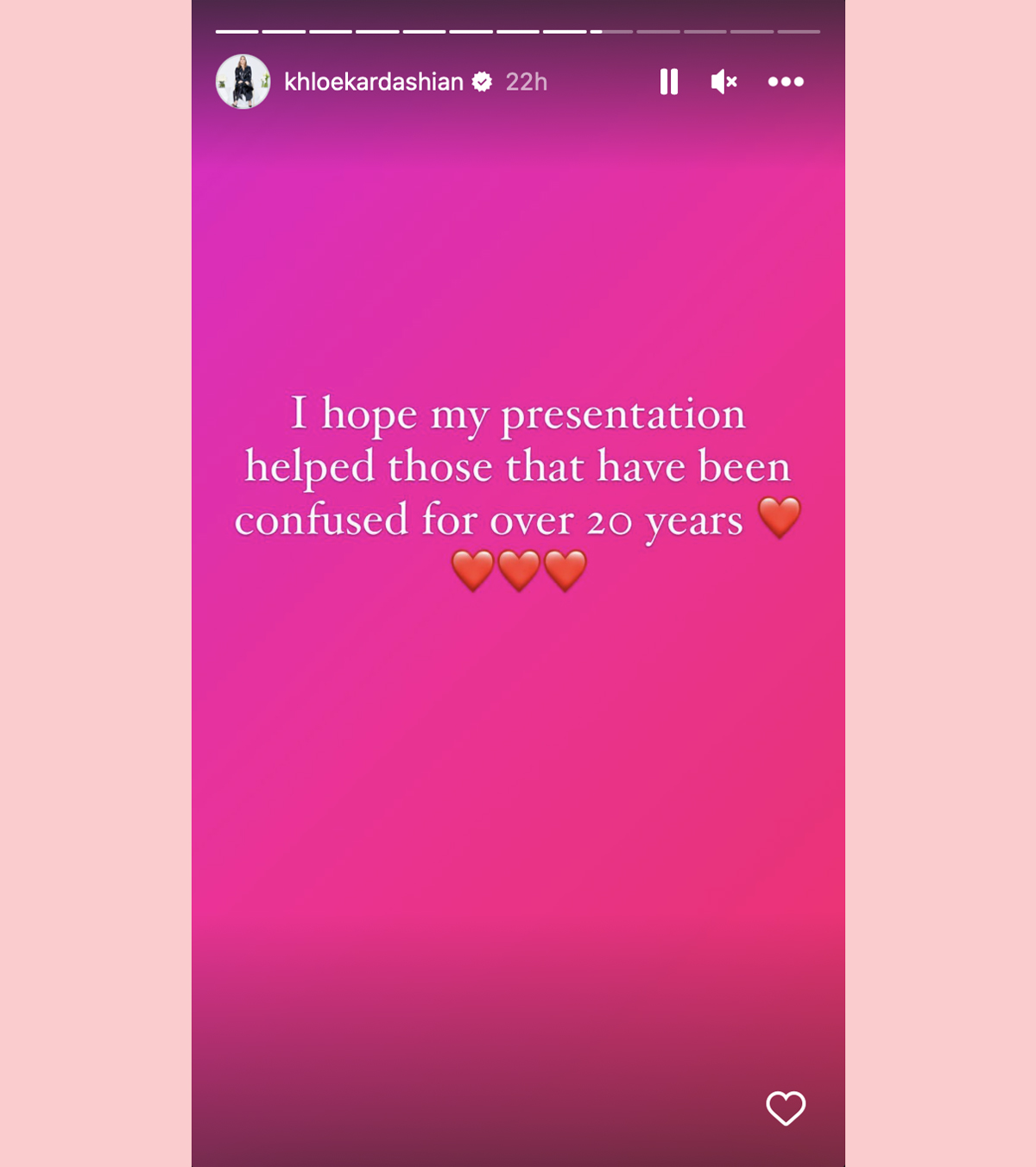 And now ya know! Don't you forget it! Ha!
TBH, good for Khloé for having a little fun with it. It must be frustrating to get confused with your sister ALL the time. Especially when you're both that famous! Like, WTF?! But no sense in getting angry about it. Better to laugh it off, right?
Reactions, Perezcious readers?? Share 'em down in the comments (below)!
[Image via Kourtney Kardashian/Instagram/Jennifer Hudson Show/YouTube]
Related Posts
CLICK HERE TO COMMENT
May 16, 2023 17:41pm PDT