While the Vanderpump Rules stars aren't able to say too much about the affair between Tom Sandoval and Raquel Leviss, former cast member Kristen Doute isn't on contract, so she isn't holding back her thoughts about every part of the Scandoval!
The 40-year-old ex-reality star appeared on The Viall Files podcast on Thursday to talk about the cheating scandal. As you know by now, Sandoval was caught having a months-long affair with the 28-year-old earlier this month – resulting in his girlfriend of nine years, Ariana Madix, breaking up with him. Their romantic relationship started around seven months ago, with Scheana Shay's friend Kael Ramsey Ackerson claiming it began after Raquel went on a trip to Las Vegas last year:
"She basically just told me [it happened] seven months ago and after the Las Vegas trip. I told her, 'Bro, you literally called me an hour or ​two after the girls that made you cry and then you hit me back when you were in Los Angeles.' And she was like, '[After the boys night] is when we got closer.'"
Related: Raquel & Lala Kent Go At It In That VPR Scene Andy Cohen Warned Us About!

But what made the 39-year-old start something up with Raquel even though he was still dating Ariana? Well, Kristen has some ideas about that! The podcast host – who dated Sandoval for almost 6 years – told Nick Viall that she could "see why Tom" liked the former pageant queen enough to cheat on Ariana. She claimed it because Raquel was "f**king dumb" with "no personality" and "validated" things for him, explaining:
"Ariana has a backbone. Raquel does not. Raquel validates everything that Tom needs to be validated."
Kristen then noted that Raquel makes Sandoval feel "cool" and "talented" before throwing shade at his "stupid band and his sequined pants and his nail polish and his dumb haircuts and the pedophile mustache, for f**k's sake."
Damn, gurl!
Clearly, Kristen isn't too happy with Sandoval and Raquel right now – understandably so since they hurt her close friend. But that's not the only part about the Scandoval issue she's upset about! In addition to the cheating scandal, there has been some drama between Raquel and Scheana. The former fiancée of James Kennedy accused her co-star of punching her after she found out about the affair, resulting in an injury to her head and left eye. See (below):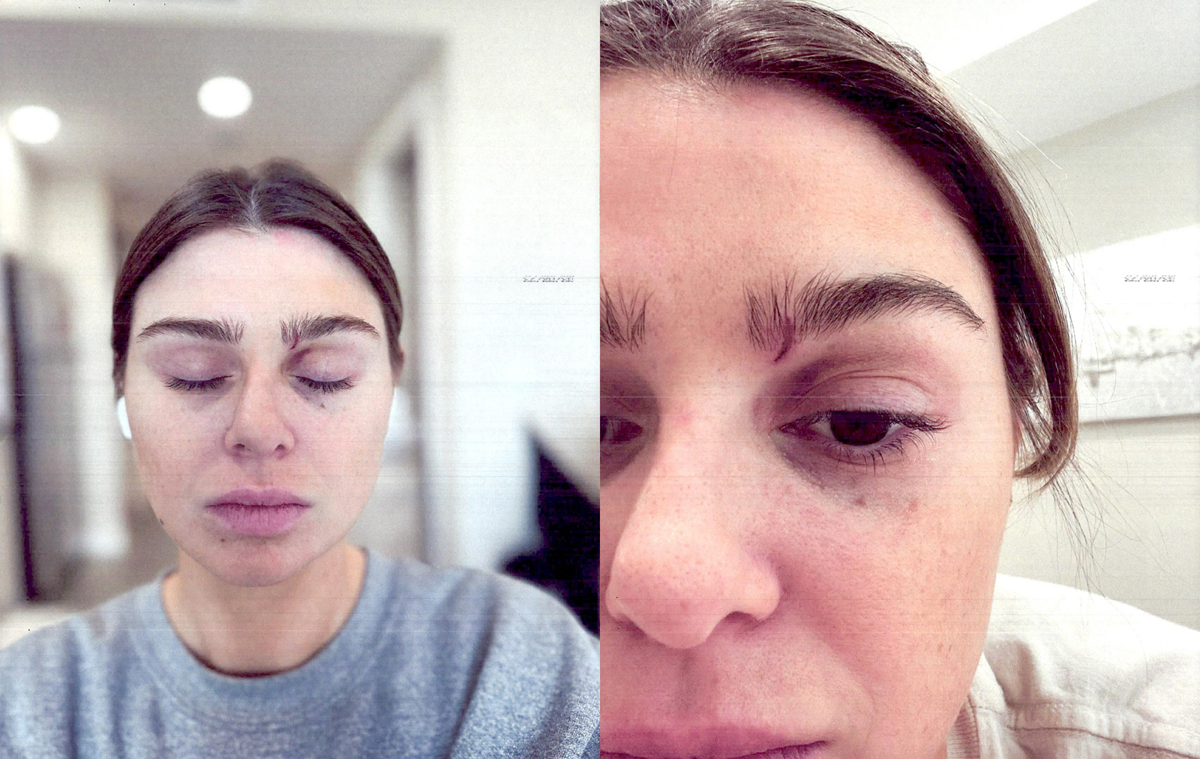 Scheana denied the allegations, saying it's "a fabrication by a known liar and a cheat who has betrayed everyone close to her" and the dark mark on her eye has "been there for months." Several friends have even come forward to back the Scheananigans podcast host, claiming that the black eye is fake. However, a judge ended up granting Raquel a temporary restraining order, and the two ladies have a court hearing about the altercation on March 29.
Now, Kristen is setting the record straight about what went down in New York City! The former television personality insisted to Nick that Scheana "didn't hit" Raquel in NYC, saying:
"I know Scheana was pissed off, but … Scheana can not punch someone no matter how mad she is. She waves a buck five, and her nails are longer than her fingers. It's just bulls**t. I applaud her if she did. I got backhanded by Stassi [Schroeder], well-deserved, [in 2014], and did you see me pressing charges?"
She then told Raquel to "grow up," adding:
"She didn't break your bones."
As for the alleged injuries she suffered from the attack? Kristen wasn't buying the bruised eye pictured in Raquel's filing earlier this month, claiming her eye has "always … been a lot darker underneath." Speaking about the cut on her forehead, the Bravolebrity suggested she could have taken a "red lip liner and [drawn] a line." She also noted that it suspiciously "healed up quickly" after she was pictured for the first time since the affair came to light with "no marks on her face."
Whether or not the physical altercation was true, the restraining order is currently throwing a wrench in the highly anticipated season 10 reunion of VPR since Scheana must stay 100 yards away and cannot communicate with Raquel – something Kristen pointed out is very "convenient" for the SUR waitress:
"How convenient that she get this ridiculous temporary restraining order against Scheana. … How convenient that Raquel now does not have to sit under those hot lights and be on the hot seat. I think it's really f**king convenient and it's Raquel's way of getting out of it."
Hopefully, Andy Cohen or someone at Bravo finds a way to convince Raquel to show up for the reunion. Everyone must have a lot to say and a ton of questions for her about the whole situation! And while Raquel has publicly apologized and even reached out to Ariana, Kristen shared that the 37-year-old hasn't spoken to her former friend since the night she found out about the affair.
"The network asked production at one point if Ariana would film with her. Production had her back. [They] were like … 'It's not happening.'"
She then noted that the reunion, which they are filming on March 23, will be "bad enough" for Ariana's mental health. The reunion will definitely be an explosive and emotional event, as the cast will have a lot of ground to cover. You can ch-ch-check out Kristen's entire interview on The Viall Files (below):
[Image via Nick Viall/YouTube, Watch What Happens Live with Andy Cohen/YouTube, Bravo/YouTube, Scheana Shay/Instagram]
Related Posts
CLICK HERE TO COMMENT
Mar 16, 2023 12:11pm PDT