Kroy Biermann is going after Kim Zolciak!
In a shocking twist in an already very messy split, the former NFL star is now requesting his ex-wife undergo a psychological evaluation amid their divorce! S**t!
In court documents obtained by Us Weekly on Monday, the former Atlanta Falcons player revealed he wants the Real Housewives of Atlanta alum to be tested after she "presented very troubling behavior which has accelerated in the months leading up to Petitioner's filing for divorce." He also claims she is "unable to properly care for the children."
Related: Kim & Kroy Did NOT Have An Open Marriage Despite Rumors!
The exes share four minor children, Kroy "KJ" Jr., 11, Kash, 10, and twins Kaia and Kane, 9. Kroy also adopted Kim's eldest daughters Brielle, 26, and Ariana, 21, when he married into the family in 2011.
As for his concerns about Kim's well-being, he claims the reason they are in so much financial trouble is that the reality star is "spending substantial time and marital funds on gambling and other games of chance." The docs alleged:
"This compulsion has financially devastated the parties."
Yeesh. As we've been following, the couple reportedly owes the IRS more than $1 million in unpaid taxes and another $15k to their home state of Georgia. This after they narrowly avoided foreclosure on their mansion earlier this year. Per various sources, the money issues caused a big rift in the couple's marriage, leading to this messy breakup. So, it's not surprising Kroy's trying to place all the financial blame on his ex. And he really is trying to pin this on her!
The athlete provided thousands of dollars' worth of checks and withdrawals from their bank account as proof of Kim's alleged gambling addiction. He also claimed the issue may be even more problematic than just debt! Apparently, "[Kim's] time is so consumed with online gambling" that she can't properly take care of her kiddos! That's not good! The co-parents are currently fighting over the custody of their little ones, with Kroy asking for sole legal and physical custody (Kim only wants sole physical custody and joint legal custody). It does not look like Kroy is going to be backing down!
But this request for an evaluation isn't the first unexpected thing in this court battle. In her own motion earlier this month, the Bravo personality requested her estranged husband undergo a drug test — alleging HE'S a safety concern for her children! She claimed she caught Kroy "smoking marijuana, and she has serious concerns for the safety and well being of the minor children while in Respondent's care. She is fearful that the children will be exposed to Respondent's drug use," the paperwork stated.
Related: How Kim Zolciak's Friends Are Reacting To Sudden Divorce News
Currently, they are both said to be living in the same home together, though they are keeping their distance. Over the weekend, Kim celebrated her 45th birthday on Friday with lovely tributes from her eldest daughters. On Instagram, Ariana hinted at this challenging legal battle her "best friend" is facing, writing alongside a snap of them on the beach:
"You are the strongest woman I know!!! Thank you for all you do! I am so proud of you mom! cheers to 53 "
Brielle posted a photo of her mom drinking wine, adding:
"Happy birthday mom! I love you so much!"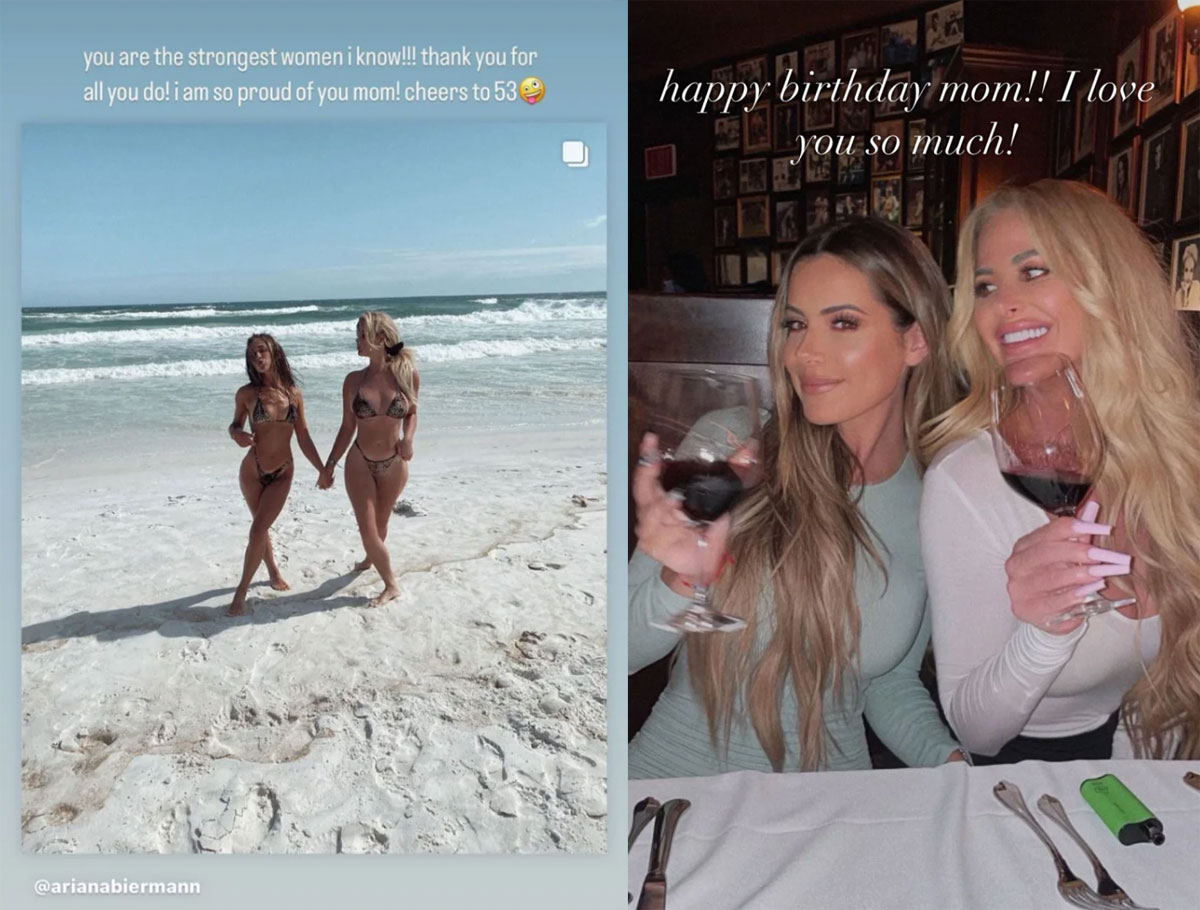 On her celebrations, a source told People:
"She's celebrating at home with all the kids. Kroy is not invited to the celebration even though he's in the house still."
It's gotta be so awkward for all the kids — who we hope are being taken care of amid all this! It's not great when both parents are accusing the other of being unsafe! Oof. Let us know what you think about this latest development in the divorce (below)!
[Image via Kim Zolciak/Instagram & Bravo/YouTube]
Related Posts
CLICK HERE TO COMMENT
May 22, 2023 13:34pm PDT