Kim Zolciak is giving us a little more insight into her sudden split from Kroy Biermann — by demanding a drug test!
The Real Housewives of Atlanta alum filed a petition amid her divorce from the linebacker demanding he submit a drug test! According to a shocking report in TMZ on Wednesday, the 44-year-old has some major concerns about the safety of the couple's young kids — 11-year-old Kroy, 10-year-old Kash, and 9-year-old twins Kane and Kaia — after she allegedly caught Kroy smoking marijuana! Yeah, it may not seem like the most shocking thing to all our readers these days, but it is still illegal in their home state of Georgia.
Related: Jen Shah DIDN'T Pay Millions In Restitution — So They're Taking Her Bags!
All of this drama comes as their ongoing divorce and custody battle is heating up. As you know, the reality star and her NFL hubby BOTH filed for divorce last week after nearly 12 years of marriage — it was a shock to fans and friends alike. According to sources for US Weekly at the time, Bravolebrity "never complained" about anything going wrong within her marriage — so the sudden filings for divorce were extremely unexpected.
Last week Kroy also filed to have sole legal and physical custody of their minor children, while Kim filed for the same but said she'd allow visitation rights to her ex-husband. They'd reportedly been contemplating this split and custody arrangements for months leading up to the actual filings, according to PageSix, which makes us wonder what was the straw that broke the camel's back!
Those are not all of our clues, though! On Tuesday, the reality star took to her Instagram Stories to share a quote about relationships and love which read:
"The highest form of love is consideration. When someone thinks about how things would make you feel. Pays attention to detail. Holds you in regard when making decisions that could affect you. In any bond, how much they care about you can be found in how much they consider you."
Damn!
Sounds like maybe Kim didn't feel very considered! Ch-ch-check out the post (below):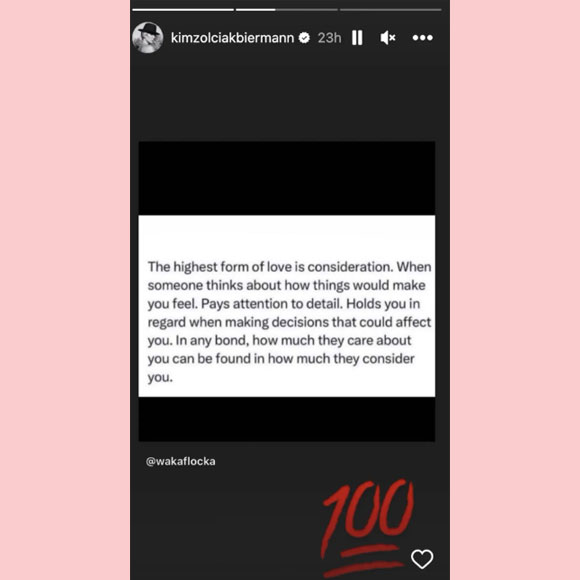 Kim wasn't holding back when she posted this quote and added that 100 emoji! With her demanding a drug test, then posting a quote about "consideration" in a relationship — could she be alluding to Kroy having a problem??
With no real answers as to what caused the split, even more rumors and theories have been running wild about the couple's breakup. A big contender was talk of cheating within the relationship, but People previously said there was no cheating "on either side" — but lack of consideration maybe? Sources said the pair's financial struggles are what really put the nail in the coffin of this decade-long marriage, though.
As we're sure you've heard by now, Kim and Kroy owe over $1 MILLION to the IRS — no small sum by any means. They even lost their house in February, but managed to save it by some miracle after it was foreclosed and went to auction. Allegedly, Kim even blew a hefty sum on gambling before their IRS and house woes even started! It's clear they'd been having money problems for a while now, which would put a strain on any marriage.
It's definitely no Scandoval cheating saga, but it is another longtime Bravo couple heading straight for splitsville! Don't expect this to end up on TV, either — both Kim and Kroy want to keep this matter private for the sake of their kiddos.
Oh yeah, that and they're still sharing a house and avoiding each other as much as they can! We're sure there's plenty of drama going on behind the scenes that they don't want leaking out into the world of reality TV right now! Considering what we already know, we can't imagine how much wilder it is behind closed doors…
What do U think of this messy split, Perezcious readers? Let us know (below)!
[Image via Kim Zolciak/Instagram/Pickler and Ben/YouTube]
Related Posts
CLICK HERE TO COMMENT
May 18, 2023 06:14am PDT