Meghan Markle's Best Friends Break Their Silence On The 'Lies' & 'Emotional Trauma'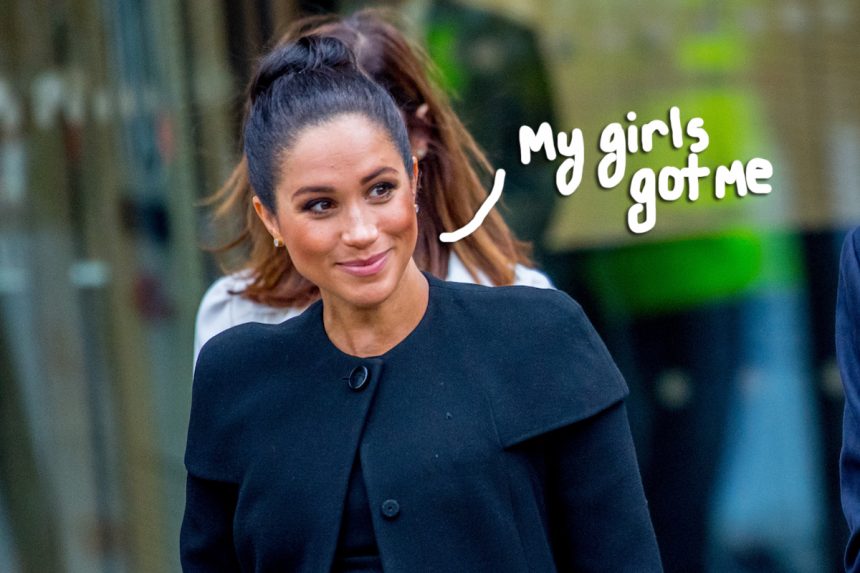 Silent no more!
Five of Meghan Markle's closest bestiez are speaking with People about their longtime pal, including what it's been like for the royal over the past two years since her relationship with Prince Harry became public.
Related: Prince Harry Talks Impending Fatherhood In Speech
While the Duchess of Sussex has remained tight-lipped about drama and rumors (that's the royal way!), her friends don't want to sit back and let their friend get taken advantage of in the press anymore:
"Meg has silently sat back and endured the lies and untruths. It's wrong to put anyone under this level of emotional trauma, let alone when they're pregnant."
Pesky drama about Meghan's half-siblings, Samantha Markle and Thomas Markle Jr., have been following her around longer than her marriage, but her friends are sharing that the starlet was never close with them growing up because of the age difference:
"They have been made to appear as siblings who had this falling out, and that's not the truth at all. They were not a part of her life."
The relationship with her father, Thomas Markle has been just as rocky:
"He knows how to get in touch with her. He's never called; he's never texted. It's super-painful."
But through it all, they claim the Meghan today is the same Meghan they've always known and loved, and what we get glimpses of is genuine, a former costar shared:
"When you see her at walkabouts, when she crouches down to talk to the kids and genuinely has real conversations with people, that's Meg. That's how she crouches down with our kids at home. That's how she plays with them. That's how she engages with people and how she always has."
One friend who recently visited the royal couple's cottage shared:
"We had a couple of days together recently. Her husband was out of town on work. In the room she made up for me, there was a candle lit by the bed, slippers and a robe. We were the only two in the house. It was our time. She made the most lovely meals. She made tea every day. It was raining and muddy outside, so the dogs got all dirty, and she's wiping them off with towels. How much she loves her animals, how much she loves her friends, how much she loves feeding you, taking care of you — none of that has changed."
So, why speak out now?
They've chosen to break their silence to "stand up against the global bullying we are seeing and speak the truth about our friend."
While her close pals have decided to stay anonymous (probably for good reason!), we can tell that these friendships are legit and they're not trying to exploit their BFF… unlike some other people!
[Image via Dutch Press Photo/WENN.]
Feb 6, 2019 8:02am PDT