[Warning: Potentially Triggering Content
The mom behind the former family YouTube channel 8 Passengers has been arrested on child abuse charges. And Perezcious readers, the details of this case are horrific.
On Wednesday, Ruby Franke was taken into custody on two counts of aggravated child abuse along with her business partner, Jodi Hildebrandt. According to a press release from the Santa Clara-Ivins Public Safety Department on Thursday, they received a report about a young child asking for help at 10:50 a.m. the day before. The juvenile was said to be "emaciated and malnourished, with open wounds and duct tape around the extremities." In fact, their condition was "so severe that they were seen by Santa Clara-Ivins EMS and transported to a local area hospital." Heartbreaking.
Related: Woman Murdered By BF Who Had Admitted To Abusing Her — And Was Released From Jail
Soon afterward, law enforcement received information about another juvenile in the same state in a nearby home. When officers arrived at the scene, they found the minor "in a similar physical condition of malnourishment" and was taken to the local hospital to receive care. After searching the residence, four other kids were placed in the care of the Department of Child and Family Services. Ruby and Jodi were then arrested and have remained in custody, per the Washington County Sheriff's Department.
Ruby's 20-year-old daughter Shari Franke – who has been estranged from her family for months – has taken to Instagram Stories to address the matter. She first posted a picture of police officers outside of a home with the caption, "Finally." Check it out (below):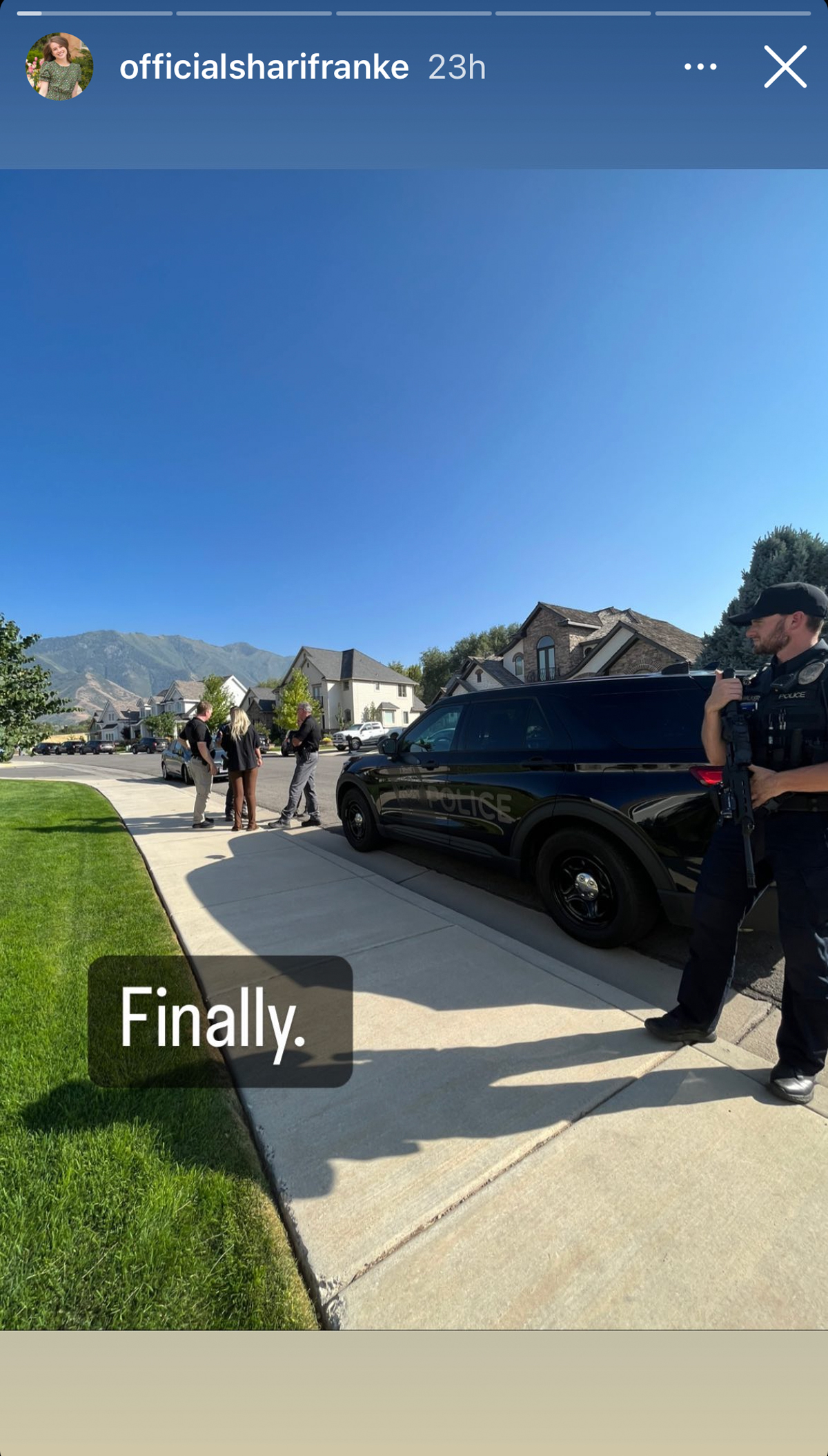 In a follow-up post, Shari expressed her gratitude for justice finally "being served" after years of telling the police about the alleged abuse. She wrote:
"Hi all. Today has been a big day. Me and my family are so glad justice is being served. We've been trying to tell the police and CPS for years about this, and so glad they finally decided to step up. Kids are safe, but there's a long road ahead. Please keep them in your prayers and also respect their privacy."
Shari then asked her followers to share "any questionable or concerning ConneXions or 8Passengers videos." You can see the posts (below):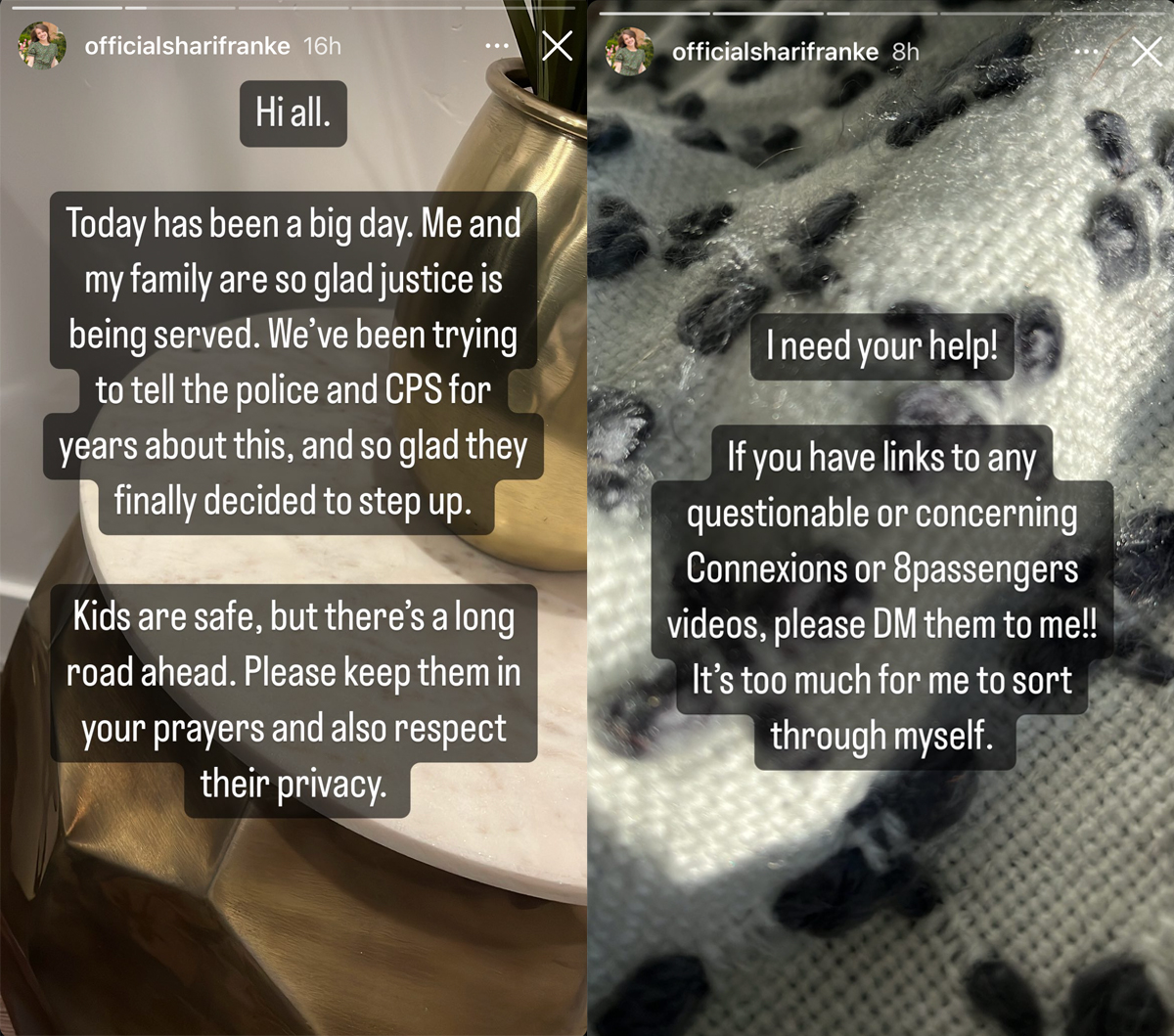 For those who don't know, Ruby and Jodi worked together on creating videos centered around relationship and parenting advice for the latter's counseling service ConneXions. But the company has come under fire in the past for its tips, especially when it comes to its prioritization of "principles of truth" over a kid.
Before the organization, Ruby gained a following in 2015 due to her 8 Passengers channel on YouTube. She had around 2.3 million subscribers, but her page was taken down for unknown reasons earlier this year.
In her videos, Ruby often featured her husband Kevin and six children. However, the social media personality often faced backlash for her strict parenting style. It got to the point where viewers reported the family to the authorities. In June 2020, some subscribers reached out to local child protective services when her then-15-year-old son Chad claimed in a video he slept on a beanbag for seven months. WTF?! At the time, Ruby claimed it was his "choice" to not sleep in a bed after being removed from his room shared with his younger brother due to alleged behavioral issues.
Here's hoping the kids remain safe and get some justice for what happened. Reactions to the case? Let us know in the comments.
If you have sincere cause to suspect child abuse, call the Childhelp National Child Abuse Hotline at 1-800-4-A-Child or 1-800-422-4453, or go to www.childhelp.org. 
[Image via Moms of Truth/Instagram]
Related Posts
CLICK HERE TO COMMENT
Aug 31, 2023 16:44pm PDT