Nick Cannon doesn't pay child support… but he does show his love with a new Lamborghini every now and then!
The 42-year-old Masked Singer host recently gifted baby momma Bre Tiesi a Lambo for her birthday. Earlier this month, the Selling Sunset star initially celebrated the jaw-dropping gift in an Instagram post that surprised the world. And now, we know there's more to the story!!
Related: Nick Opens Up About His & Mariah Carey's Different Outlook On Social Media For Kids
Over the weekend, the 32-year-old mother-slash-real estate agent shared an old snap of the vehicular gift that had been recently re-uploaded to Nick's IG Stories. Along with the pic of Bre standing in front of the pricy car, Nick had written several messages on the screen for all of his followers to see.
In one message, he explained:
"Nope! The Government don't have to tell us to pay Child Support… WE PAY LAMBO SUPPORT !! My Money is Their Money!"
Then, in a second addition to the image, he added:
"Just accept it, We different over here!! LOL."
Then, when Bre re-posted the image to her own IG Stories on Sunday, she added her own support message at the bottom, too. It included a heart emoji and this simple statement:
"Tell 'em Daddy"
You can see it all for yourself (below):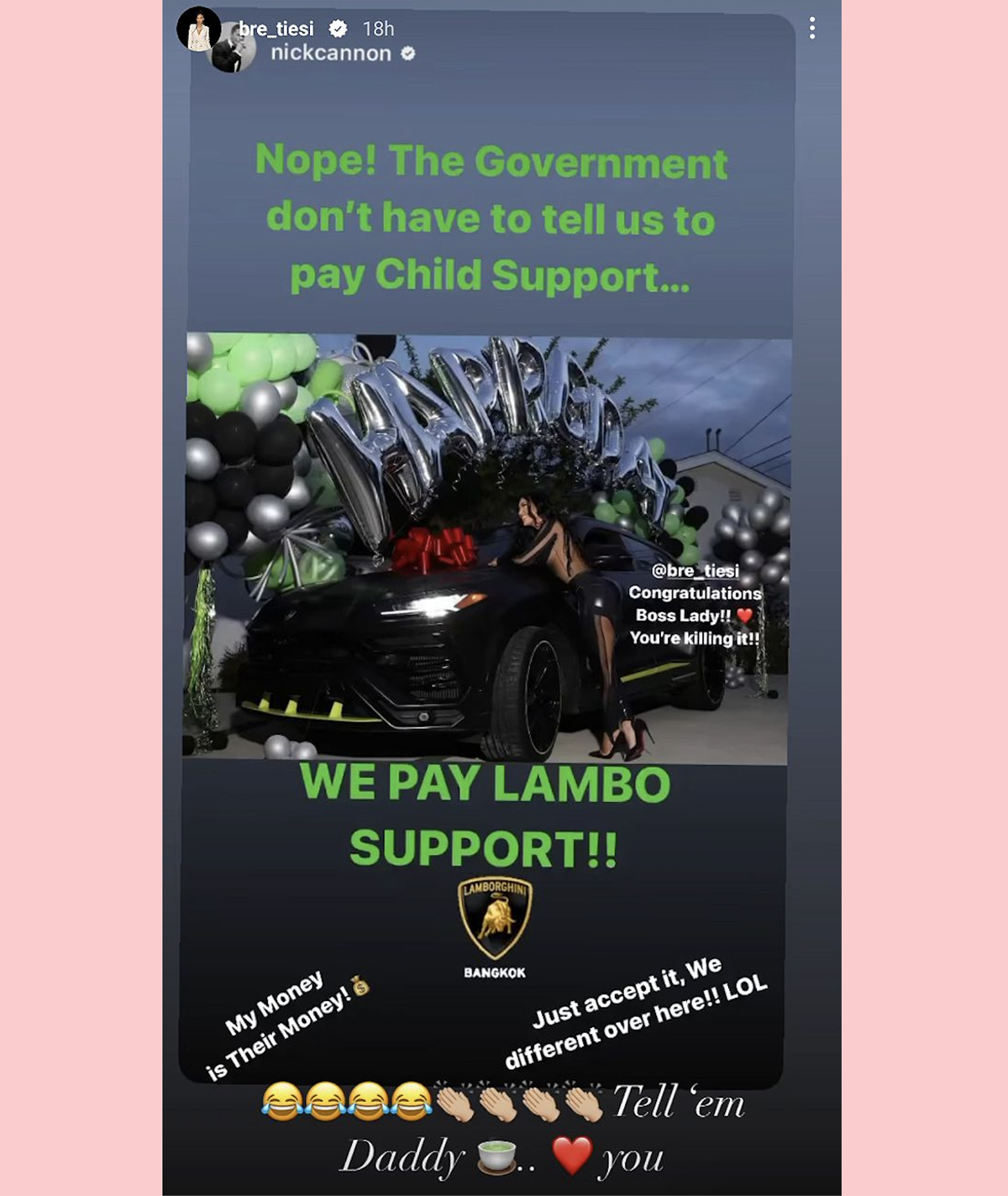 Wow!
So that's quite a thing. Lambos ain't cheap!! But they also aren't, you know, clothes and food for your children…
This seems to provide a definitive answer after Bre claimed on Selling Sunset that she and Nick have "no legal agreement" and that he doesn't legally have to pay child support. Obviously that's not true, but it does seem like he isn't technically paying child support — at least not one mandated by the courts. He better hope he doesn't upset any of his baby mommas enough to ask, we guess!
Related: Nick Cannon Fires Back At Critics Who Say He Is A 'Deadbeat Dad'!
Also on Sunday, Bre took to her main IG feed to post a new set of pics showing Nick hanging out with their 10-month-old son Legendary Love.
As you can see (below), Nick was all smiles chilling with the infant. Plus, Bre wrote that "we're more than good over here" in the caption, as if to quell any doubt:
Legendary!
All this weekend family activity is notable because Nick also just went on the Jason Lee Podcast. During that sit-down, he explained that despite having a dozen children with six different women, he is "not in the child support system that is run by the government."
The Wild'N Out star explained to podcast host Jason Lee about how his six baby mommas — Mariah Carey, Brittany Bell, Abby De La Rosa, Alyssa Scott, LaNisha Cole, and Bre — can all get "whatever they want," and he will give them "whatever they ask for."
In the podcast ep, which was first recorded earlier this month before being released in recent days, Cannon explained:
"My money is they money, they money is my money. … My account is their account, and there's a lot in there, so we ain't gon' run out."
The All That alum went on during the interview to add:
"I believe true currency is your energy. I wish I could make a contract [that states], 'you cannot take this much of my energy when you leave.' Money comes and goes. I always tell people, 'money don't make you happy. Happy makes you money.' So I'm always going to be good, and every dollar that I make is for my family."
Oookay!
You can see more from Cannon via that interview from last week (below):
We just hope that attitude keeps working out for the kids' sake!
What do U think, Perezcious readers?? Sound OFF with your take on Nick Cannon's always controversial and entertaining family life down in the comments (below)…
[Image via REVOLT/YouTube]
Related Posts
CLICK HERE TO COMMENT
May 22, 2023 11:35am PDT