Scheana Shay's been fed up with her portrayal on Vanderpump Rules long before one of the show's editors openly admitted it's their personal mission to make her look bad.
ICYMI, a woman named Bri Dellinger recently divulged about her time working on the reality series and crafting storylines for the cast, admitting she "tries to embarrass" the 35-year-old as often as possible to make good TV. But now Scheana's fighting back and telling her story, her way!
Related: 'Vanderpump Rules' Star Katie Maloney Shows Off Stunning 20 Lb Weight Loss!
During an Instagram Live session with Jesse Bongiovi (son of Jon Bon Jovi) for his company, Hampton Water, on Tuesday, the starlet said she started her YouTube channel to show a side of herself the show has clearly decided they have no interest in airing. On her platform, fans get to "see the full Scheana" which includes "the bad side, the good side, all of it." She explained:
"This whole life of mine since last August has not been on the show. So much has changed. I just, like, felt like I owed it to my fans to give them more of an insight into my life than just an hour podcast with no visual aspect."
The Bravolebrity said that while everyone has "cringey moments," VPR has deliberately highlighted her shortcomings lately:
"You see a very one-dimensional, boy-crazy desperado [on the show], low-key making me look like I'm hitting on a child-person and that's not me at all."
The Scheananigans with Scheana Shay podcast host continued:
"I can be annoying at times, that's why it's entertaining. I'm not perfect, I get that. But the way that it's come across the last couple of seasons, I'm just, like, I need to put something more than just my podcast out there."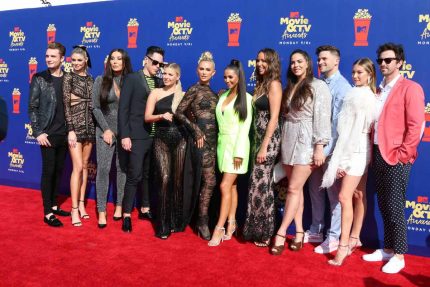 Now, the starlet is focused on showcasing her many talents on her YT channel and giving fans a closer look at her relationship with personal trainer Brock Davies.
"I mean it doesn't hurt that my boyfriend is gorgeous. [And] you know, he's not on the show."
Scheana's mom, Erika van Olphen, also came to her defense! She tweeted a "mom rant" on how the show has done a poor job of covering her daughter's achievements like purchasing a home and headlining a show in Las Vegas for six months.
Mom rant…???????? pic.twitter.com/3mQGW4oLvF

— ????Erika van Olphen (@erikavanolphen) April 15, 2020
As we mentioned earlier, this all comes on the heels of Dellinger's damning interview on Twisted Plot Podcast (which has since been deleted!) where she boldly stated:
"If Scheana knew what was good for her, she'd befriend me because my favorite game is finding all of the embarrassing things that Scheana does and putting them all in."
Do U think any of this drama will jeopardize her future on Lisa Vanderpump's hit show? Sound off (below) in the comments!
[Image via WENN/Instar]
Related Posts
CLICK HERE TO COMMENT
May 13, 2020 10:45am PDT