Raquel Leviss is trying desperately to rehab her image right now — but her fellow Vanderpump Rules stars aren't buying the PR play!!
As we've been reporting, Raquel and Tom Sandoval have been dealing with major fallout on social media ever since details of their sordid affair became public knowledge. And while Tom is really finding out the hard way about the actions-to-consequences pipeline, Raquel isn't exactly having an easy time either!
Related: Tom Addresses Ariana Madix Split As Crowd Chants 'Cheater' During His Band's Show!!
On Sunday afternoon, Deux Moi took to their infamous Instagram account to reveal a new report about how Leviss has supposedly fired her public relations team — which was also Tom's PR team. Now, the embattled VPR star is trying to strike out with a new public message and persona with a new crisis PR group!
According to the claim, which came from an anonymous source, Raquel is supposedly intent on playing the victim while enacting a very specific plan to make Tom seem like the bad guy after an alleged screen recording gone wrong:
"Raquel fired her PR team yesterday, which, not so coincidentally, was the same as Tom Sandoval's PR. Her new team is already on the offensive, crafting a narrative that Raquel is also a victim in all of this. When she films with Sandoval later today, she's been advised (and is planning) to break things off with him. TBD if that happens. The plan is to then go after him for screen recording the FaceTime sex session without Raquel's consent, which was uncovered by Ariana on Sandoval's phone and led to the unraveling of events."
Whoa!
That anonymous source continued, referencing Raquel's apparent betrayal of close pal Ariana Madix:
"They're planning to allege that Sandoval took advantage of Raquel while she was in a vulnerable moment in life, clouding her judgment, then recording intimate videos without her knowledge. She will then go on an apology tour, relaying that she's devastated by what has unfolded and for betraying one of her best friends (Ariana)."
And the damning report concluded:
"At present, Raquel is not taking responsibility for her role in this affair. She's more concerned with correcting the record on the 'finger-banging' vid than taking accountability for the hurt she has caused. And just for the record, she didn't have these ideas, nor plans to distance [herself] from Sandoval, until her new PR relayed their strategy to try and save her image."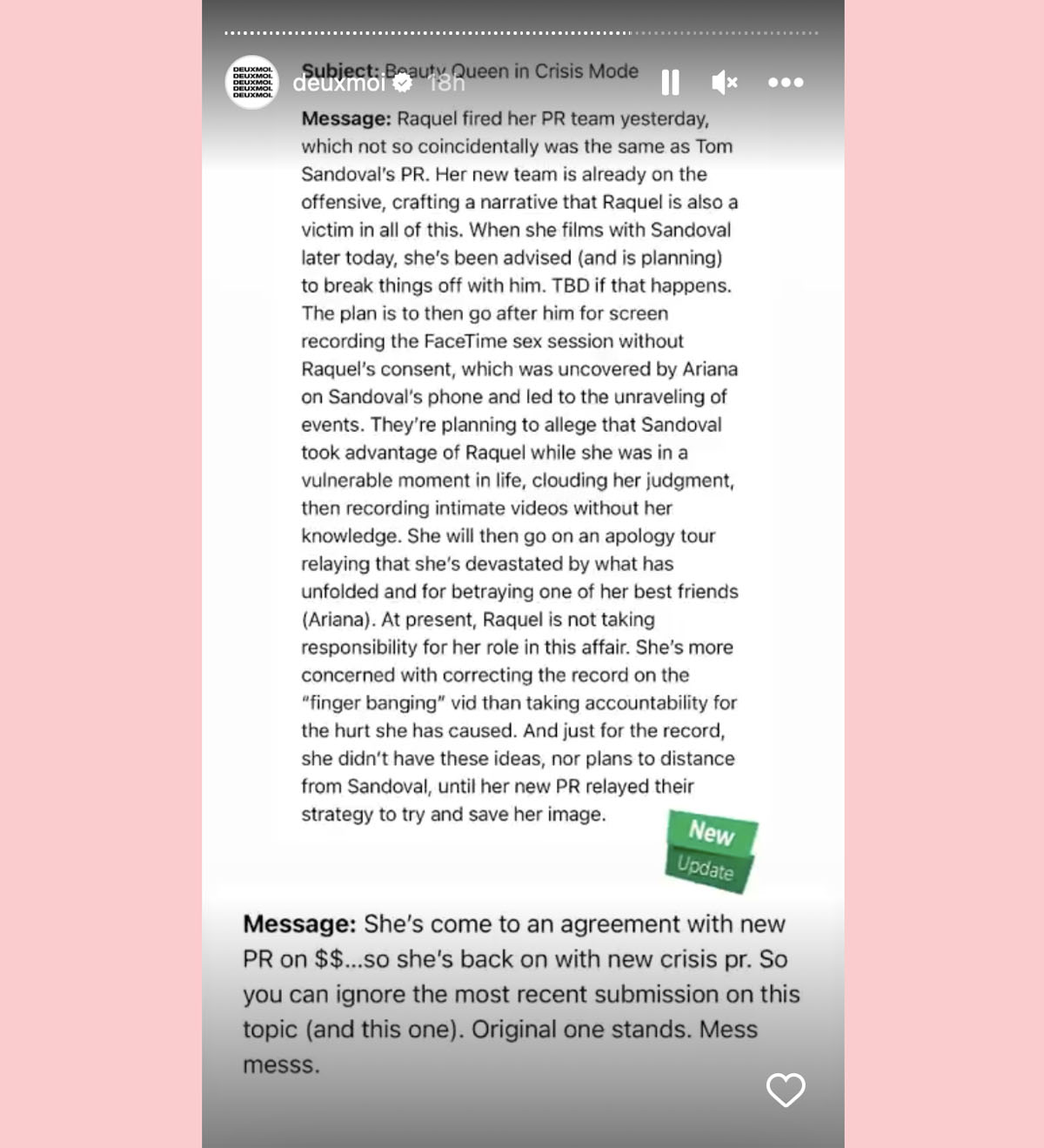 Interesting, right??
Well, here's where things got even more interesting: other cast members and those in VPR's orbit are already commenting on the supposed PR strategy and plainly asserting it's true!!
Most notably, VPR player and makeup maven Jared Lipscomb took to his own Instagram Stories to re-post and confirm the media move. In a jaw-dropping message about the crisis PR strategy, Lipscomb wrote:
"The crisis PR stuff is dead-ass true. I can't speak to the whole scheme, but she's hired 'em & is obsessed w her image NOT apologizing to her 'best friend' shows her priorities"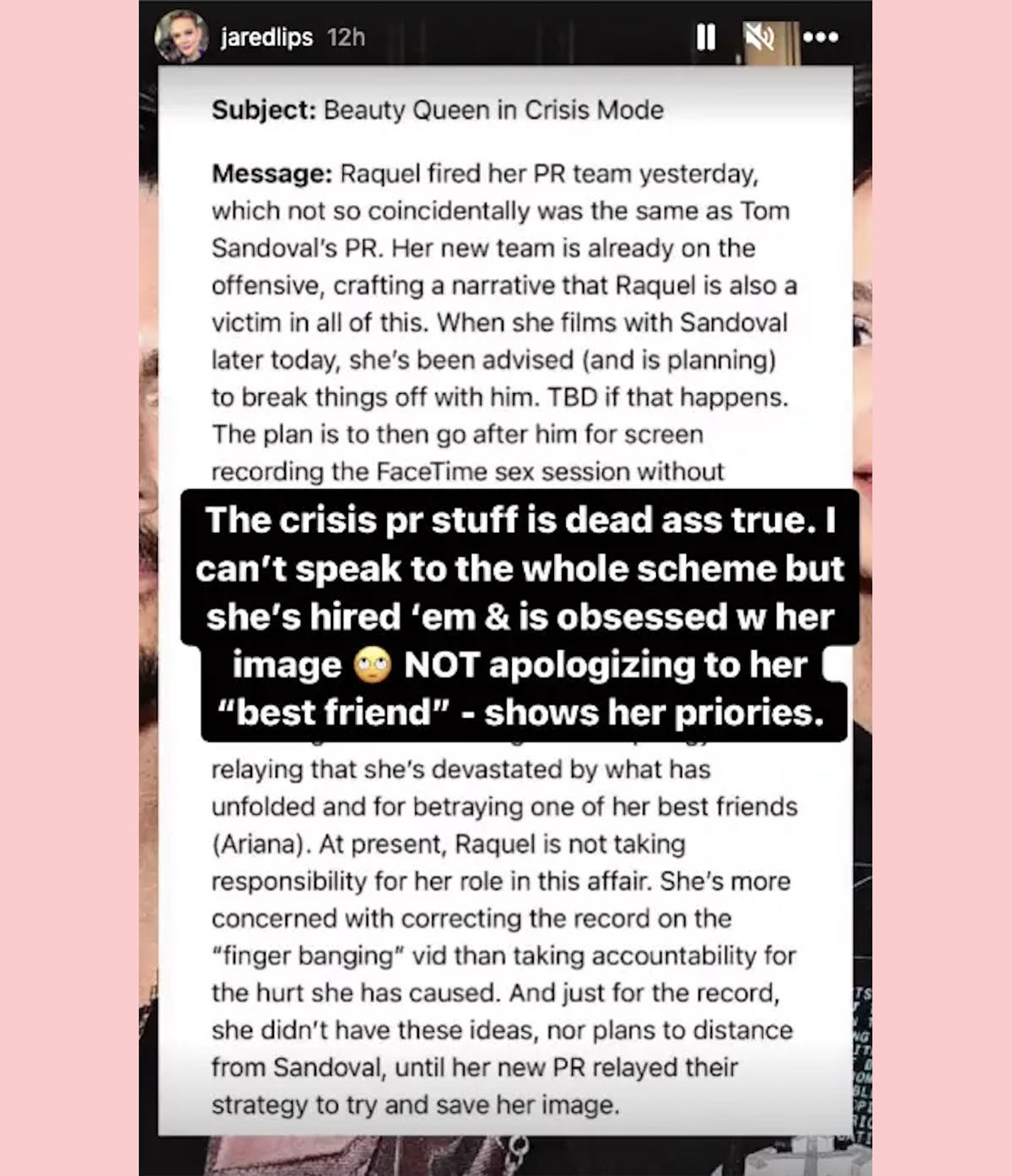 Yikes!!
Both Katie Maloney and Kristen Doute followed that up with their own comments, too. Neither one went into great detail this time around — but these women of few words made their feelings very much known!!
First, Kristen shared:
"she's not even slightly sorry. disgusting."
Then, Katie added:
"More nefarious behavior…"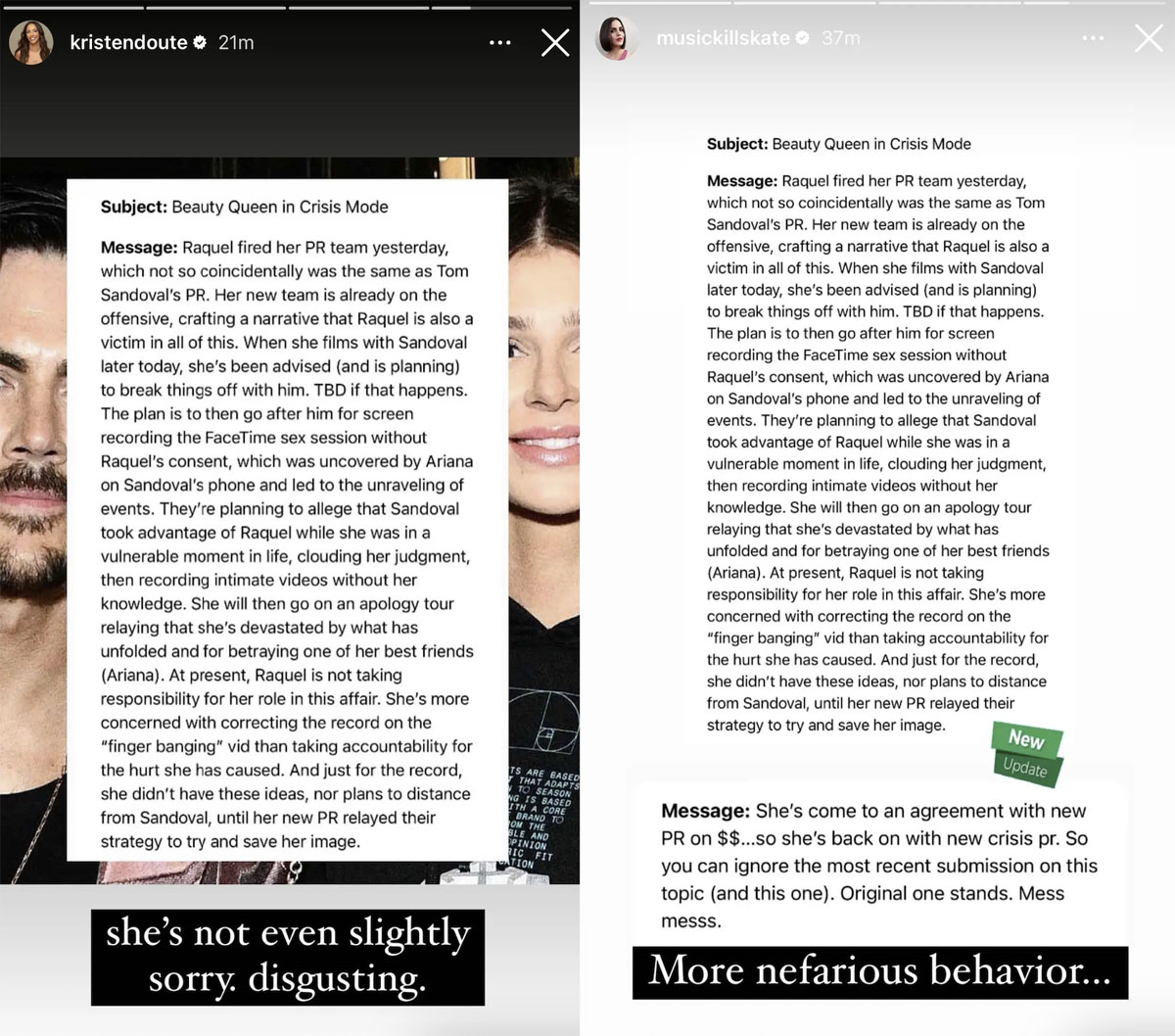 But it was Lala Kent who saved the best for last!!!
In a long-winded rant video posted to her own IG Stories on Sunday, Ocean Kent Emmett's momma admitted her "troll has been fully activated" and slammed Raquel for her choice to "lean in" on victimhood "now that it's convenient."
First, Lala said:
"I think it's safe to say that my troll has been fully activated. I'm OK with that. I'm OK with that right now. I saw something on Deux Moi about Raquel's PR strategy. The strategy is to pretty much lean in to, like, save your image. We gotta lean back into the fact that you're done. All right. You're just dumb. You're the victim. Lean in on that now that it's convenient. OK? For so long, I've been saying that she ain't got a lot upstairs, and everyone's like, 'she's so sweet.' And she sits there and goes, 'I'm not dumb, Lala! I went to college.' But now that all hell has broken loose and she's lit herself on fire, she wants to lean in on 'I'm dumb, everyone else filled my head, I'm the victim.' It's not gonna work. It is not going to work!"
Then, in a second follow-up clip, Kent voiced her frustration about wanting a cut of Leviss' PR money:
"Now that I'm thinking about it, I wanna cut off whatever she's paying. Her PR team, I created that image for her! You are just oblivious to life. The exact image that her crisis PR team is trying to get her back to is the image I created for her! Where's my cut? Sending you an invoice, Raquel."
Oof!!!
You can see Lala's video clips about the sticky sitch (below):
#pumprules pic.twitter.com/0vgXZ1KsXF

— AllAboutTRH (@AllAboutTRH) March 6, 2023
Damn! So there you have it, Perezcious readers!
Reactions to those VPR reactions?? Share 'em down in the comments (below)!!!
[Image via MEGA/WENN/Tom Sandoval/Instagram/Raquel Leviss/Instagram]
Related Posts
CLICK HERE TO COMMENT
Mar 06, 2023 07:45am PDT