The Vanderpump Rules cast does NOT approve.
The fallout just keeps spreading like a forest fire after it was revealed that Tom Sandoval allegedly cheated on his longtime girlfriend and VPR co-star Ariana Madix with fellow co-star Raquel Leviss.
As we reported earlier, sources told TMZ on Friday Ariana found out about Tom's infidelity just this week and dumped him shortly after. Neither she nor Tom have spoken out on the bombshell rumors yet, but the 37-year-old did delete her Twitter and Instagram — likely to get ahead of all the comments that have already come pouring in… Including those of the rest of the VPR cast.
We've already reported on James Kennedy's reaction to the jaw-dropping news, with the DJ uploading TMZ's report to his Instagram, adding, "Hope you all feel as sick as I do. This explains everything." But now, more of the SUR crew is speaking out.
Lala Kent, who has been on the Bravo hit since 2015's Season 4, did not hold back as she commented on James' post, claiming the news has just confirmed her existing suspicions:
"I've been telling y'all! Everyone said I was a 'bully'. It's called YOU TRIGGER ME AND I SEE YOU FOR WHO YOU ARE! I've known these two are disgusting from the jump."
Damn! Like we said, not holding back!
Related: Whoa! Lala Says Ex Randall Emmett Owes Jax Taylor 'A Lot Of Money"
The mother of one then took to her own IG Story, where she called Tom "douchey," while addressing him directly:
"Oh Sandoval… Your problem with me is I'm a little too real for your comfort. I've seen you for who you are for a long time, and you don't like that. But, I think now is the time for you to shut the f**k up. I'm eatin good the next time I see you."
As for Raquel, the 32 added in a separate Story post:
"I suggest you get some energy for me. You're gonna need it."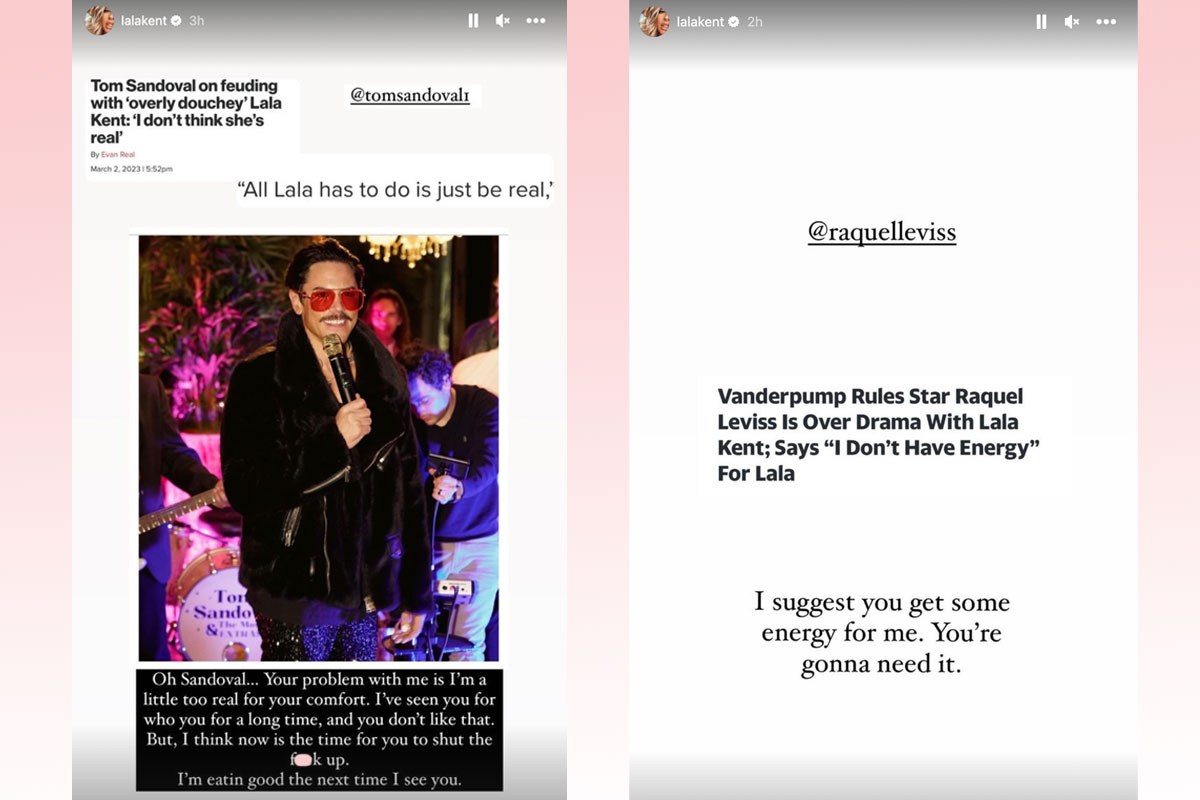 Oh man, this cheating scandal is like a bomb dropped right in the middle of the restaurant!
As for Ariana's fam, her brother Jeremy also spoke out in the comments of James' post, calling Sandoval "a try hard having a midlife crisis with his cringy band." He also BLASTED Raquel, saying she "faked her way to the top trying to make something of her life willing to step on whoever to get there starting with James." It should also be noted that Leviss was briefly engaged to James in 2021, and also hooked up with the other Tom, Tom Schwartz, after his divorce from Katie Maloney. Eesh.
Jeremy then called out the overall "lifestyle," as well as Bravo itself in his comment: 
"This lifestyle and this group is beyond toxic and I wouldn't recommend it to anyone. All just for clout from a corny ass network like BravoTV."
You go, little bro. Defend your big sis. (We gonna keep watching Bravo tho…)
Related: Katie BLASTS 'Evil Little Troll' Scheana For Encouraging Schwarts & Leviss' Hookup
Katie, for her part, kept things more on the reserved side, ominously posting two clown emojis on her IG story.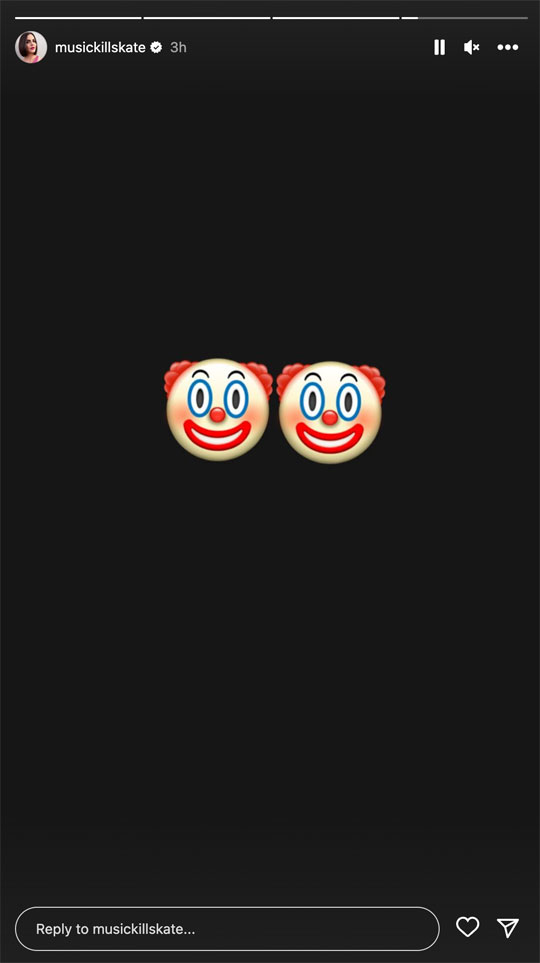 As for Scheana, she has since unfollowed both Tom and Raquel.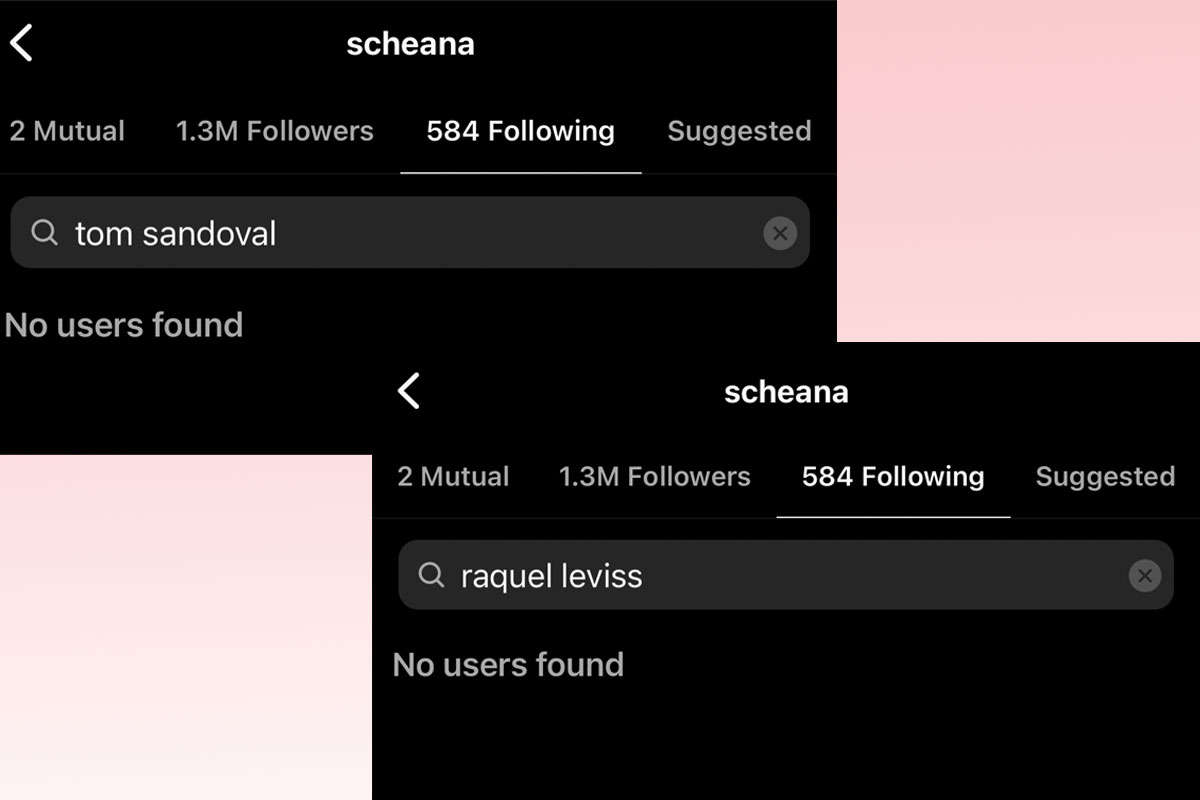 An insider later revealed to People that "many cast members aren't speaking to Raquel right now," and that while the cheating allegations were the "final straw" in Tom and Ariana's relationship, things had been rocky for a while:
"They had been having problems for a while, but this was the final straw for Ariana. She put up with a lot over the years, but she won't sit back and be disrespected this way."
We will just have to see how everything plays out in season 10 of the show, as producers have confirmed "cameras are rolling right now."
What do you make of the news, Perezcious readers? Are you ready for Lala to drag the two?? Do you agree with Jeremy's take? Let us know in the comments down below.
Related Posts
CLICK HERE TO COMMENT
Mar 03, 2023 17:20pm PDT