This week marks the first Hollywood writers' strike in more than a decade.
On Tuesday, television and film writers who make up the Writers Guild of America walked out to the picket lines. The writers of all your favorite shows are holding the first entertainment industry labor action in 15 years, per the Associated Press. They want better pay and benefits, as well as more job security and protection guarantees, as major studios have pivoted in recent years to newly-launched streaming services.
Related: Jimmy Fallon Has Already Been Called Out By His Own Staff Amid The Writers' Strike!
According to CNN, more than 11,000 writers involved with the WGA walked out of work this week after the union failed to reach a long-term contract with the trade association that reps major Hollywood studios and production companies.
The WGA wants some simple stuff, per the AP: higher minimum salaries, more writers per show, and shorter exclusive contracts for released content. They also want to make sure creative jobs aren't overtaken by AI, as that will dramatically decrease the quality in content. These conditions, the WGA says, are necessary after streaming upended the industry. Makes sense!! Sadly, the studios have thus far balked at the writers' demands. But there is some good news — so many Hollywood stars are showing their support for the writers!
Ch-ch-check out the long list of celebs who are supporting television and film writers as the group strikes for better working conditions (below)!
Michael J. Fox
This week, Michael J. Fox, who famously lives with Parkinson's, was set to have his own red carpet premiere for the documentary, Still: A Michael J. Fox Movie. The film is described as a reflection on the 61-year-old's life and career alongside the disease. A huge moment for any actor. But since it was to debut at Universal Studios, where a WGA picket line is present, the Hollywood star decided to show solidarity by postponing the event altogether! He straight up refuses to cross the picket line. The premiere will be rescheduled at a later date, but wow, what a great guy, right?
Pete Davidson
Pete Davidson was scheduled to deliver his first Saturday Night Live hosting gig this weekend, his first episode since leaving the sketch comedy series in 2022. That all changed when WGA went on strike. SNL, like the rest of your favorite shows, was effectively canceled — and will continue to be until proper negotiations can be met. But it doesn't look like Kim Kardashian's ex is sour about it. In fact, he's showing his support by bringing pizza to the writers protesting in Brooklyn! Check it out for yourself (below):
Pete Davidson just dropped off pizza from Spumoni Gardens for striking Writer's Guild members in Greenpoint pic.twitter.com/RjO5HgIje8

— Liam Quigley (@_elkue) May 5, 2023
Jennifer Aniston
Jennifer Aniston wasn't afraid to voice her opinion about the strike. In a series of Instagram Stories posts on Wednesday, the Friends alum took aim at television executives and backed writers for their incredible work. In one of two slides she shared to IG, Aniston poignantly quoted Snowfall writer Sal Calleros:
"The Shield put FX on the map. Mad Men put AMC on the map. House of Cards put Netflix on the map. Writers did that. Not some CEO. Know what you get when you put CEOs in creative lanes? You get Quibi."
Amen!!!
She also re-shared a quote from writer Justin Halpern regarding equitable profit-sharing, as you can see (below):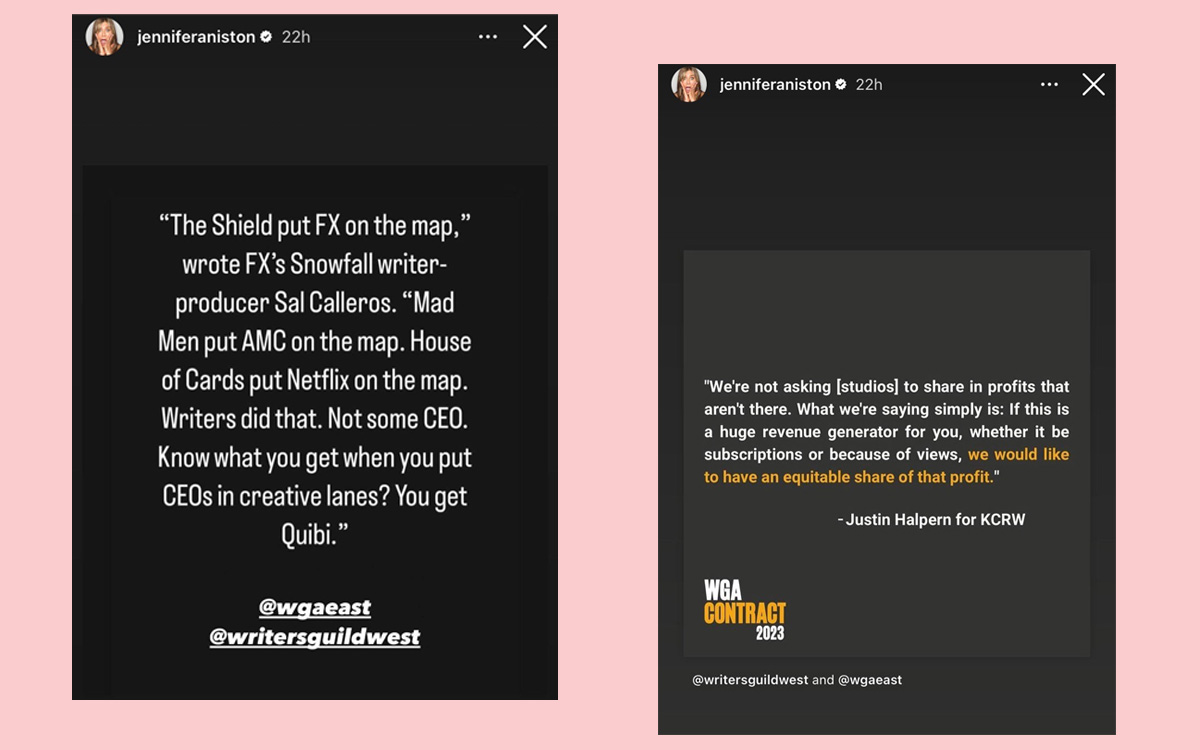 Snoop Dogg
Snoop Dogg always tells it like it is!!
The rapper had some very choice words about the writers strike while appearing on a panel at an entertainment industry event this week. The panel was held at the Milken Institutes' Global Conference on Wednesday. During the chat, the 51-year-old superstar called out streaming models as being "f**ked up."
He explained:
"[Artists] need to figure it out the same way the writers are figuring it out. The writers are striking because [of] streaming, they can't get paid. Because when it's on the platform, it's not like in the box office."
And Snoop continued:
"I don't understand how the f**k you get paid off of that s**t. Somebody explain to me how you can get a billion streams and not get a million dollars? … That's the main gripe with a lot of us artists is that we do major numbers, but it don't add up to the money. Like where the f**k is the money?"
He's not wrong about that!
Rob Lowe
On Tuesday afternoon, as writers took to the picket lines in Hollywood, Tommy Boy star Rob Lowe joined them. And the longtime film and television personality had a very simple reason for supporting the writers during this labor action: they've made him look very good over his long career on screen!
When asked about why he was on the picket lines, the actor name-dropped some of his favorite writers and said:
"We [actors] are only as good as the writing we get."
Rob Lowe on the picket line outside of the Paramount lot in LA today: "We're only as good as the writing we get" #WritersStrike pic.twitter.com/x7UASNi1af

— Deadline Hollywood (@DEADLINE) May 2, 2023
We know that's true!
Drew Barrymore
The MTV Movie & TV Awards are set to happen on Sunday night, but they won't be happening without their host! Initially, Drew Barrymore was all set to host the always-zany awards show. But with the strike cropping up this week, she has backed out of her agreement and walked away from the role!
On Thursday morning, the Blended star shared a statement with ET confirming her decision to step back form the gig
"I have listened to the writers, and in order to truly respect them, I will pivot from hosting the MTV Movie & TV Awards live in solidarity with the strike. Everything we celebrate and honor about movies and television is born out of their creation. And until a solution is reached, I am choosing to wait but I'll be watching from home and hope you will join me. I thank MTV, who has truly been some of the best partners I have ever worked with. And I can't wait to be a part of this next year, when I can truly celebrate everything that MTV has created, which is a show that allows fans to choose who the awards go to and is truly inclusive.​"
Now, per Variety, the show will go on without a host. Interestingly, there will also be no red carpet or talent interviews before Sunday night's show. Lots of changes there!
Stephen Colbert
On Monday night, hours before the strike actually became official, Stephen Colbert used a long segment on The Late Show to address the pending potential of major labor action disrupting the entertainment industry.
He explained that he was hopeful a deal could be reached (of course, that did not happen), and then said he was backing the writers no matter what happened:
"I hope both sides reach a deal. But I also think that the writers' demands are not unreasonable. I'm a member of the guild. I support collective bargaining. The nation owes so much to unions. They are the reason, unions are the reason, why we have weekends."
Well spoken. And a funny segment, to boot!
Seth Meyers
Just like Stephen Colbert, Seth Meyers is standing in solidarity with the writers! During last Friday's episode of Late Night, Seth addressed the then-possibility of a writers strike:
"I am deeply proud of the fact that I get to be a professional writer. I bring this up because, as of Monday at midnight, there might be a writers strike. And if a writers strike happens, that would shut down production on a great many shows."
Meyers, who was a writer on Saturday Night Live during the last WGA strike — which lasted for 100 days beginning at the very end of 2007 — added this:
"It doesn't just affect the writers, it affects all the incredible non-writing staff on these shows. And it would really be a miserable thing for people to have to go through, especially considering we're on the heels of that awful pandemic that affected obviously not just show business, but all of us."
And on Monday night, again just hours before the walkout was made official, Meyers added:
"[If a deal can't be reached], this show will be interrupted and we won't be here to spend time with you. … No one is entitled to a job in show business. But for those people who have a job in show business, they are entitled to fair compensation. They are entitled to make a living. I think it's a very reasonable demand that is being set out by the guild, and I support those demands."
You can see more from Seth (below):
Amanda Seyfried
On Monday night, Mean Girls alum Amanda Seyfried spoke about the (then-looming) writers strike while being interviewed on the red carpet. She herself admitted she wasn't close to the negotiations and didn't fully understand the scope of the issue, but she said one thing that ALL business owners should follow: people deserve fair compensation for their work!!
The actress stated:
"I'm not in the room [for negotiations], so I don't get what the problem is. Everything changed with streaming, and everybody needs to be compensated for their work. It's fucking easy. I don't get it. Whatever. Fingers crossed."
Amanda Seyfried shares her thoughts on a potential WGA strike: "Everything changed with streaming, and everyone should be compensated for their work. It's f-cking easy." pic.twitter.com/T21n5f188K

— Film Updates (@FilmUpdates) May 2, 2023
Seems simple enough, right? Sadly, this strike proves studios and streaming giants don't see things the same way…
Bowen Yang
Current SNL star Bowen Yang spoke to the Hollywood Reporter about the strike on Tuesday afternoon. Of course, Yang's colleagues on SNL had been all set to have alum Pete Davidson back on set this coming weekend for a highly-anticipated episode. But that's not happening now with the strike in full effect.
And in his comments to THR, Yang laid out his reaction:
"I'm really disappointed. We had a few good shows left, I think. We all came back rested and ready to work on Monday. Pete was very excited to host, even though he knew there was a big asterisk on the week, and there was a looming possibility it might not happen. I think we were all ready to give it our all for the next three weeks before the season ended."
The 32-year-old actor and comic went on:
"[I feel most for] the new cast and the new writers who started out [this season]. They didn't get a chance to ring in the end of their first season, which is always a big milestone."
Seriously!
Yang also shared his dismay at studios reportedly not even considering WGA proposals for a new contract here in the earliest days of the strike:
"The fact that most of the points were just outright rejected is really devastating and concerning. So I'm here to join with the rest of the union to try to put pressure on the studios."
James Austin Johnson
On Wednesday, talented comedian and noted Saturday Night Live star James Austin Johnson took to Instagram with his own supportive commentary aimed at WGA members. The comic — known for his incredible Donald Trump impersonations — shared pictures of himself on the picket line in NYC and wrote in part:
"Standing in solidarity with @wgaeast & @wgawest as a @sagaftra member. What the writers are asking for is not unreasonable, the companies' responses at the negotiating table however were very unreasonable. May everyone reach a fair deal soon. Union members standing together is a beautiful thing."
Of course, SNL is one of the shows that stands to be very much affected by the ongoing strike. Great to see actors supporting writers!
Jay Leno
Jay Leno decided to repeat history this week when the picket lines went up. The former Tonight Show host drove over to the Walt Disney Studios in Burbank with a couple boxes of Randy's Donuts in hand on Tuesday afternoon.
As writers were picketing and protesting the lack of a new contract with studios, the 73-year-old late night show veteran handed out donuts and offered his support to those who had just gone on strike:
Here he is doing the same thing during the 2008 strike. pic.twitter.com/lTClcyxsWC

— Scott Gustin (@ScottGustin) May 3, 2023
As you can see from the second picture in that Twitter thread, this was not the first time Jay has opted for the donut move! Back in late 2007 during the last WGA strike, Leno showed up at the picket line outside Universal Studios nearby this current-day one and handed out Krispy Kreme donuts to striking writers.
At the time, his Tonight Show was one of the shows most affected by that 100-day labor movement. And now, even though he's out of the late night game, he figured he'd offer a similar show of support. Good for him!
Cynthia Nixon
There's no question about who Cynthia Nixon supports here. The actress and activist — who ran unsuccessfully to become the Governor of New York in 2018 — has been out on the picket lines this week supporting the writers.
When the Hollywood Reporter caught up with her about it, Nixon also referenced the 2007 strike. She told the outlet that "no one's budging" on this one, and the writers are prepared to fight hard for their demands:
"They were long strikes, and I think that that is one reason everybody is pouring onto the picket line to try and make as much noise as possible right at the beginning. We're here. We're not going to be broken. No one's budging. We've got to negotiate."
Plus, with the second season of And Just Like That… set to be released at some point next month, Nixon told the outlet that she hopes her promotional push there will keep the strike in the front of people's minds if it lasts that long:
"I certainly feel like I'm going to make statements about supporting writers anywhere and everywhere I go. I'm interviewing [And Just Like That… writer] Samantha Irby in a couple of weeks at Symphony Space [in New York City], and we're going to spend some of that time talking about the writers strike and her thoughts on it."
So there you have it!
What do U make of all this star power backing the writers, y'all?!
Great to see actors, comedians, writers, hosts, and others all stand in solidarity!!
[Image via FayesVision/MEGA/WENN]
Related Posts
CLICK HERE TO COMMENT
May 04, 2023 17:55pm PDT