Jamie Foxx is offering up an apology after being accused of penning an antisemitic post.
In case you missed it, the 55-year-old actor shared a cryptic and random post to Instagram that read:
"They killed this dude named Jesus… What do you think they'll do to you???! #fakefriends #fakelove"
Jamie didn't offer any more context about the post but insisted in the comments he really posted the message and had "a story ta tell." It seemed the Blame It singer was calling out his pals amid his health scare. However, he has since been met with backlash for the language used in the post and accused of spreading antisemitic rhetoric – whether it be unintentionally or not.
Related: Kim Kardashian Breaks Down Addressing Kanye's Antisemitic Remarks
Some social media users pointed out that Jamie's words perpetuated the antisemitic belief of "Jewish deicide," which the American Jewish Committee defined as "the charge that Jews bear eternal responsibility for the death of Jesus Christ." And this belief has fueled antisemitism for a long time. Awful. So with this in mind, people have called Jamie out on social media for his antisemitic remark, compared him to Kanye West, and more:
"I am a Jewish advocate who fights antisemitism. Jamie Foxx's post was a horrifically antisemitic message rooted in classic blood libel and anti Jewish conspiracy theory."

"Just once I'd like to log onto this site and not see antisemitism, especially from huge celebrities like Jamie Foxx and Jennifer Aniston. You don't want to be an ally, fine, but leave us the heck alone!"

"Jamie Foxx could be talking about friends who betrayed him, but the accusation of deicide is one that has led to the torment and persecution of Jews for centuries and this is why this comment is dangerous. Some of the comments on it have been repugnant to say the least."
Some even noticed that Jennifer Aniston liked the controversial post when it was still up and called her out for it. However, she cleared the air and called out Jamie on her Instagram Stories Friday, writing:
"This really makes me sick. I did not 'like' this post on purpose or by accident. And more importantly, I want to be clear to my friends and anyone hurt by this showing up in their feeds – I do NOT support any form of antisemitism. I truly don't tolerate HATE of any kind. Period."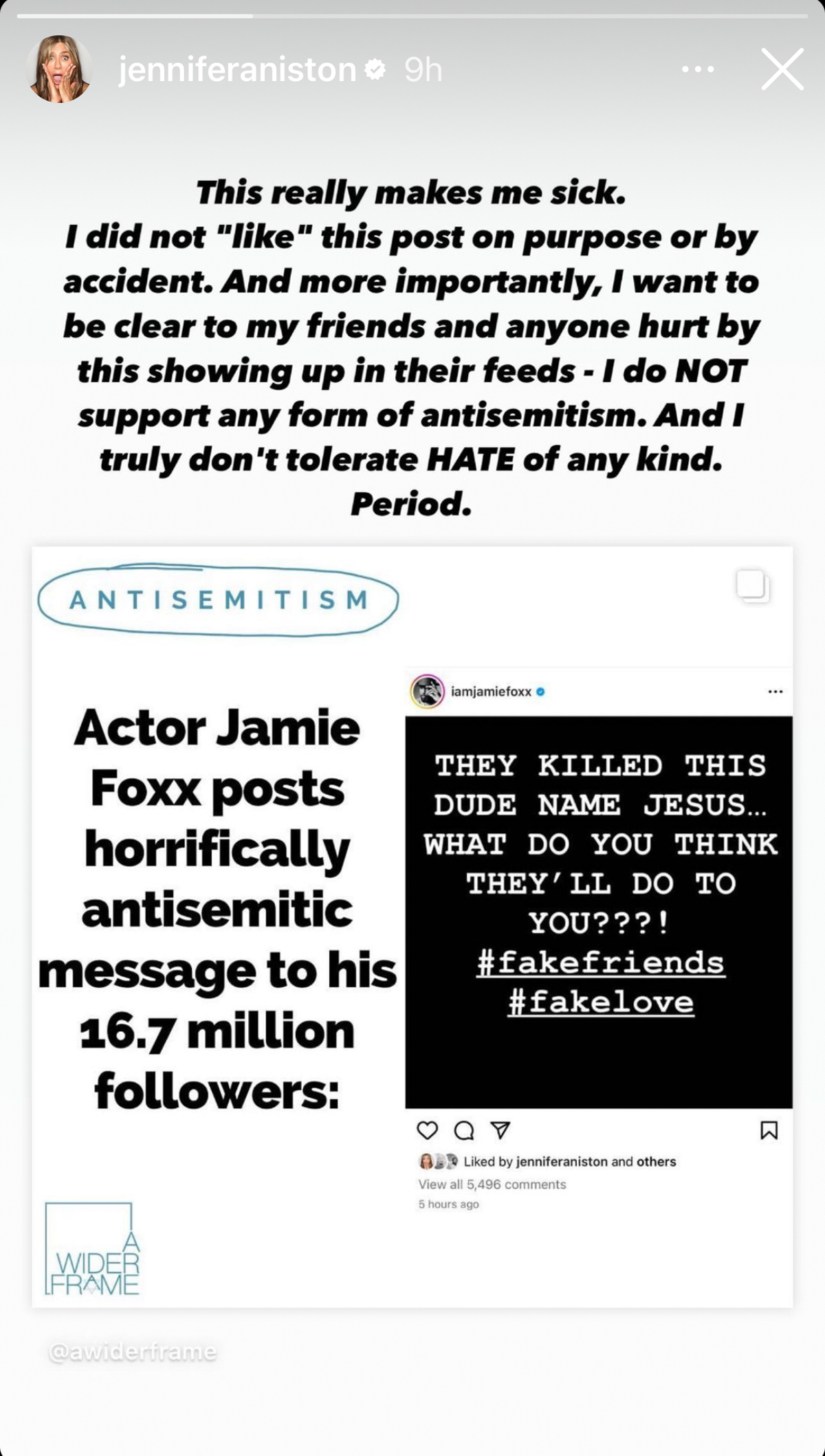 Since the backlash, Jamie has deleted the post. He also took to social media on Saturday to apologize for offending anyone with his words while clarifying the meaning behind the post. He wrote:
"I want to apologize to the Jewish community and everyone who was offended by my post. I now know my choice of words have caused offense and I'm sorry. That was never my intent. To clarify, I was betrayed by a fake friend and that's what I meant with 'they' not anything more. I only have love in my heart for everyone. I love and support the Jewish community. My deepest apologies to anyone who was offended. Nothing but love always, Jamie Foxx.
What are your thoughts on the situation, Perezcious readers? Let us know in the comments below.
To learn more about antisemitism and how you can help fight it, check out https://www.adl.org/. 
[Image via MEGA/WENN, WENN/Avalon]
Related Posts
CLICK HERE TO COMMENT
Aug 05, 2023 09:43am PDT