Source Calls Newly-Engaged Jennifer Lopez & Alex Rodriguez 'Soulmates' Amid Cheating Accusations!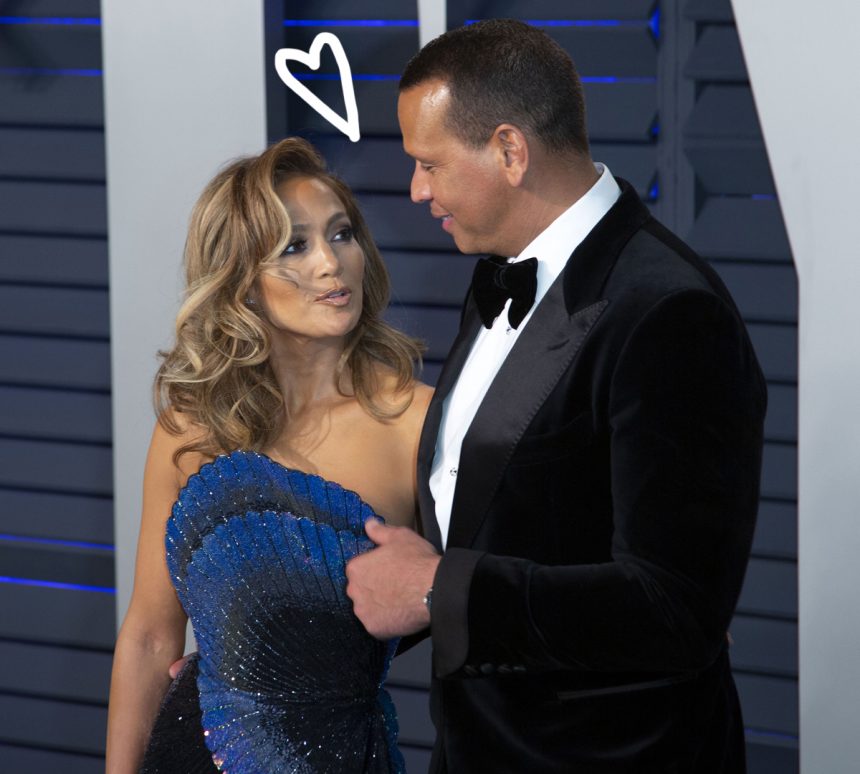 Don't let those cheating accusations fool you: Jennifer Lopez and Alex Rodriguez are a match made in heaven!
On the heels of the couple's engagement news, a source tells People that J.Lo is the "happiest she has ever been" with her newly-minted fiance. The source said:
"They are incredible together. Very much soulmates that bring out the best in each other and are so supportive of each other."
Awww. Sounds too good to be true…
And, according to Jose Canseco… it is!
Video: J. Lo Reveals Anniversary Gift From A-Rod!
As we reported, the ex athlete accused A-Rod of cheating on Lopez with Canseco's ex-wife Jessica, adding that he'd even take a polygraph test to prove he was telling the truth. Yikes.
The cheating claims come just one day after Rodriguez announced their engagement news on Saturday by posting a photo of Lopez's massive diamond engagement ring.   
The former Yankees star went on to share more behind-the-scenes clips of their getaway, later posting a video of their romantic AF vacation suite, complete with a rose-covered bed.
As seen (below).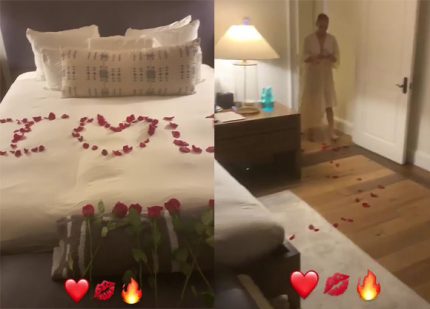 Apparently, Jenny from the Block was not expecting her man to propose on their trip to the Bahamas — even though, according to the insider, "there were talks about an engagement from early on."
The source explained:
"From the start, they moved very quickly. Their relationship was always very passionate. Jennifer quickly fell very hard for Alex. And she quickly started planning for the future."
Ultimately, the 49-year-old songstress "realized that she wanted to live more in the moment… [and] enjoy what they have together with the kids," according to the insider.
But now, the kids will enjoy being part of their parents' wedding!
Photo: A-Rod Shares First Look At J.Lo Pole Dancing
A separate People source revealed that the couple's children from their previous relationships will "definitely" play a huge role in their upcoming nuptials, explaining:
"For them both, they are still all about their family with the four kids. Their initial strong attraction for each other would have quickly faded if they had not been able to come together as a family."
Lopez and ex-husband Marc Anthony have 11-year-old twins Maximilian "Max" David and Emme Maribel, while Rodriguez and ex-wife Cynthia Scurtis share daughters Ella, 10, and Natasha, 14.
Naturally, there was some Brady Bunch-ing to be done in the beginning. But the kids were more than alright, according to the insider:
"Their kids all accepted each other and got along from the beginning. It's always tricky when you merge families, but Jennifer and Alex did a great job from the start. The kids are amazing together. And they have wanted Jennifer and Alex to get married for a long time. They will all definitely be a huge part of the wedding."
Needless to say, it's a very exciting time for the couple:
"Jennifer is ecstatic and so are their families and friends. Very few people knew Alex planned on proposing. It was very much a surprise for Jennifer. It was just how Alex wanted it."
Sounds like a dream!
Let's just hope those pesky affair allegations don't turn this into a nightmare!
[Image via Regina Wagner/Future Image/WENN.]
Mar 11, 2019 9:15am PDT