Joe Giudice is clearly ready to fight!
The Real Housewives of New Jersey star's prison transformation has thus far been well-documented, but the more we see of him as a free man, the more impressive we find his fitness level… and his resolve! And if he really means what he says in some of these video clips, maybe his deportation case is far from over!
Related: Teresa's Post-Prison Yoga Ventures Are All-In
The Bravo personality is the subject of several social media videos posted on Wednesday night by his eldest daughter, 18-year-old Gia Giudice, who was clearly proud to show off poppa's new martial arts knowledge. As you can see (below), Joe is seriously flexible, explosive, and powerful while getting his work in on the mat:
https://www.instagram.com/p/B3soqZMBtaQ/
Whoa!!! Not bad for a 49-year-old, right?! Amazing!
Gia also shared another video of her father on her Instagram Stories page, too, showing him stretching and preparing to train (below):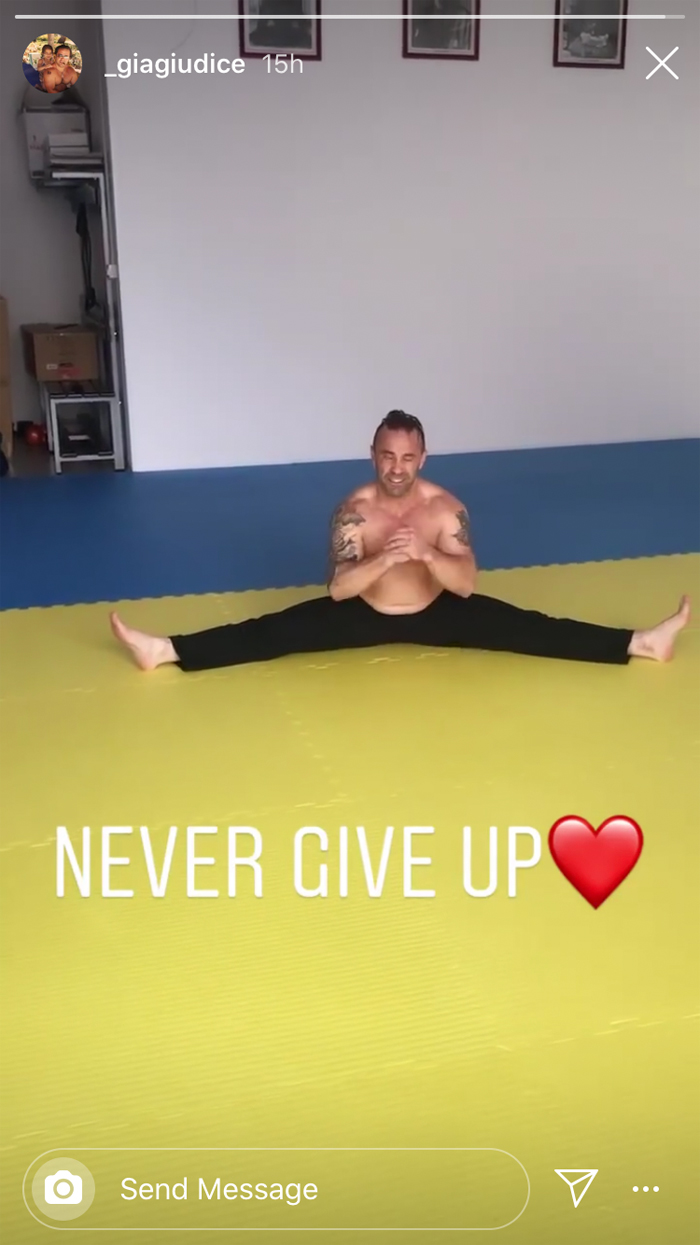 Awww! Such a proud daughter!
The messages to go along with the clips were equally inspirational — and to hear Joe say it, well, it sure sounds like he's not even close to being done fighting his possible deportation, even though he may be a major underdog in the case.
Not only does the teen write "we come back stronger than before," and "the fights [sic] just starting" in her caption for that IG video (above), it's what Joe says to the camera while he's stretching in the second video clip that is really raising eyebrows. The powerful ex-prisoner pounds his fists together and says (below):
"I'm going to come back and we're going to fight. Gotta fight your way back. Never give up."
Well then!
Those mark the first public words spoken by Teresa Giudice's embattled husband since his release from a facility run by U.S. Immigrations and Customs Enforcement last week. And it sure sounds like he's planning on doing everything he can with his final deportation ruling — which we expect to come down sometime next month — so that it's good news for him and his family.
Related: Italy Just Ain't In The Cards For Teresa Giudice!
The ruling may not go in his favor, though, and he may be forever banished from the U.S. and effectively stuck in Italy, where he finds himself now. But at least he clearly appears to be in a better mental state than many people would be in this situation, especially considering how his wife hasn't exactly, um, stayed by his side. Yeah…
Anyways, what do U think about Joe's ongoing legal battle and deportation controversy, Perezcious readers?? And how about these martial arts moves — not bad, right?! Sound OFF with all your opinions in the comments (below)…
[Image via Gia Giudice/Instagram]
Related Posts
CLICK HERE TO COMMENT
Oct 17, 2019 10:01am PDT