Poor Kim Kardashian! She just can't catch a break from her kids!
The 42-year-old reality TV star took to Instagram on Sunday to share a set of since-expired Stories about how her four children celebrated their momma on Mother's Day. Unfortunately, the results weren't quite as sweet as you think. They were downright HIGHlarious, though!
Related: Kim Discusses Fierce Family Feud Ahead Of Highly-Anticipated 'Kardashians' Premiere!
In one Stories post published to the social media site on Sunday afternoon, the SKIMS mogul shared a video tribute from her 7-year-old son Saint West. The little guy loves his mom — uhh, we hope, at least? — but what he said on camera in a clip originally organized by Kim's sis Khloé Kardashian was RUTHLESS!
Saint started off his video by saying:
"Mom, I'm very grateful for you. I know I'm rude to you a lot, I say you're nothing to me, but you mean the world to me… I love you more than anything."
Wait, wait, wait. "I'm rude to you a lot," and, "I say you're nothing to me"?!?!
Ouch!!!
Saint shifted gears from there, telling Kim she's his "favorite" in the fam. But in the process, he turned ALL his shade on 4-year-old little brother Psalm:
"You're my favorite in the family, I even love you more than my cute little brother Psalm. I love you, never forget that."
Jeez. Now Psalm is out here catching strays?! Saint is one tough cookie! LOLz!
Along with Psalm and Saint, Kim's daughters — 9-year-old North and 5-year-old Chicago — also delivered some Mother's Day love to their momma. North kept things short and sweet in her video, saying this to the camera:
"You are the best in the world. You make my day everyday."
And then it was Chicago's turn to step up to the plate!
In addition to singing to her momma via video and praising the SKKN By Kim founder for being such a doting parent, Chicago ALSO shaded the s**t out of Kim!! Yes, really!
Related: Tom Brady's Rep Confirms Former QB Is In Touch With Kim, But…
The KUWTK alum shared a snapshot of a worksheet Chicago had filled out for the holiday. As you can see (below), the sheet called out Kim for never cooking — but Chi did say she thought her mom was only 22 years old: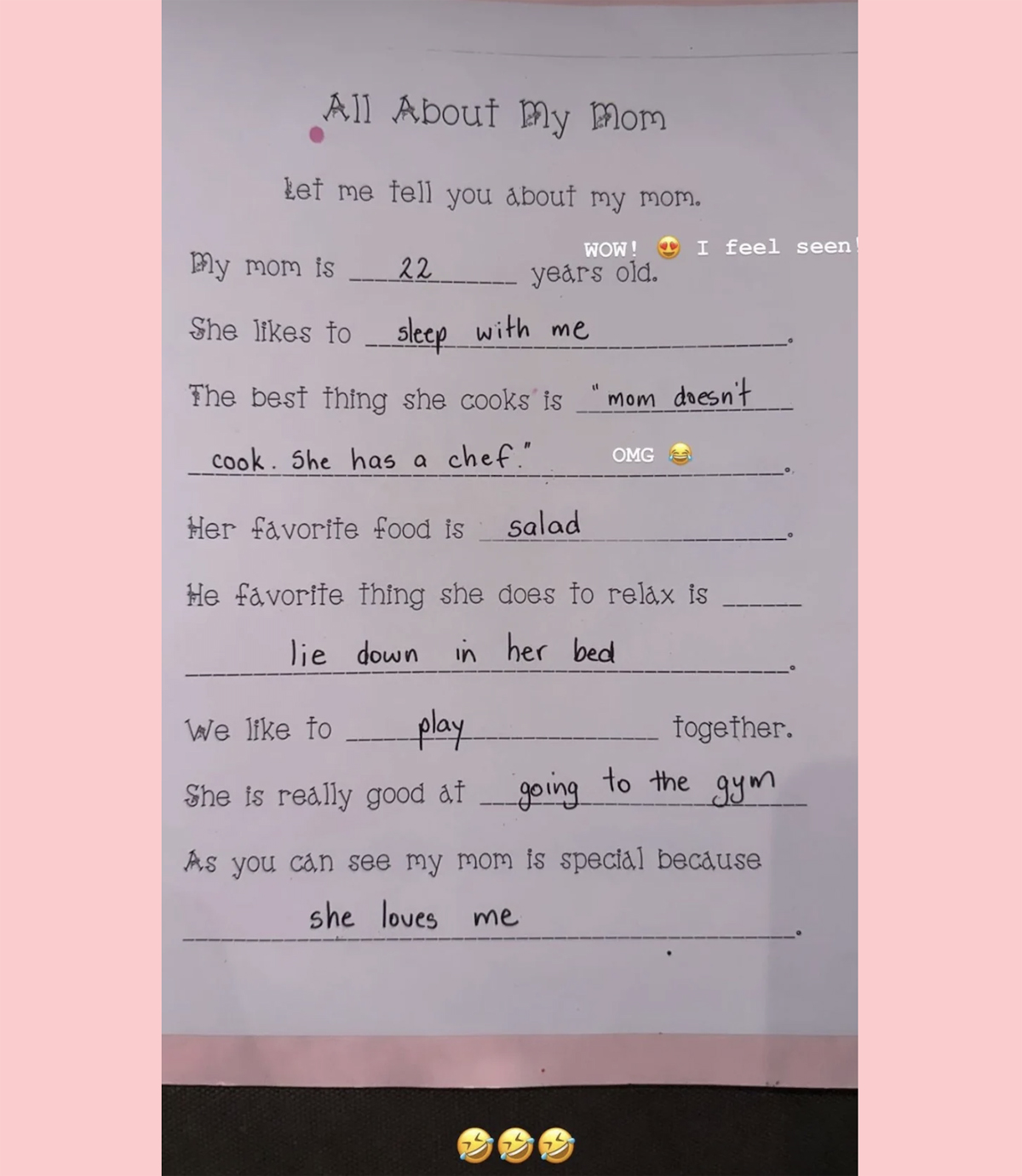 Amazing!
These kids have jokes! We love it!!
What do U think about it, Perezcious readers??
[Image via Kim Kardashian/Instagram]
Related Posts
CLICK HERE TO COMMENT
May 16, 2023 16:05pm PDT