Kim Zolciak Says She's 'Not Open' To Her Daughters Getting Plastic Surgery Because 'Beauty Shines From Within'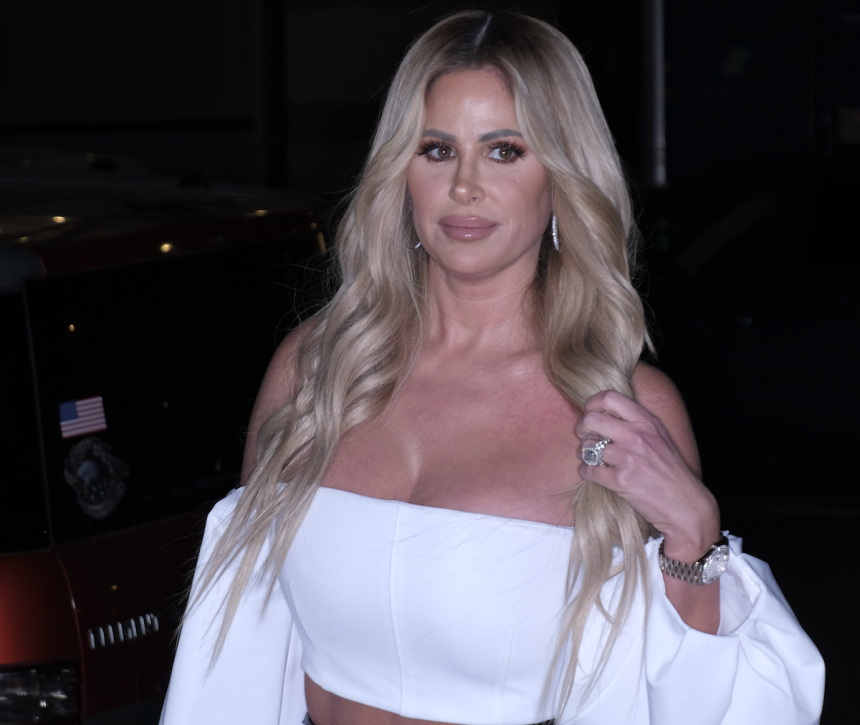 Kim Zolciak-Biermann is at it again!
The Bravo star has LOTS of thoughts about the possibility that her daughters may get plastic surgery in the future, and so she spilled 'em all to ET when they came to ask her about it.
Related: Kim Under Fire For Daughter's Pants-Down Scooter Pic!
Speaking to the outlet about beauty and surgery, Kim pointedly said (below):
"I do believe that beauty shines from within. We focus on that kind of thing."
Hmmm…
It has apparently been a "touchy subject" for Kim though, as she notes, because she's been watching her daughter Ariana go through body image issues of late on Don't Be Tardy — and it's made Kim re-think how she views body positivity and health (below):
"I think it's a very touchy subject. I'm the same size actually now that I was in high school, I've always been kind of the same size, but you know, I'm 5'8. I was always, like, a size four, sometimes even a six with my boobs. So, I can relate to Ariana and her frustration. Ariana, now, she's lost, like, 30 lbs. She works out at the gym every day. She's itty-bitty tiny. She's really kind of come into her own. But at the time, a lot of her friends are on the smaller side … they're, like, a size negative-zero, 99 percent of her friends, so to her, she's like, 'I'm fat, and I'm this…' and it's just hard, and it's heartbreaking."
Ugh! So tough to read — and the teen is at such a difficult age to have these conversations!
Social media has only made things worse, too — especially for a high-profile family like Zolciak-Biermann and her brood.
Related: Kim Celebrates Ariana's 17th Birthday!
The reality TV star notes:
"People on Instagram, especially, are so f**king rude about it that I have to monitor her page constantly because of the nasty comments, 'You're fat, you've always been fat….' just horrible, mean, mean things. Now, they're saying all she does is photoshop her pictures, 'cause she's not that small. It's a constant battle, and I always want my girls to love themselves, no matter what size they are."
Amen! Even if that means NO plastic surgery.
Related: Kim Isn't Standing For Instagram Photoshop Accusations!
For Kim, who has had procedures like a tummy tuck done in the past, that has meant being open with her daughters about going under the knife and changing the way her body looks.
She explains (below):
"When I went in to have my tummy tuck, I went in a size two/four and I came out a size two/four, I didn't go in and change my body size and body makeup. I'm very open with them about feeling my best … I am not open to any plastic surgery on my girls at this time. I tell them, you know, when you're done having kids and all that good stuff, worry about all that stuff later on down the road, if that's what you want to do, but you guys are beautiful and so young."
Amen!!!
It's worth noting here that the 40-year-old doesn't consider injectables and lip fillers to be "plastic surgery," which is an interesting take since daughter Brielle is convinced she looks better with getting her pout altered.
What do U think, Perezcious readers?!
Sound OFF in the comments (below)!!!
[Image via WENN.]
Feb 15, 2019 9:18am PDT