Nicole Young and Chrishell Stause's feud on Selling Sunset is having some serious consequences…
As fans know, Nicole joined the Netflix reality series for Season 6 after being a real estate agent for The Oppenheim Group for years off camera. But her arrival to the cast didn't come without some drama! Tensions arose in the office after Nicole accused Chrishell of taking credit for their joint listing and suggested she only got it due to her now ex-boyfriend Jason Oppenheim having a "massive crush" on her when she first joined The O Group. Because of this Nicole believed the former soap opera star received a ton of praise and business after the property sold – even though she allegedly put very little work into it.
Related: Chelsea Lazkani Claims Bre Tiesi 'Wants To Kill' Her Over Nick Cannon Comments
Obvi Chrishell did not appreciate the accusations, calling her a "bitch" during one of their heated conversations about the sale. Their back-and-forth arguments later reached a breaking point when the 41-year-old actress claimed Nicole was "on drugs!" She alleged during a heated fight on a girls' trip:
"I don't know what is in your drink or what you're on, but I'm just saying I'm good with not having this conversation because it doesn't seem like there is just wine in your glass. You've been acting a little cracked out all night."
Yikes. While Nicole was visibly hurt, Chrishell doubled down on her accusation – even claiming she saw her co-star doing mushrooms, ecstasy, and weed. The next day, Nicole got a drug test to prove to everyone she did not take any drugs at the time. She also threatened to file a lawsuit against Chrishell for defamation if she continued to make these comments.
And it's only gotten messier… Chrishell seemed blindsided about Nicole digging up drama that happened years ago, especially since they were friendly with each other before this season. She even dropped text receipts from last June that showed Nicole asking to hang out in order to get advice after receiving a contract for Selling Sunset. Ch-ch-check out the Instagram post (below):
So of course, fans fully believed Nicole was starting unnecessary drama and just wanted to get more camera time for Selling Sunset. She received a ton of negative comments online, but some people took things way too far.
According to TMZ, Nicole has been receiving vicious death threats and being called a "meth addict" by fans ever since the new season dropped on Friday. She's reportedly got hateful messages such as:
"Watch out on the streets….whores die."

"You're a c**t. A bully. I hope you die honestly."

"No one likes you because you're a crackhead. You should leave the O Group you f***ing methhead."
So, so awful. But it's not just on the internet. Sources claimed to the outlet that some have even found her home address and phone number and have gone as far as to reach out to her family members. Ultimately, the outlet reported these threats have led the real estate agent to cancel press appearances and podcast tapings. An insider told Page Six about the situation:
"It's been a really difficult time for Nicole. She comes from a regular, normal, private life to death threats and being called a meth addict overnight."
The source further shut down the "bogus" accusations that she feuded with Chrishell on camera to have a storyline for the show. Additionally, the insider said Nicole was "asked to be part of the original cast" but "backed out last minute" out of fear of getting bullied. Now her nightmare has turned into a reality. The source added:
"She was worried her life would be turned upside down, and she didn't want to risk that."
No matter what you may think of Nicole or her actions this season, that does not give anyone the right to send her death threats or contact her family members to spew hate. That's not okay whatsoever. We hope she has a good support system surrounding her through this scary situation — and that law enforcement track down the worst offenders. Newsflash, weirdos: DEATH THREATS ARE ILLEGAL!
As for the season's drama? The Page Six insider insisted that the episodes about her beef with Chrishell over the listing did "not remotely" show "the entire picture," explaining:
"[Nicole] understands how viewers would find it confusing, as there really was no context given to the allegations and arguments made by Nicole. And Nicole being a completely new person while Chrishell has six seasons on her, I mean, of course it's playing out this way. It's definitely frustrating for her, but with time, the truth always prevails."
At the end of the day, the source shared that Nicole knows "the truth" but this whole situation is "very upsetting and difficult." Instead of continuing the drama, she is "taking time to spend with her family and friends, trying her best not to pay attention to the horrendous attacks being made on her." We're glad Nicole is stepping back for a second to focus on her own well-being amid these death threats.
Since these attacks were made public, Chrishell even addressed what's gone down, asking everyone to "keep it fun please." She wrote on Instagram Stories on Thursday:
"It's been brought to my attention that Nicole's camp is reporting receiving death threats to several outlets. Being on a reality show on such a huge platform makes for an influx of feedback and I am certainly not a stranger to death threats after 6 seasons. Your opinions help make this show what it is & clearly I have my own. But let's keep it fun please."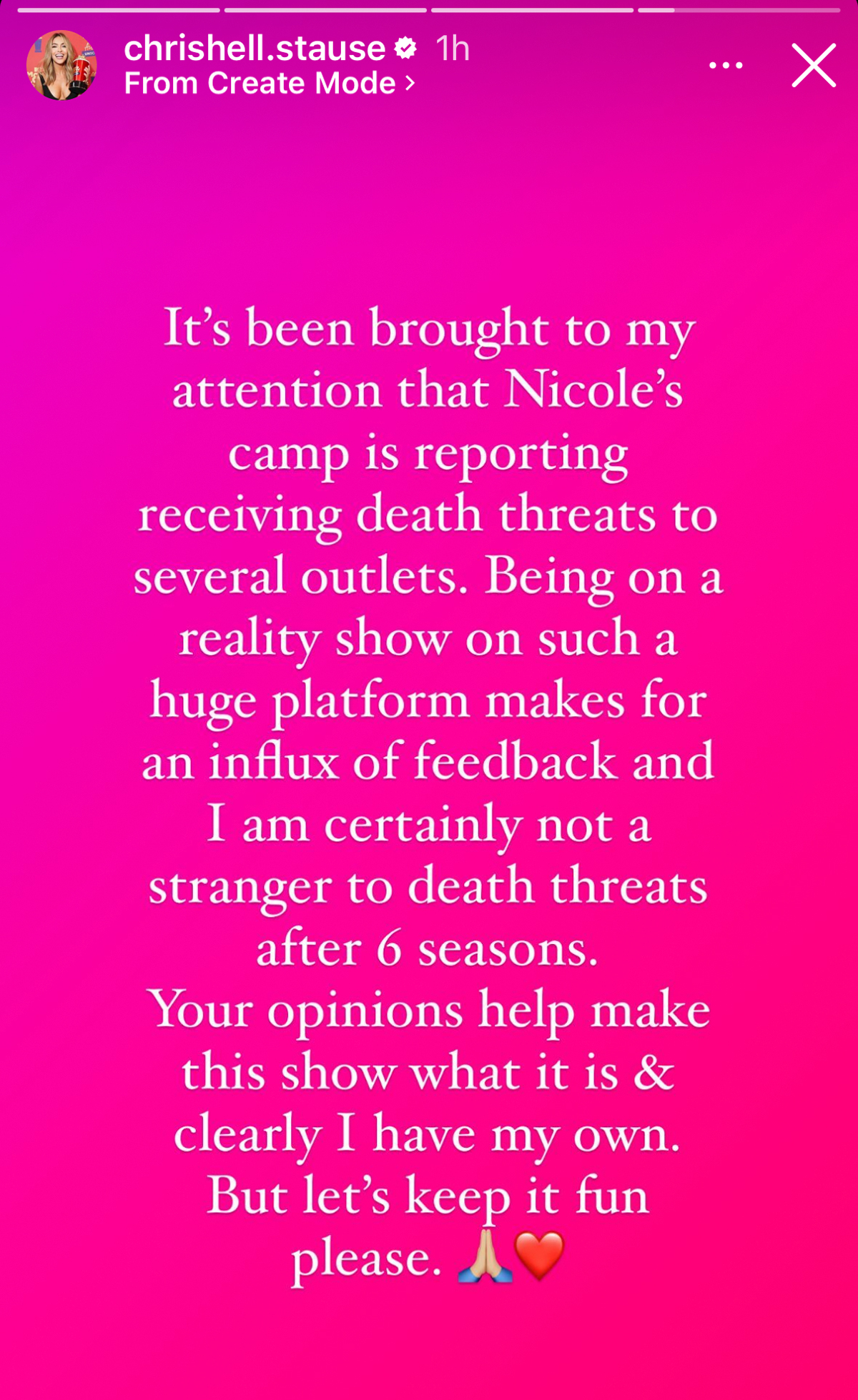 There's no problem being a fan and having opinions about a show's new season. But don't go around threatening someone's life. It's a TV show ffs.
[Image via Netflix/YouTube]
Related Posts
CLICK HERE TO COMMENT
May 25, 2023 11:07am PDT