Rob Kardashian Is 'Relieved' About Finally Reaching A Custody Agreement With Blac Chyna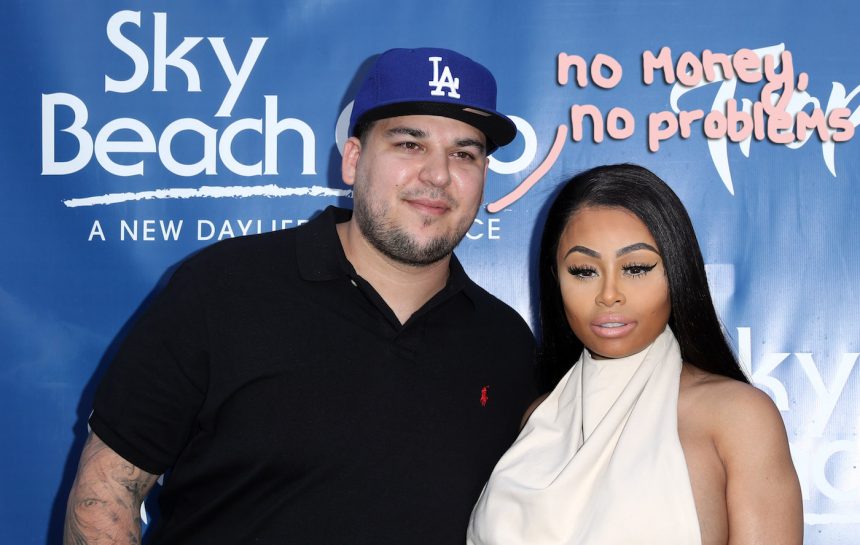 There are no more money woes for Rob Kardashian, and he's not afraid to share how he feels!
Now that a custody agreement has reportedly been reached between the KUWTK forgotten son and Blac Chyna for the care of their daughter Dream Kardashian, there's a huge weight lifted off his shoulders.
Related: Rob Kardashian DENIES Going After Blac Chyna For More Custody Of Dream
ICYMI, it was reported on Monday that the former Rob & Chyna stars reached a custody agreement after at least seven mediation sessions over Dreamy. A source shared with E! News how the former reality star is feeling now that things have been finalized:
"Rob is really relieved about this whole situation. He just wants what is best for Dream."
The insider also confirmed earlier reports regarding the financials and coparenting schedule, which were negotiated with the former couple, their attorneys, and a retired private judge:
"Rob no longer has to pay Chyna $20k a month. They agreed to split custody 50/50 but it's true that Rob will have Dream more of the time."
Each parent will be also responsible for the financials of their two-year-old while she is in their care:
"[They will] each pay for whatever Dream needs when either one of them has her for custodial time and any other expenses (school, medical) will be split evenly."
Seems pretty fair!!
Things have appeared to be fairly civil between the exes recently, with BC even wishing her baby daddy a happy birthday on St. Patrick's Day, and we definitely hope it stays that way. Although he did reportedly turn her down for margaritas after everything was set in stone on Monday… LOLz!!
Just a month ago, the two both disputed that there were any pending or ongoing legal cases between them via Twitter, with the model throwing in what a great dad Robert is: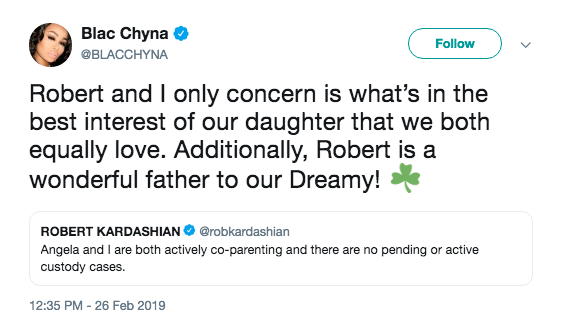 Related: Blac Chyna Is Paying No Attention To Tokyo Toni's Parenting Accusations
While the dust may be settled on this court battle, Angela isn't done with her KarJenner drama just yet.
She's still not letting go of the cancelation of Rob & Chyna, and is continuing to go after Ryan Seacrest for personal email communications with Kim Kardashian West, Khloé Kardashian, Kris Jenner, and Kylie Jenner, that she believes will prove her case. Last we reported, the American Idol host objected to her motion… but we don't think she'll go down without a fight.
For Dream's sake, we're so relieved too that this is all over… for now!
[Image via Judy Eddy/WENN.]
Mar 27, 2019 8:24am PDT