Tori Kelly is "feeling stronger" just days after her terrifying hospitalization.
Monday, TMZ reported the Grammy-winning artist was rushed to Cedars-Sinai Medical Center in Los Angeles after suffering a "really serious" condition in which her heart "started beating really fast," leaving her "in and out of consciousness." Luckily, she arrived at the esteemed medical facility in time for doctors to provide her with the care she needed, where they discovered blood clots in her "legs and her lungs."
So scary.
Related: Sinéad O'Connor Dead At 56
Now, two days later, we have an update.
Tori's husband, André Murillo, took to Instagram Wednesday to share a much-needed positive status report for the Nobody Love singer! He wrote in a Story post:
"Tori is smiling again and feeling stronger. Not fully out of the woods but we see the sun. Just waiting on a few more answers."
That's so good to hear! We're incredibly glad Tori is seemingly recovering, but we continue to hold her close in our hearts as it sounds like her medical condition isn't fully resolved. We wonder what kind of "answers" specifically they're waiting for?
Murillo concluded his update by thanking fans for their "love and kindness" throughout the surreal situation:
"Your love and kindness have been overwhelming. Thank you so much! "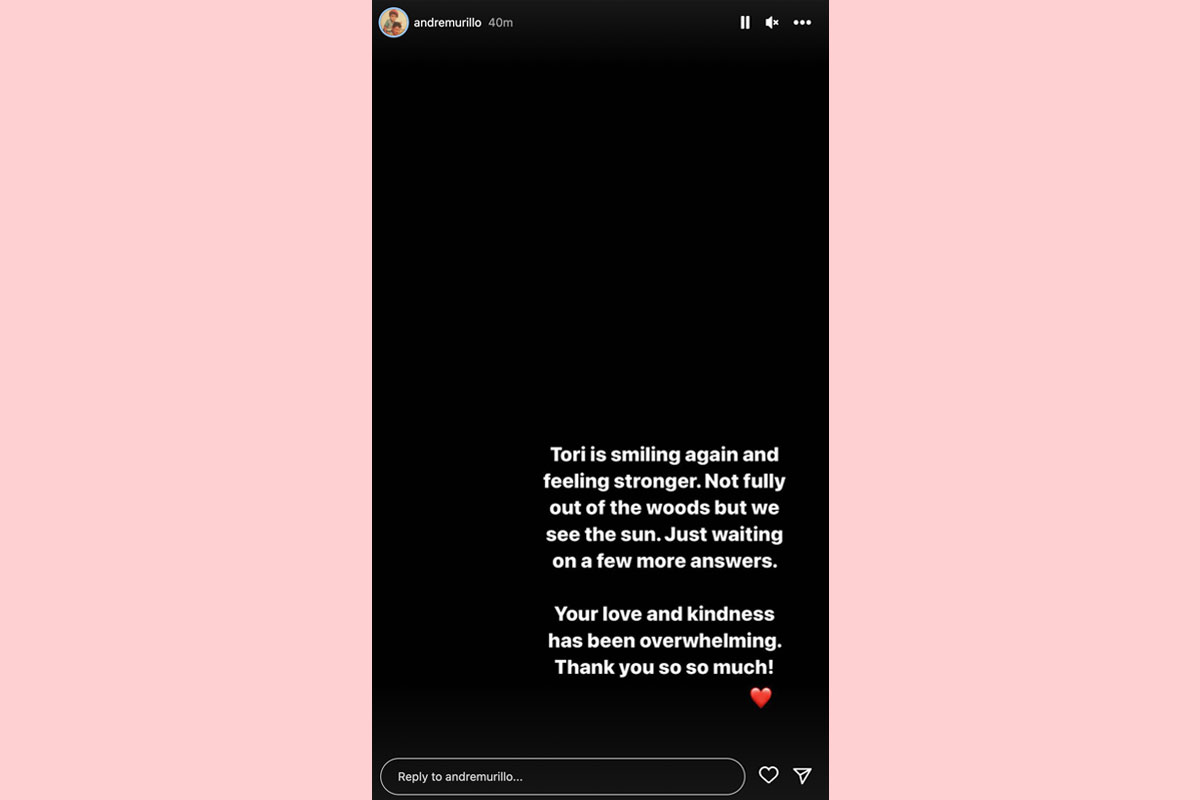 We'll definitely keep the love and kindness going!
Monday night, the Paper Hearts singer's husband shared relevant lyrics from her 2021 hit with Justin Bieber, Where Do I Fit In, on his IG Story:
"When I'm all alone / and fear is all I see / Sitting in the silence with these insecurities / It's then you remind me, you're holding me tight / And you love me completely, you're always by my side"
The verse crescendoed with the singer warmly reassuring "It'll be all right." Thankfully it sounds like it will be!
Related: Rosalía & Rauw Alejandro Call Off Engagement & Split For Good!
We're sure André needed to hear those lyrics badly to get through this scary situation. The two wed back in May of 2018, just seven months after the former college basketball player proposed, and two years after they first started dating. He shared in a post at the time:
"For better or for worse, in sickness and in health, to love and to cherish, till death do us part."
See (below):
Tori is lucky to have such a loving and supporting partner by her side through these trying times.
The singer is set to release her EP, Tori, this Friday. Eerily enough, the track list includes a song titled, "alive if i die."
°˖✧'tori' tracklist✧˖°
can't wait to share these songs with you on july 28 ♡ https://t.co/OJlQtWyVUG pic.twitter.com/OJPtdMnOdY

— tori kelly (@torikelly) July 17, 2023
Prayers for Tori as she continues to recover! Share your support in the comments below.
Related Posts
CLICK HERE TO COMMENT
Jul 26, 2023 15:05pm PDT