Tori Spelling and her family are struggling as their domestic mold problem persists.
As you may recall, we've been covering the curious and sad story behind the sickness Tori and Dean McDermott's family is suffering. The couple's five children — Liam, 16, Stella, 14, Hattie, 11, Finn, 10, and Beau, 6 — have been grappling with various illnesses in recent months, and the culprit was recently uncovered.
Related: Tori Left Her Contact Lenses In For WEEKS — And Now She's Got An Eye Injury!
Earlier this month, the Beverly Hills, 90210 alum revealed the family's rental home has dangerous levels of mold inside that has apparently been causing all the health problems. And now, there's a new update.
On Wednesday evening, the 49-year-old TV star took to her Instagram account with more. Posting a slide to her Stories, Tori explained that the family is now looking for specialized legal representation to help in the fight against "next level" mold problems they've been experiencing:
"Does anyone know how to find a major great MOLD lawyer in CA that can help our family? Our troubles are next level with our MOLD problem and the house that's been slowly killing us for 3 years. My kids and [I] are so sick and can't get well and our family needs help."
The worried momma went on to open up about her emotional state through it all, confirming she's "overwhelmed" by the problem and hoping for some expert help:
"Overwhelmed. We do need to start with an amazing lawyer who can guide us through this…"
You can see the full post for yourself (below):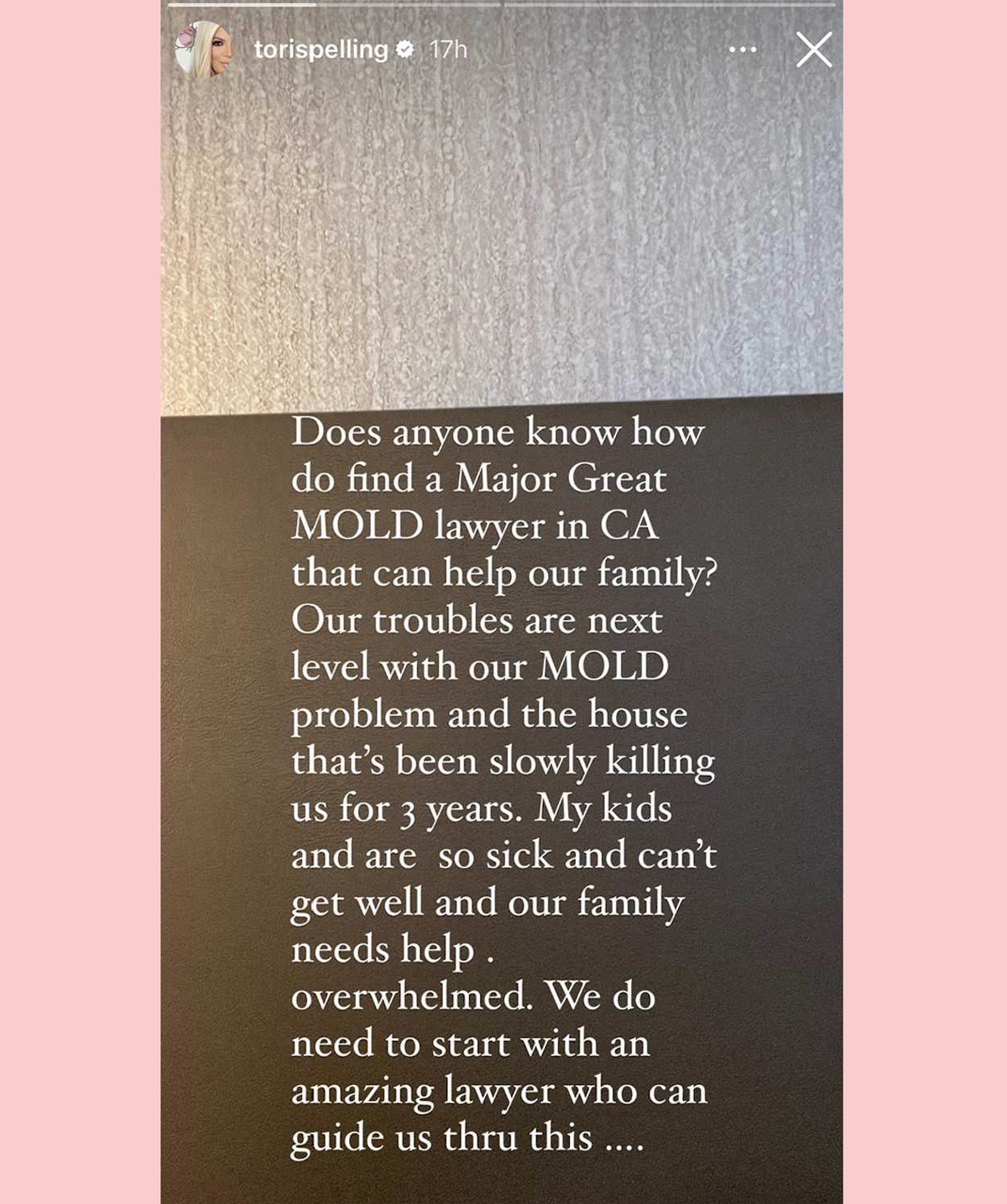 Ugh.
What a tough situation for Spelling and her family.
Related: NO ONE From The Royal Family Reached Out To Harry And Meghan After Their Car Chase!
As we referenced up top, Tori took to Instagram last Wednesday to reveal what she referred to as "extreme mold" at her family's rental home in the Los Angeles area. Remarking at the time how her children seemingly couldn't stop getting sick over and over again, the star wrote:
"Here we are again at Urgent Care. We've all been on this continual spiral of sickness for months. Sick. Get better. To get sick again. Used to think, well that's what happens when you have young kids in school. They just continually bring sicknesses home. But, when it gets to the point where they are at home sick more than being in school we had to reassess what was going on. Kids will be kids but when you have your youngest (10 and 6) so sick they are sleeping all day and say they feel dizzy even standing I knew something bigger was going on."
In that initial and shocking reveal, she also added more details about what a harrowing health experience it's been:
"You just keep getting sick, one infection after another. Respiratory infections. Extreme allergy-like symptoms too and like my poor Finn skin rashes as well. As we sit here today in Urgent Care … watching everyone getting swabbed and first up Finn with Strep throat and high fever of 103. We now know that when the house was labeled a health hazard and not live able that wording was FACT. We now GET IT. It's hard to just uproot a huge family especially in [the] midst of all feeling so sick and in bed. But, we now will vacate the home asap."
Now, with this Wednesday's new update (above), it seems like she's seeking some serious legal help.
Here's hoping everything gets straightened out for Spelling and her fam from here. What an awful and prolonged ordeal!
[Image via Tori Spelling/Instagram/Instagram]
Related Posts
CLICK HERE TO COMMENT
May 18, 2023 13:00pm PDT