Jennifer Lopez and Ben Affleck were seemingly caught in the middle of another public argument this week! But is there actually more to the story?!
For a few months now, there has been some speculation amongst fans over whether there is some trouble in paradise for the couple after witnessing their tense interactions during several public appearances together. It started when they attended the Grammys in February, where Ben was spotted looking less than enthused to be there and getting scolded by J.Lo (or at least that's what it looked like). However, Ben later clarified what really happened to The Hollywood Reporter, saying:
"I saw [Grammy host Trevor Noah approach] and I was like, 'Oh, God.' They were framing us in this shot, but I didn't know they were rolling. I leaned into her and I was like, 'As soon they start rolling, I'm going to slide away from you and leave you sitting next to Trevor.' She goes, 'You better f**king not leave.' That's a husband-and-wife thing. I mean, some of it is, I'm like, 'All right, who is this act?' Like, I don't keep up. My wife does, obviously. And yeah, it is your wife's work event."
Related: J.Lo Says She'll 'Walk Out' On Ben Affleck If He Pulls A Tom Sandoval!
But that hasn't stopped everyone from believing things may not be peachy between Ben and Jen right now! After all, it wouldn't be the first time a celeb smoothed things out with damage control.
Since then, a video has gone viral of the "miserable" 50-year-old actor opening the car door for the 53-year-old singer – only to seemingly slam it the second she gets in. He then walked around to the other side of the vehicle and gave the camera what appeared to be an annoyed look before getting into the car himself.
Obvi there is a strong chance that Ben was upset over being followed by the paparazzi. However, many people believed that these two were unhappy together, in the middle of a fight, or both – especially since that wasn't the only tense moment between the pair seen on camera!
On Wednesday night, Jennifer and her hubby stepped out onto the red carpet at the El Lay premiere of her new movie The Mother. But rather than looking like the loving couple that many fans have seen in the past, the Ain't Your Mama songstress was first photographed having an intense argument with Ben. At one point, the Gone Girl star was frowning at Jen and holding up his pointer finger at her – leading everyone to believe they were in the middle of a fight! You can ch-ch-check out a snapshot of their exchange (below):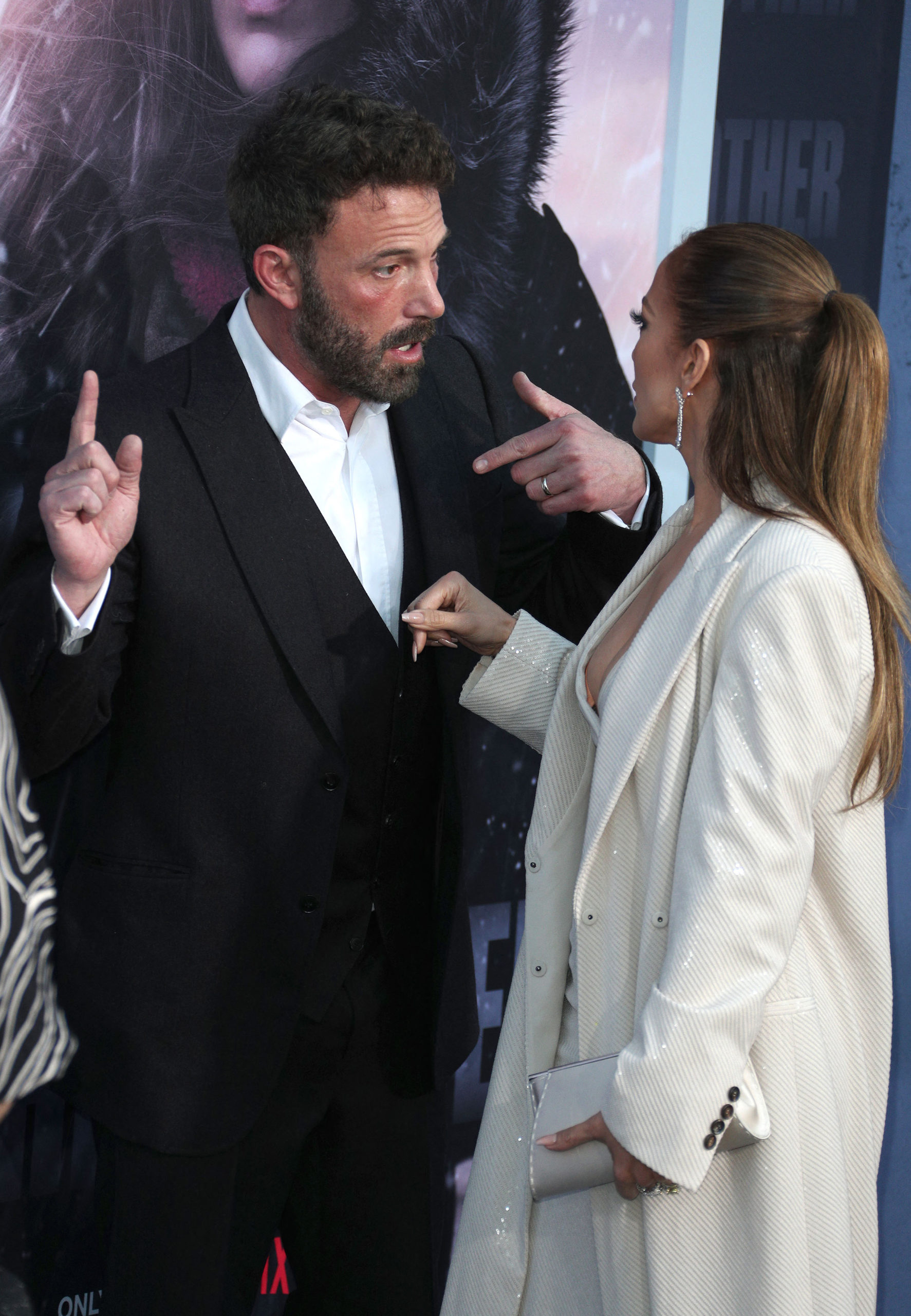 Oof. But as you know, images don't always reflect the truth of what's happening in a situation. Because while it looks like these two arguing on the red carpet, that turned out to not be the case! According to a lip reader, they told Dailymail.com on Thursday that the pair were really just discussing how to pose for the photographers! The expert claims Jennifer asked Ben if her top was "showing too much," to which he responded that it was OK. When they went to pose together, the Argo director seemingly told her to move close to him before whispering in her ear:
"Don't worry, baby."
She then replied:
"Come close to me."
After the pictures were taken, Ben then turned to face his wife and said, "That's us, done." He then kissed her before asking if she was alright. Jen informed him she was OK at the time, adding that they needed to "step over there." From there, the two went on to pack on the PDA for the cameras and Ben looked adoringly at Jennifer while she reapplied her lip gloss at one point. See the cute moments (below):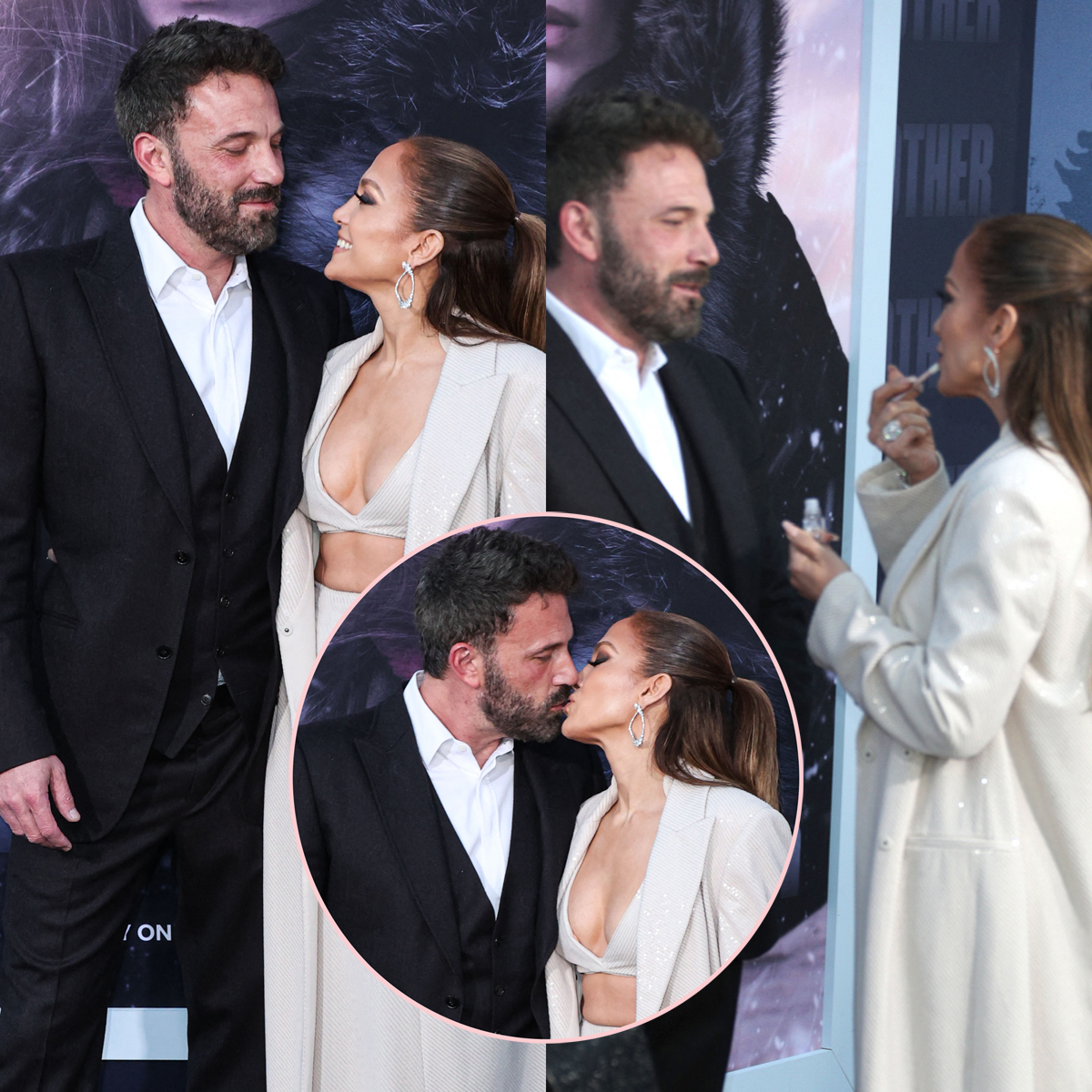 So apparently, there were no issues between them at the event! If anything, the stressful nature of the red carpet appearance seemed to be the reason the two were a little tense. Beyond that? They appeared to have a good time moving forward! As we've said before, Ben is known for having a resting "miserable" look on his face. So just because he may appear upset or annoyed during a public outing with Jennifer, that doesn't automatically mean these two are having marriage problems!
But what do YOU think about their latest red carpet interaction, Perezcious readers? Let us know in the comments below!
[Image via Nicky Nelson/WENN, MEGA/WENN]
Related Posts
CLICK HERE TO COMMENT
May 11, 2023 16:30pm PDT