Hilary Duff's hubby Matthew Koma is saying goodbye to Twitter — or more so Twitter is saying goodbye to him!
As you may know, the 35-year-old musician is no stranger to trolling fellow celebrities on social media, especially if there is some major online discourse about them at the time. Who can ever forget how he perfectly trolled Adam Levine for his cheating scandal last year?! So it comes as no surprise that his latest victim was none other than Gwyneth Paltrow, who recently was awarded $1 in damages during her viral court trial with Terry Sanderson over their 2016 ski crash!
As for Matthew did? He recently took to Twitter and changed the profile picture on his account to a photo of the 50-year-old actress. He also switched the name on his page to "Gwyneth Paltrow" while his handle was still "@MatthewKoma." And then he began responding to posts on the app as if he were Gwyneth! While this most likely was harmless fun from Matthew, his trolling session landed him in some hot water with Twitter.
Related: Terry Sanderson Really Regrets Suing Gwyneth Paltrow
He revealed on Instagram Stories on Tuesday that he was banned from the platform after his social media antics! He shared a pic of a message from Twitter that explained why his account is "permanently suspended," so he's now unable to "Tweet, Retweet, or Like content." On top of that, the record producer can't create a new account. Damn. Despite getting the boot from the app, Matthew doesn't seem to regret anything as he wrote alongside the screenshot:
"Goodbye Twitter: The troll was worth it."
It is unclear what post from Matthew got him kicked off Twitter. However, a screenshot from a fan's account showed he was seemingly posting as the Goop founder at one point. When one person tweeted "I'll take my dollar now" alongside an image of Gwyneth speaking to Sanderson after her victory, Matthew responded as the mom of two, saying:
"Same man."
No matter the tweet, as we mentioned, the artist isn't letting the suspension get him down. In fact, he just moved his trolling ways over to Instagram Stories! Matthew later teased:
"Thank you for all the kind messages today. Closure's hard. But it's a community like you guys that keeps me positive and looking forward to the next time I find the opportunity to impersonate a celebrity on a social media platform. Big thanks @gwenythpaltrow [sic] for the inspiration."
He then added a snowflake and ice backdrop over the selfie with the words "Gwyneth Fourever [sic] Sweet." Ch-ch-check it out (below):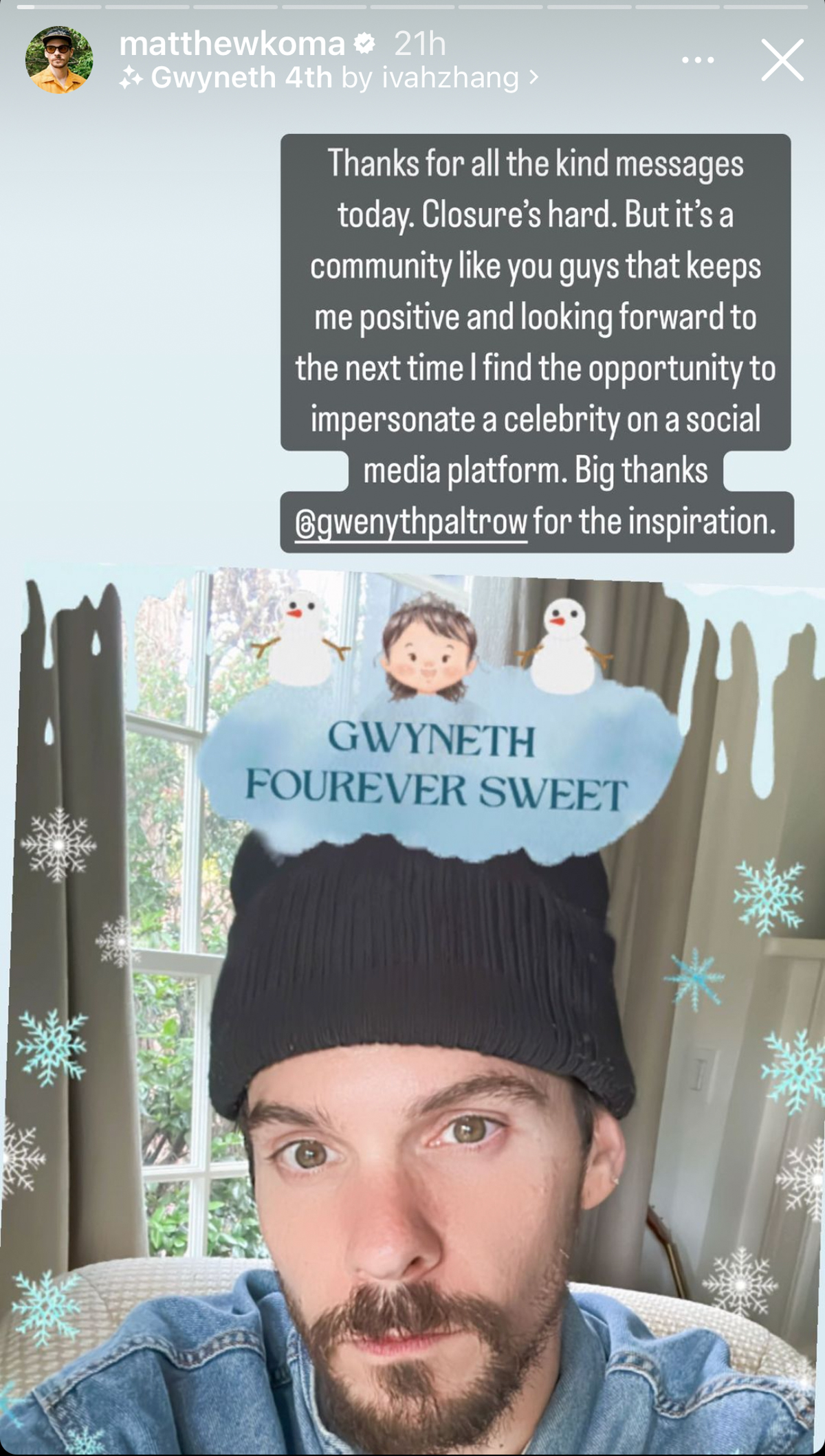 And it didn't stop there! On Wednesday, he made fun of himself and Gwyneth by posting a photoshopped version of the movie poster for Greta Gerwig's upcoming Barbie movie. One post read alongside a snapshot of Matthew:
"This Barbie is not Gwenyth Paltrow but is Gwenyth Paltrow."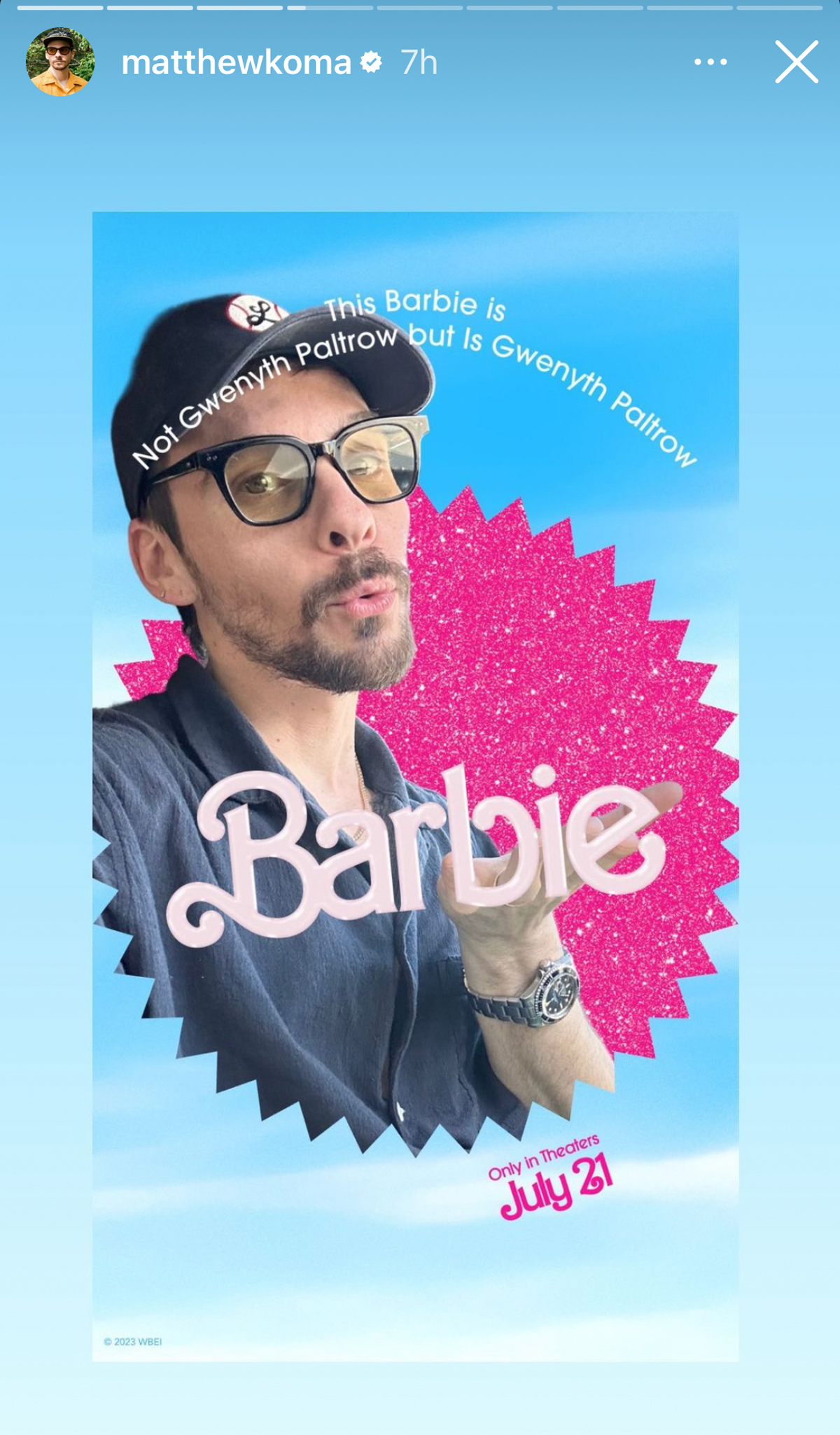 Another said along with an image of Shakespeare In Love star:
"This Barbie is no longer on Twitter."
Whelp, we guess people can expect his trolling sessions on IG moving forward! Reactions, Perezcious readers? Do you think Matthew should have been axed from Twitter? Sound OFF in the comments below.
[Image via Hilary Duff/Instagram, Gwyneth Paltrow/Instagram] 
Related Posts
CLICK HERE TO COMMENT
Apr 05, 2023 17:26pm PDT