Many inmates get new tats in prison. Jen Shah got some new ink beforehand!
The former Real Housewives of Salt Lake City star is set to head to federal prison on Friday to begin serving her six-and-a-half year sentence for wire fraud. But before she goes in to the slammer to face the consequences of her actions, the Bravo star decided to honor her husband and sons with two touching and meaningful new pieces.
Related: So This Is Why Jen Refused An Interview With Her Ex-Bravo Boss Andy Cohen!
On Wednesday evening, the 49-year-old reality TV veteran took to her Instagram Stories to show off the artwork on her forearms. In one video of a large script pattern on her left forearm, she shared with her followers a shot of the word "Keiki." That's  a Hawaiian slang term for "baby" or "child." And the script itself was beautiful, and smooth, and clean. Great artistry!
On her right forearm, she shared images of a much smaller cursive script scrawled across her skin. The Bravolebrity's design there could clearly be seen as the names "Sharrieff," "Omar," and "Sharrieff" written out one after the other. Of course, those words are a very explicit reference to her husband Sharrieff Shah and her two sons, Omar and Sharrieff Jr.
In the background of her video clips, the RHOSLC firebrand played Ashanti's song Mother, and then wrote out these lyrics alongside her tattoo reveal:
"And all because a mother's love is unconditional / With all my heart and all my soul, I wanna let you know / That I thank you (I thank you) / And I love you"
Here is a look at the first creation on her left arm (below):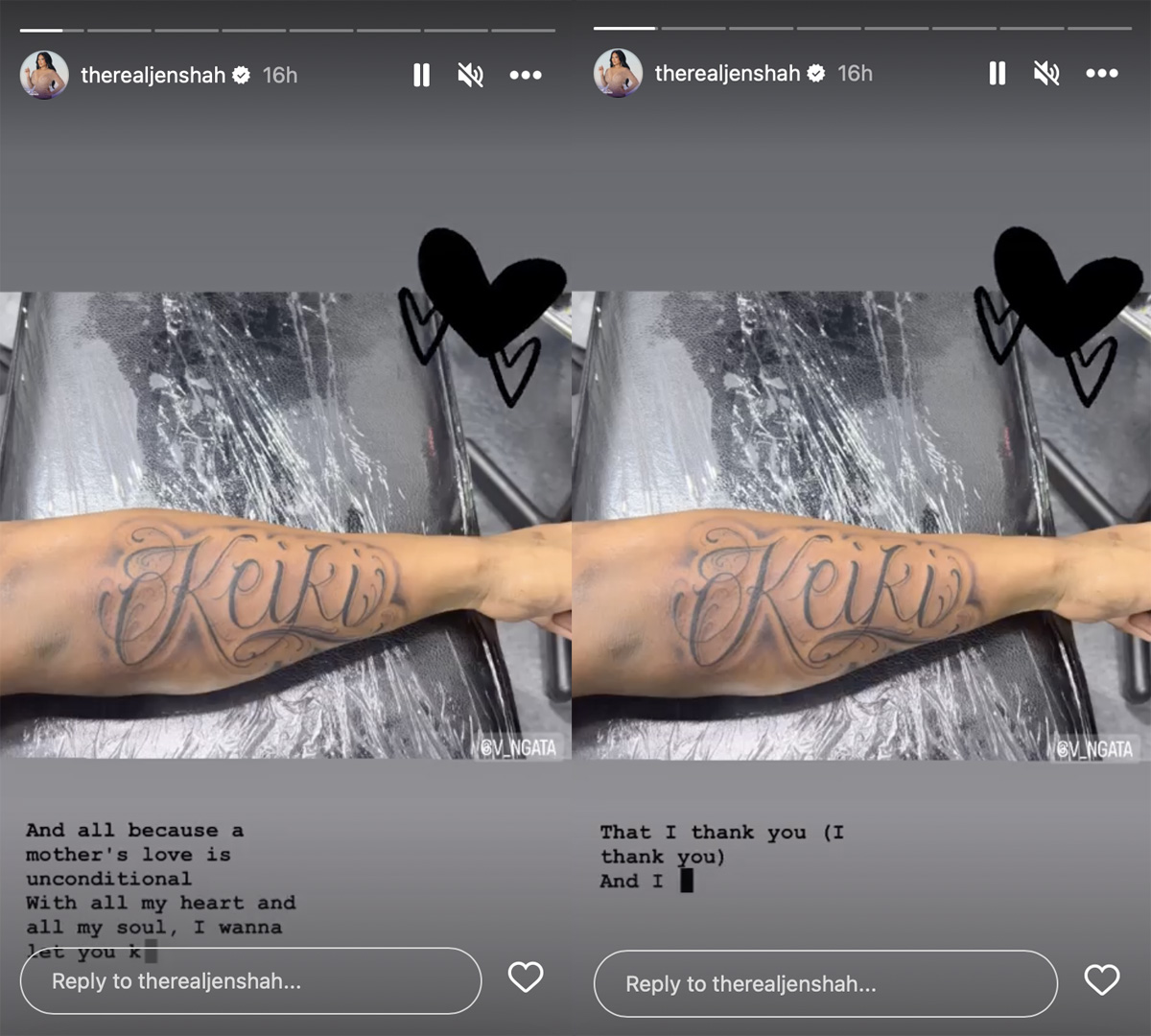 Nice!
Ch-ch-check out the shots of her newly-designed right forearm tattoo, too (below):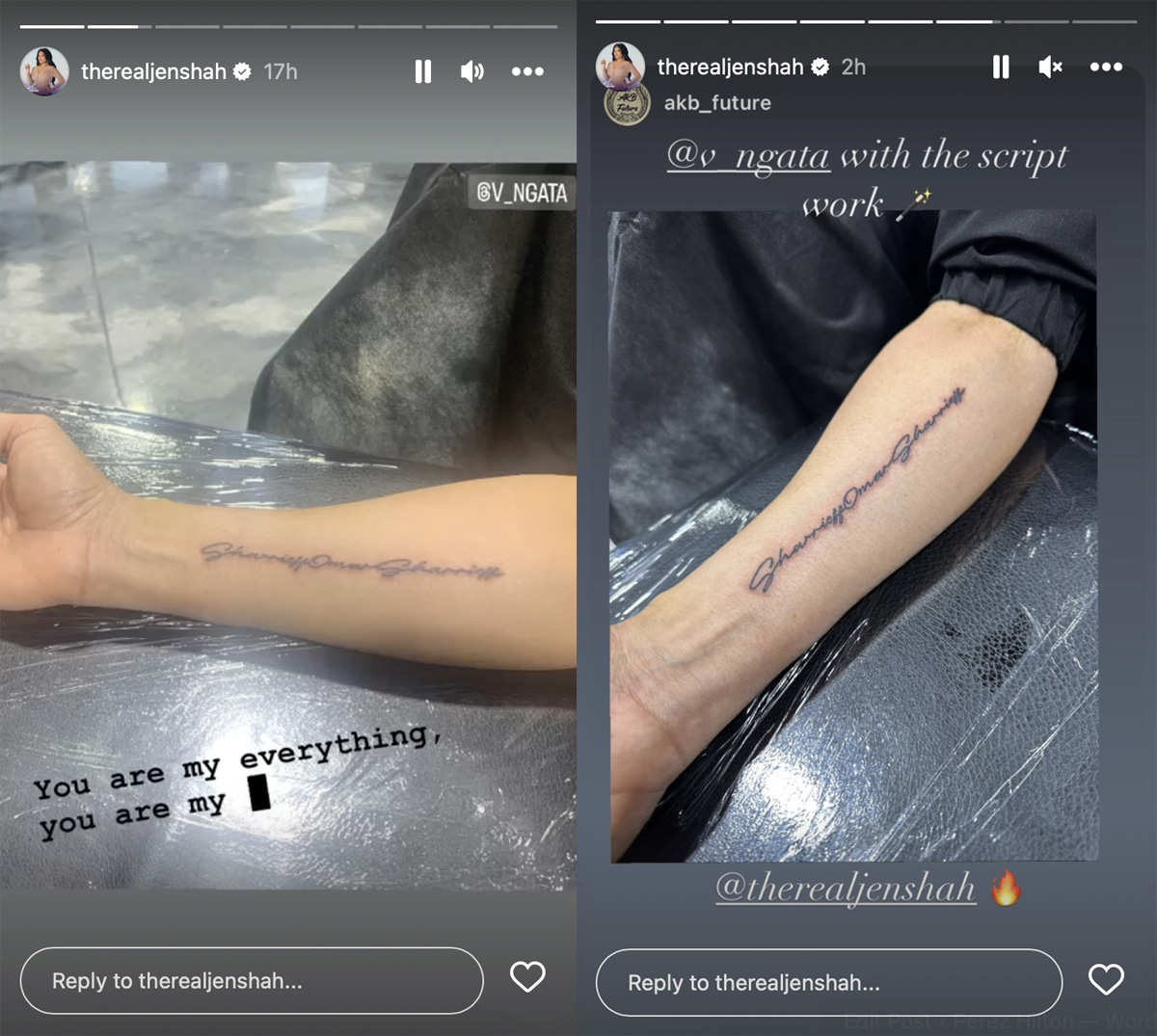 Lovely stuff!
And hey, it's better she got the tattoos from a really talented artist before prison rather than deciding to ink up while in the slammer. Ya know?! Ha!
Related: Savannah Chrisley Is PISSED Jen Got Sentenced To Less Time Than Her Parents!
Jokes aside, Jen is facing down a serious sentence that'll kick off when she reports on Friday morning. As we've been reporting, she was first arrested way back in March of 2021 and accused of running a telemarketing scam that targeted elderly Americans.
At first, she maintained her innocence against those accusations. But by July 2022 — just ahead of her scheduled trial — Shah saw the light (and/or the advice of her legal team) and opted to plead guilty to the wire fraud charges. By early January of this year, her fate was sealed. That month, a judge sentenced her to just under seven years in prison. The RHOSLC alum was also ordered to pay out more than $6.5 million in restitution to her victims once the jail term is complete.
Suffice to say, Friday will mark a new — and much more difficult — phase of life for Jen. So why not hash out some new, meaningful body art to prepare for it? Reactions to the ink, Perezcious readers??
Related Posts
CLICK HERE TO COMMENT
Feb 16, 2023 12:06pm PDT