Jim Edmonds and his ex-wife Meghan King are once again engaged in a war of words online.
Will this EVER end?! (No, probably not. At least not anytime soon. And you know we're going to be here covering it…)
This time around, the former MLB star is calling out the ex-Bravo reality TV maven for an apparent decision she made to go off on a wellness retreat instead of caring for the former couple's children. Uh-oh!!!
Related: Meghan Shares Sexy Before & After Bikini Body 'Thirst Traps' Following Boob Job
It all started on Thursday, when Edmonds hopped onto his Instagram Stories to share a biting message about co-parenting.
He didn't call out the former Real Housewives of Orange County star by name, but it is extremely clear to whom he is referring with this statement sent out to his 160,000 followers:
"Sad when your ex tells the kids you don't want to see them when you're busy, then doesn't let you see them when you're out of town. Unknown…"
Yikes!
Along with it, Jim shared a looping vid of a guy throwing his hands up in the air as if to say "WTF."
And as you can see in some screenshots (below), it has us saying WTF, too: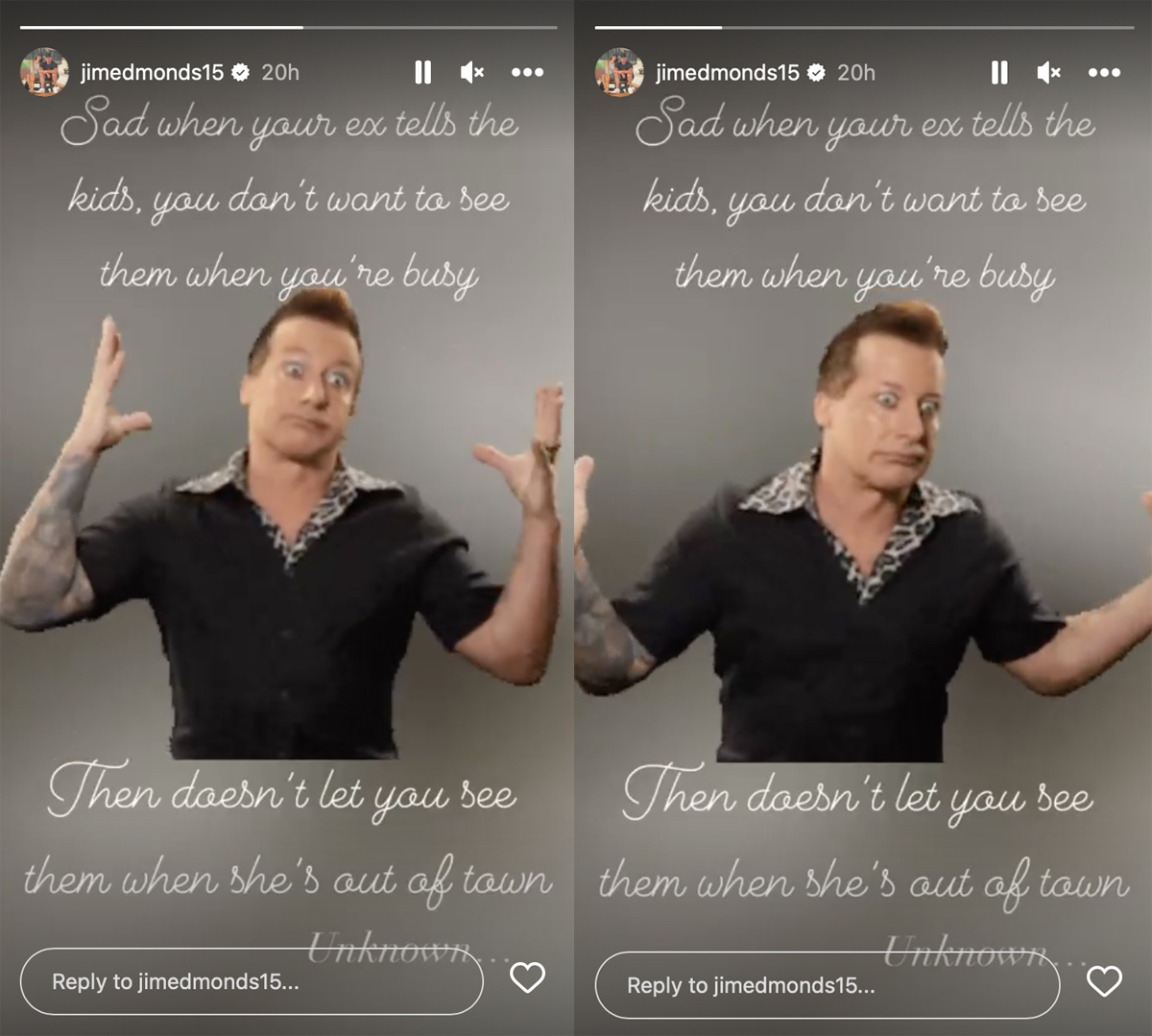 Post-divorce drama! It NEVER ends for these two!!!
Hours after posting that, Jim brought out the big guns to double down on the IG Stories stuff. Later on Thursday evening, his rep spoke to Page Six about how the ex-couple's kids — 5-year-old Aspen and 4-year-old twins Hart and Hayes — were supposedly left behind in the care of a nanny while the RHOC alum went off on a wellness retreat a few days ago!
The former St. Louis Cardinals star's PR flack gave the outlet some cutting commentary about it:
"Jim thinks it's really sad the kids are being left with a nanny instead of their father, who changed his Super Bowl plans so he could be with them. Hopefully Meghan enjoys her narcissism retreat."
The outlet also cited an unnamed insider who claimed the 52-year-old former pro centerfielder had plans to visit Las Vegas this coming weekend. However, he had to cancel them upon hearing his 38-year-old ex-wife was just going to leave the kids under the care of a nanny while seeking her own wellness work:
"At the last minute Meghan decides she would rather leave the kids with the nanny, so Jim is left with no Super Bowl plans and no kids."
So that ain't good!!
…But it's only one side of the story. Meghan is actually at a wellness retreat right now. Whether it's more of a "narcissism retreat" is Jim's personal opinion, of course. But King has been posting on social media from the Gaia Haven Wellness event. That experience — which is literally referred to by attendees as "The Experience" — is being held in Sedona, Arizona. King has been going through guided meditation courses and other lifestyle classes. Celebrity medium Allison Dubois is even a guest speaker. Sounds interesting!
Related: Meghan Announces She Won't Show Her Kids' Faces On Social Media Anymore
But while King probably should be letting calm come over her at the retreat, she's instead using valuable event time to clap back at Jim's claims. And she's also addressing a lot of the "verbal abuse" she's been taking online from fans across social media. That ain't good!!
Late on Thursday, the ex-Bravolebrity took to her own IG Stories to post the first of a pair of hot shots. In it, she wrote:
"I'm sick of verbal and emotional abuse not being classified as 'abuse.' the courts don't help protect me, my country club doesn't protect me, the police don't enforce, lawyers don't want to deal with this, so l'm taking matters into my own hands"
And on Friday morning, she returned to share one more:
"I'm glad it's public otherwise nothing would change like so many other battered women who are ensconced in the terrible system and at the mercy of their abuser. I have my own story but I'm a symbol for so many more who don't have a voice like I do. … I want everyone to understand this. So many others don't have a voice and I can only effect change by speaking out and using this platform. I want my children to be proud of their mother for not taking this sitting down. Well behaved women rarely make history and I plan to be on the right side of it"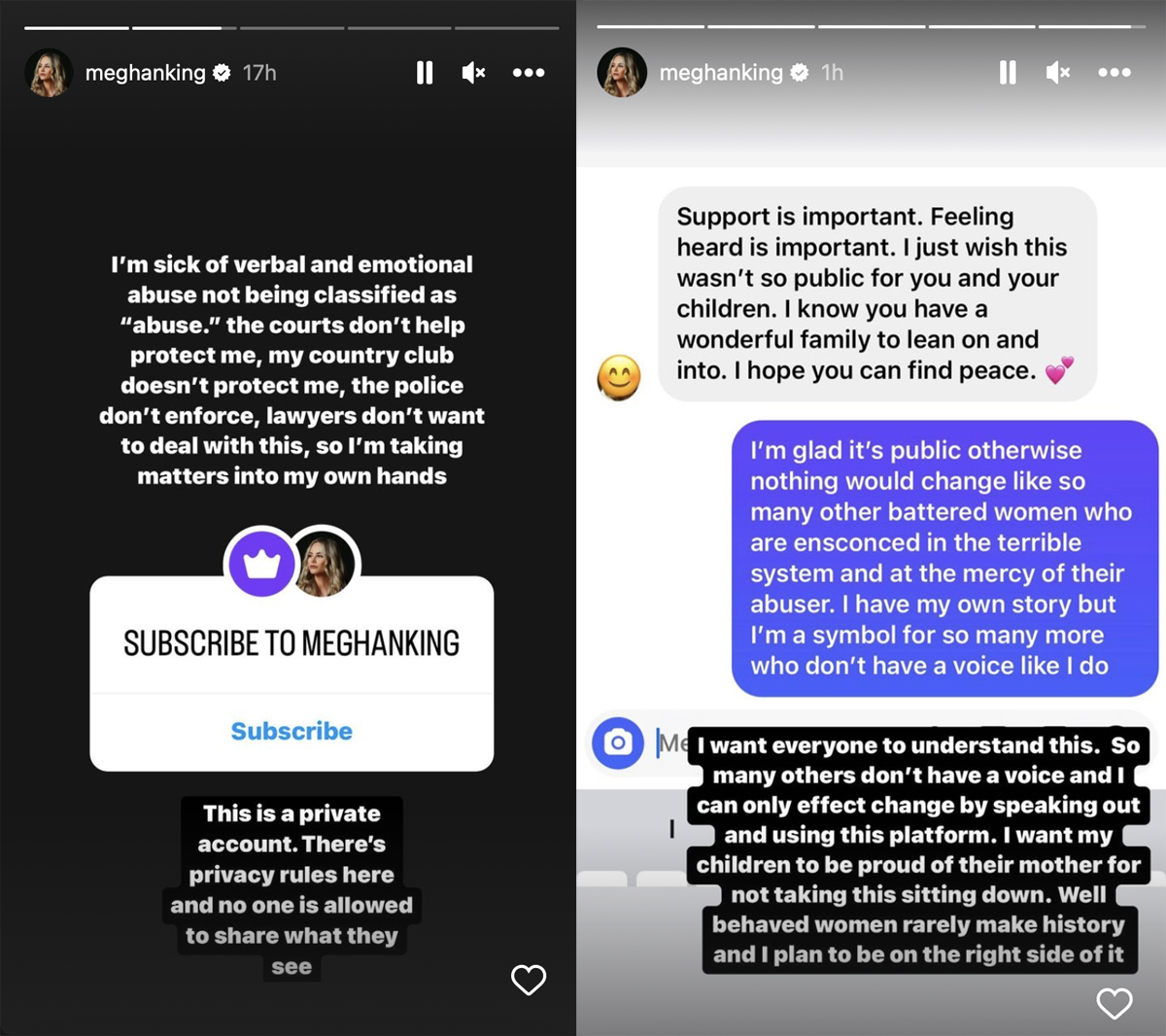 Whoa!!!
So, clearly Meghan is taking this co-parenting drama — and broader social media harassment related to it — and painting a much bigger picture about online culture and divorce life. Damn. Her take isn't wrong!! But does it go far beyond what Jim's original gripe seemed to be?
Are you on Team Meghan after this spat, Perezcious readers? Or do you think Jim's nanny take has any merit?
One thing is for certain: these two are not going to stop slamming each other in the media and online anytime soon. We'd pretty much bet everything we own on that…
Related Posts
CLICK HERE TO COMMENT
Feb 10, 2023 09:10am PDT