Johnny Depp is being forced to rest up after a fractured ankle has seriously altered his summer plans.
The 59-year-old actor had been preparing around-the-clock to do a series of live shows with his band, the Hollywood Vampires, across North America this summer. But now, at least three of those shows have been postponed as Depp is being forced by doctors to cut out activity and rest a hairline fracture in his ankle.
Related: Johnny Depp Doesn't Feel 'Boycotted By Hollywood' Anymore
The news of the Pirates of the Caribbean star's ankle injury first broke via TMZ very early on Monday morning. That outlet reported info from insiders who noted Depp had been dealing with a "nagging" ankle injury since his recent public appearances at the Cannes Film Festival.
It's unclear what caused the ankle issue in the first place, but sources told the outlet Depp "tweaked his ankle during his Cannes press run." Then, to make matters worse, he "stressed it further" while trying to tough it out through some recent gigs at London's Royal Albert Hall where he was honoring his longtime past collaborator Jeff Beck.
Sadly, with all that activity, the ankle injury got worse. Now, with Depp struggling to keep going at the pace he had been on in recent weeks, doctors have ordered him to back off altogether.
Per the outlet, with medical professionals demanding Johnny elevate, ice, and rest, his first three summer shows on the east coast are "off the table." That means tour dates in Boston, Manchester, New Hampshire, and Bethel, New York are all set to be postponed for the time being. Per the outlet, they have been tentatively rescheduled for July 28, 29, and 30 at the back-end of that same tour.
An insider informed TMZ how the ankle injury started:
"Johnny went from two full days of press appearances in Cannes, straight to London for rehearsals and then played two tribute shows in honor of his dear friend, the late great Jeff Beck."
Then, the insider added the fact that doctors are concerned even more activity will only make it harder for the Kentucky-born star to fully heal and get back to performing and acting again.
The source explained how it all got worse:
"His ankle was already bothering him at Cannes, and it got progressively worse, but he wanted to honor his commitments for Jeanne du Barry and for Jeff. He's devastated to postpone the shows, but his doctor believes flying could make the situation much worse. He plans to rest up so the European dates go off without a hitch."
Those European tour dates, BTW, will start in June. So, Johnny better hope he can rest quickly and get back to good health in short order.
Related: Johnny Just Got The Most Money EVER To Return As Face Of Dior's Sauvage!
Not long after the ankle injury was first revealed, Johnny himself took to Instagram to confirm the situation. In a post published to his Stories, the actor wrote in part (below):
"My dear friends, I am sorry to say that I have fractured my ankle, which is a drag!!! It began as a hairline break but somewhere between Cannes and the Royal Albert Hall it got worse rather than better. Several medical professionals have strongly suggested I avoid any and all activity for the moment and so am sadly unable to travel at this time."
Then, he confirmed the late July makeup dates in Boston, Manchester, and Bethel, and promised "an amazing show," along with his "sincerest apologies" for missing out the first time around:
"The guys and I are very sorry to miss you in New Hampshire, Boston and New York."
You can see that full post (below):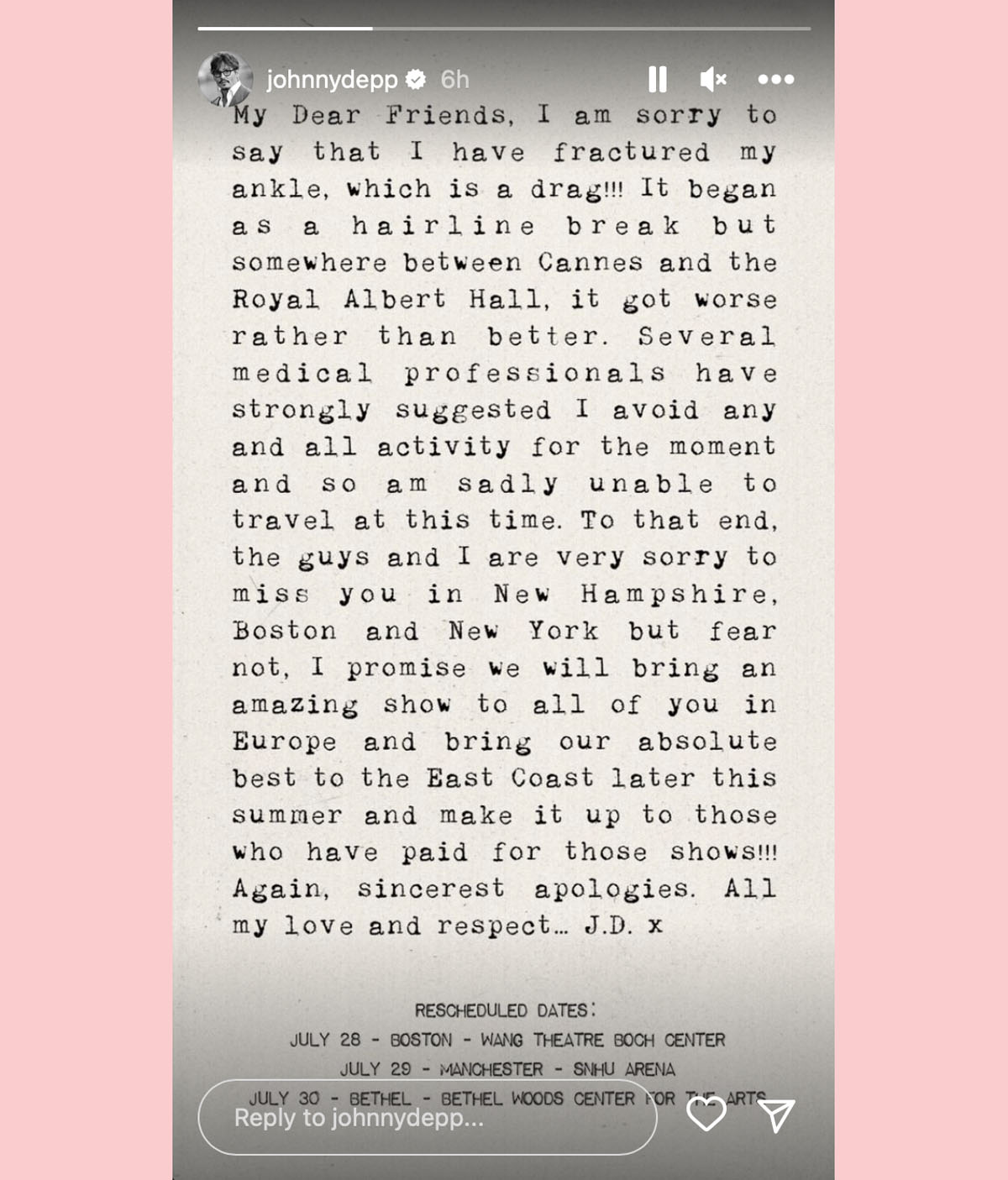 Damn.
Here's to Johnny getting a lot of rest and getting back on the mend quickly!
Sending our best wishes for a full recovery!
[Image via MEGA/WENN]
Related Posts
CLICK HERE TO COMMENT
May 29, 2023 13:43pm PDT