Kanye West's Exclusive Sunday Services Require NDAs! Get The Deets!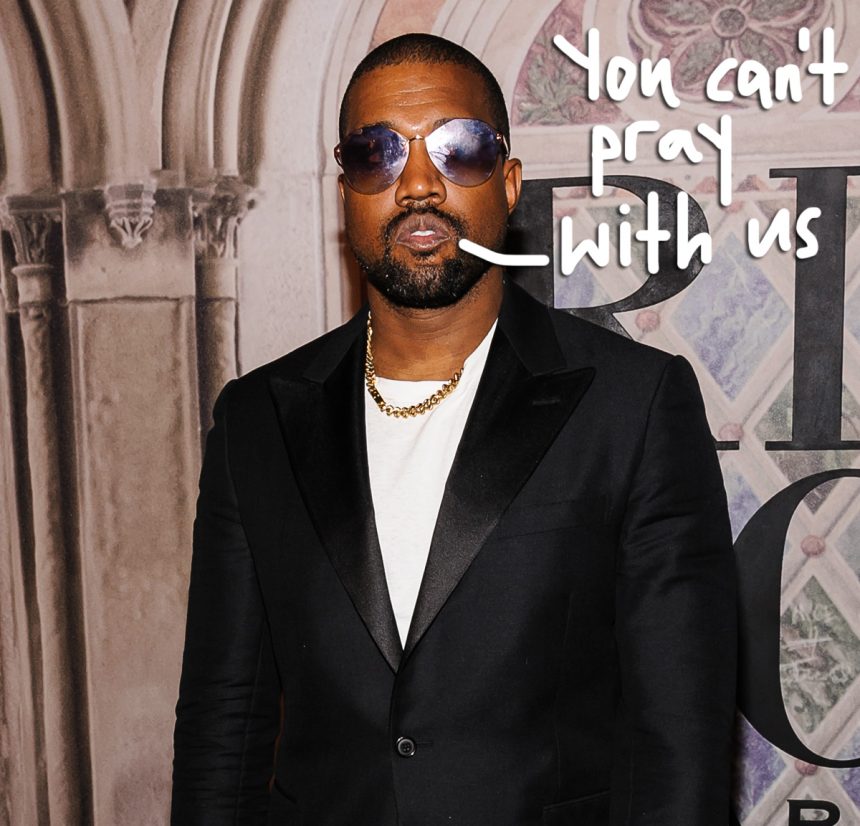 Leave it to Kanye West to make church a VIP event.
You might have noticed the rapper has been putting on location-hopping Sunday Services over the past few months to get his pray on in the great outdoors. Based on the clips we've seen, the joyous ceremony features a full on gospel choir decked out in all white singing worship versions of Kanye songs.
That might not sound like your idea of a good time, but the weekly religious event has apparently caught the eyes (and spirits) of some A-list worshippers.
In the time since it launched in January, the Church of Yeezy is said to have been graced by the likes Katy Perry, Orlando Bloom, Tyler, the Creator, Courtney Love, and David Letterman. Of course, Kim Kardashian West, Khloé Kardashian, Kendall Jenner, and Kourtney Kardashian are all regular members.
Related: Kanye West Is 'Happy' In LA & No Longer Wants To Move To Chicago!
Yes, Reverend Kanye is collecting quite the star-studded flock… and for good reason!
According to sources, the attendees are treated to a brunch before the service — which has taken place in several locations around El Lay, including Kimye's Calabasas home.
In order to keep the event top secret, guests are reportedly required to sign a non-disclosure agreement before they attend — but that doesn't stop the KarJenner sisters from sharing clips from the service on their respective Instagram pages.
Kim, the unofficial videographer of the services, has regularly been posting videos to her IG Stories showing Kanye's choir singing gospel versions of songs like Jesus Walks, Lift Off, and Father Stretch My Hands, Pt. 1.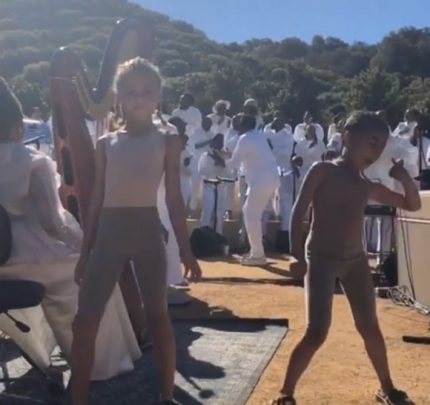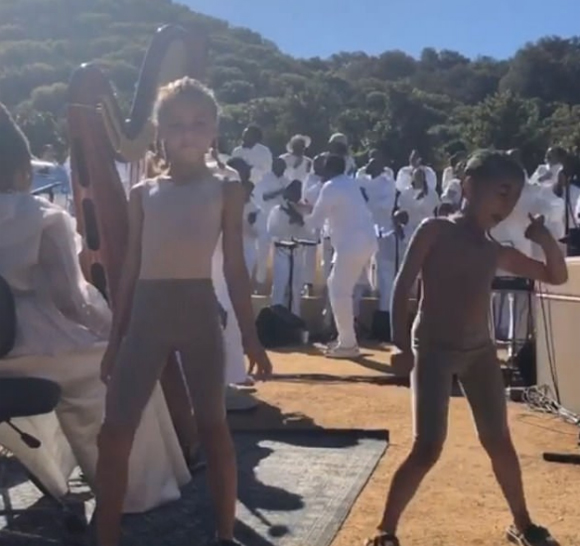 Aunt KoKo has also shared clips of the services to social media, including a shot (above) of North West dancing like nobody's watching.
Although these services remain exclusive, the public will get a chance to experience the Church of Yeezy. As we reported, the 41-year-old announced he'll be putting on an Easter Morning Sunday Service at Coachella later this month!
The father-of-three made the announcement while flying on a chartered plane with members of his choir — which the artist reportedly personally sprang for, BTW. According to a video shared by Kim, the rapper said to his choir:
"Attention 737 passengers. We would like to make an announcement that we just booked another show. We will be doing Sunday Service sunrise at Coachella."
The service is set to take place on Easter Sunday at 9 a.m. PST.
While West's religious events have replenished the souls of many, not everyone is feeling the holy spirit: Kim and Kanye's neighbors, on the contrary, are feeling anger due to all the noise the services have been making.
Nearby residents grew so upset, police officers were called to a service last month due to a noise complaint. So, it's probably best that Yeezy takes his spirits to Indio, California for a while.
[Image via WENN]
Apr 2, 2019 1:19pm PDT