Girls just want to have fun.
Kylie Jenner is setting the record straight on her rumored love interest… And no, we're not talking about Timothée Chalamet — we're talking about her BFF Anastasia "Stassie" Karanikolaou!
Related: EXCLUSIVE! Kylie & Jordyn Woods Have 'Unfinished Business'
On Thursday's episode of The Kardashians, the 25-year-old beauty mogul addressed speculation that she and Stass had taken their friendship to the next level and were actually hooking up! For context, Kylie posted a carousel of Instagram pics back in February for Valentine's Day in which she and the 26-year-old showed off some major PDA. In the first two photos, the pair struck some pretty standard poses, but by the third, Jenner could be seen planting a smooch on her friend's cheek, and by the fourth, they were full on locking lips as they embraced one another! The momma of two captioned the pic at the time, "forever valentine." See for yourself (below):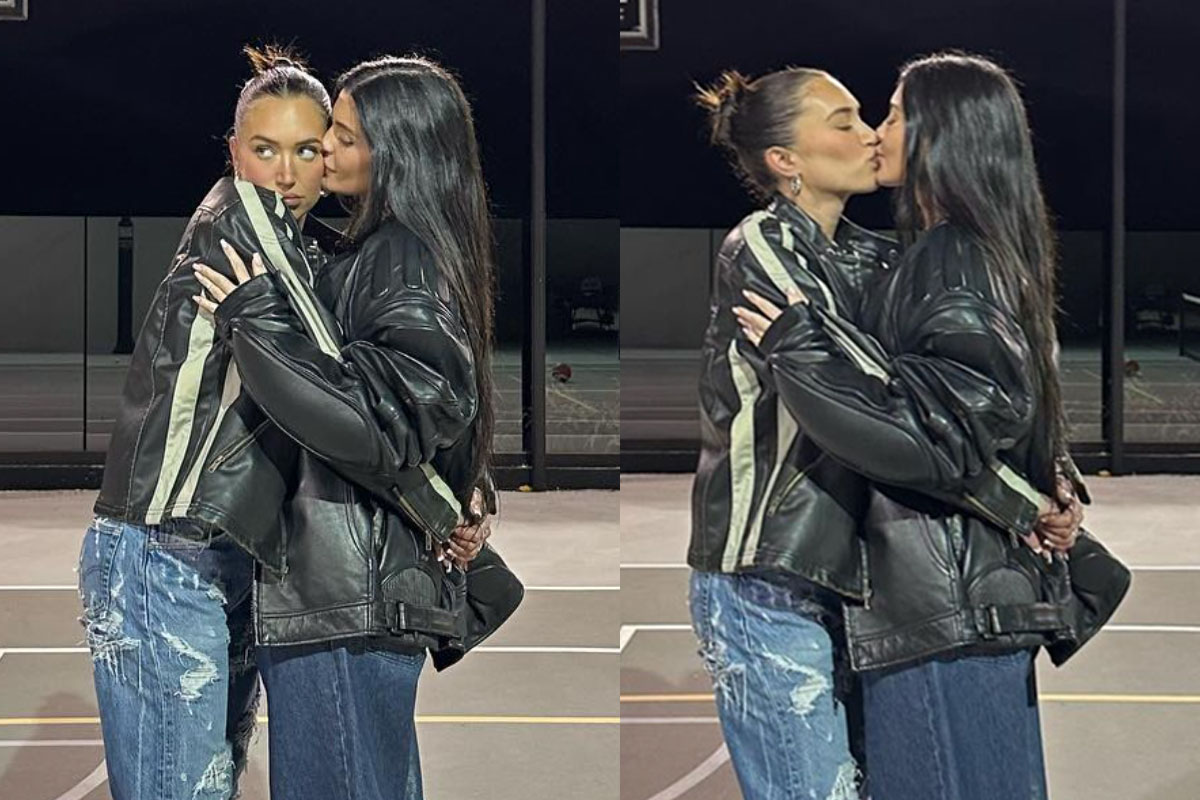 See the full post HERE.
At the time, fans weren't exactly sure what to make of the upload… Especially since it came just one month after the Kylie Cosmetics founder and her baby daddy Travis Scott split up. Was it just a friendly show of affection, or was she trying to let her followers know that she wasn't wasting time moving on?
Well, she's got some answers for us.
During the season 3 finale of the famous fam's Hulu reality show, the youngest of the KarJenner bunch addressed the buzz while hanging out with Kendall Jenner and Scott Disick. While the three walked her dogs, the Talentless founder flat out asked Ky exactly what went down with Stassie:
"So what happened with Stass?"
The Kylie Swim creative responded:
"The whole internet thinks Stass and I are dating now. I always make out with Stass, I don't know why this is like a new thing."
"Always," hmm?
Related: Kylie FINALLY Admits She Got A Boob Job AT 19!
Disick was seemingly understanding, remarking, "I thought that's just what you guys do," while Kenny added that "a lot of best girlfriends" do the same.
Girls will be girls!
Elsewhere in the episode, Kylie brought up the rumor once more, but this time with the other half of her kissing partner. She expressed to Stassie:
"Isn't it so funny that everyone thinks that we're dating these days? When we get a little alcohol in our system, we just like to kiss each other and stuff."
Stass hilariously responded:
"Yeah, I know. We should be making martinis! What are we doing?"
She also questioned why people think it's "so weird" that the gal pals are "obsessed with each other," which led Kylie to reflect on the comments on her lightning rod post:
"I don't know. All my comments is, 'We know you guys are having sex.' And we're not. I wish we were. It would have just been way easier if I was sexually attracted to you."
Ha! We guess that considering their history, there's just no getting past the reality star seeing her friend more like a "sister" than a romantic partner. She explained in a confessional:
"Anastasia and I have been friends since we were probably 12 or 13. She's definitely my oldest friend. We grew up together, we've been through so much together. She's like a sister."
Well, we guess that puts that rumor to bed… For now!
What do YOU think of the situation, Perezcious readers? Was it really just friendly, or do you think the two have a spark? Sound OFF in the comments down below!
[Images via Kylie Jenner & Stassie Karanikolaou/Instagram, & Hulu/YouTube]
Related Posts
CLICK HERE TO COMMENT
Jul 28, 2023 09:10am PDT