Lindsay Lohan Tried To 'Parent Trap' Dina & Michael IRL!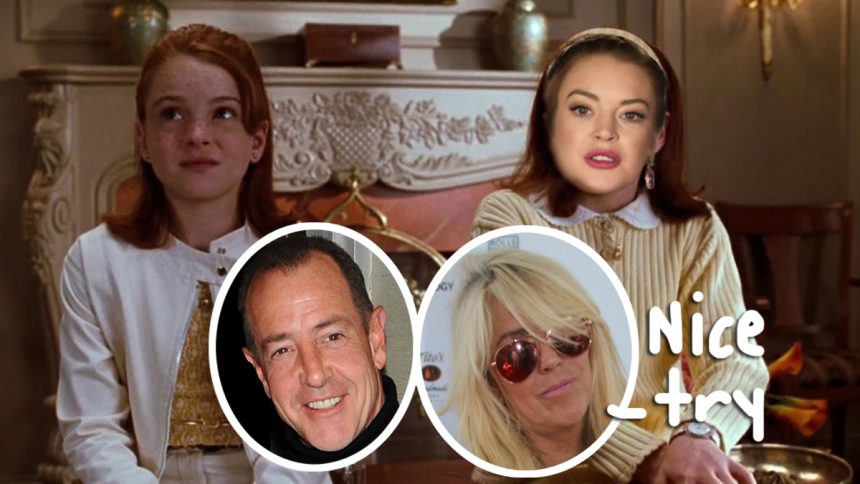 Lindsay Lohan very much wants her parents to get back together — and she took a page from her own playbook in hopes of making it happen!
Michael Lohan told Page Six on Thursday his four kids want him and Dina Lohan to reconcile, even though his ex-wife is now happily dating someone else.
Related: Lindsay Seemingly Shades Leo DiCaprio In His IG Comments!
He explained to the outlet in an email:
"I actually like [Dina's boyfriend, Jesse Nadler], but my children still want Dina and I back together. They have for years."
They're feeling nostalgic for the past. Aren't we all??
The kids were apparently so desperate to reunite their parents, Lindsay, Ali, Michael, and Cody cooked up a plan to "Parent Trap" the two at his last birthday party! Ha!
Sadly, it didn't work, as Michael explained:
"As late as my last birthday, my children and I went to dinner at Per Se in NY City only to have a 'party crasher.' Dina, show up. Unbeknownst to me, Lindsay set it up and when Dina walked in Lindsay said, 'Happy 'Parent Trap,' Daddy!'"
Ha! Worth a shot!
The 58-year-old admitted there was a time where he considered getting back together with the mother of his children, but he couldn't "deal with her drinking." Now, he says he just wants "Dina AND MY CHILDREN to be happy."
We'd say the fact she's still calling him "Daddy" means there's hope for the future. 
If only they'd had a second, more British LiLo they could have pulled it off…
[Image via Disney/IZZY/WENN]
Related Posts
CLICK CLICK CLICK Next Article
Feb 15, 2019 6:00am PDT