Nicki Minaj & Ariana Grande Have Twitter Lovefest After Fans Detect Shade In New Song!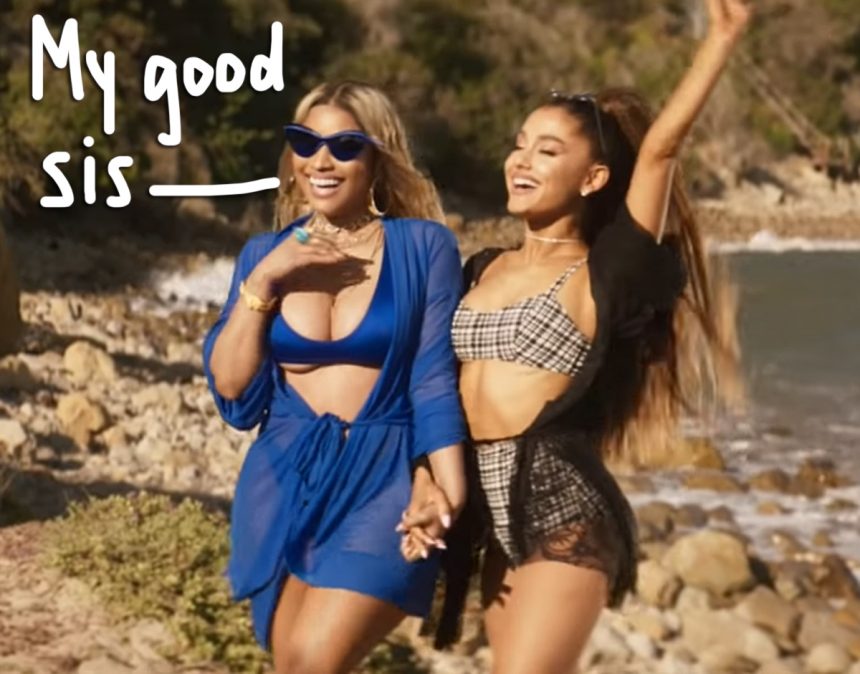 Look elsewhere, beef-seekers: Nicki Minaj harbors NO ill will against Ariana Grande.
The rapper made the clarification on Twitter after some fans perceived the shout out in her new song Bust Down Barbiana — in which she raps, "Killing everybody beat, thank u, next Ariana" — as potential shade.
Related: Nicki Just Dropped Two New Songs — Listen HERE!
But the line was all love. First to confirm this was Ari, who responded to a "silly ass" inquiring mind on Twitter, writing:
no silly ass. there will never be anything but love between us ever. she's been there for me (in real life) every time i've needed somebody & i'll always be there for her. we love each other. bet.

— Ariana Grande (@ArianaGrande) February 6, 2019
Miz Minaj later replied to the 7 Rings singer to confirm that there would never be any feud between them, tweeting:
Not more than you've been there for me behind the scenes. Love you. For life. https://t.co/yDCpmI9RZO

— QUEEN (@NICKIMINAJ) February 6, 2019
Bang bang! Don't y'all dare try to pit these two against each other!
Now, whether or not Nicki recently shaded Drake in her Hard White video is a different story…
[Image via YouTube.]
Feb 7, 2019 8:55am PDT